Batsheva's Entire NYFW Show Celebrated Individualism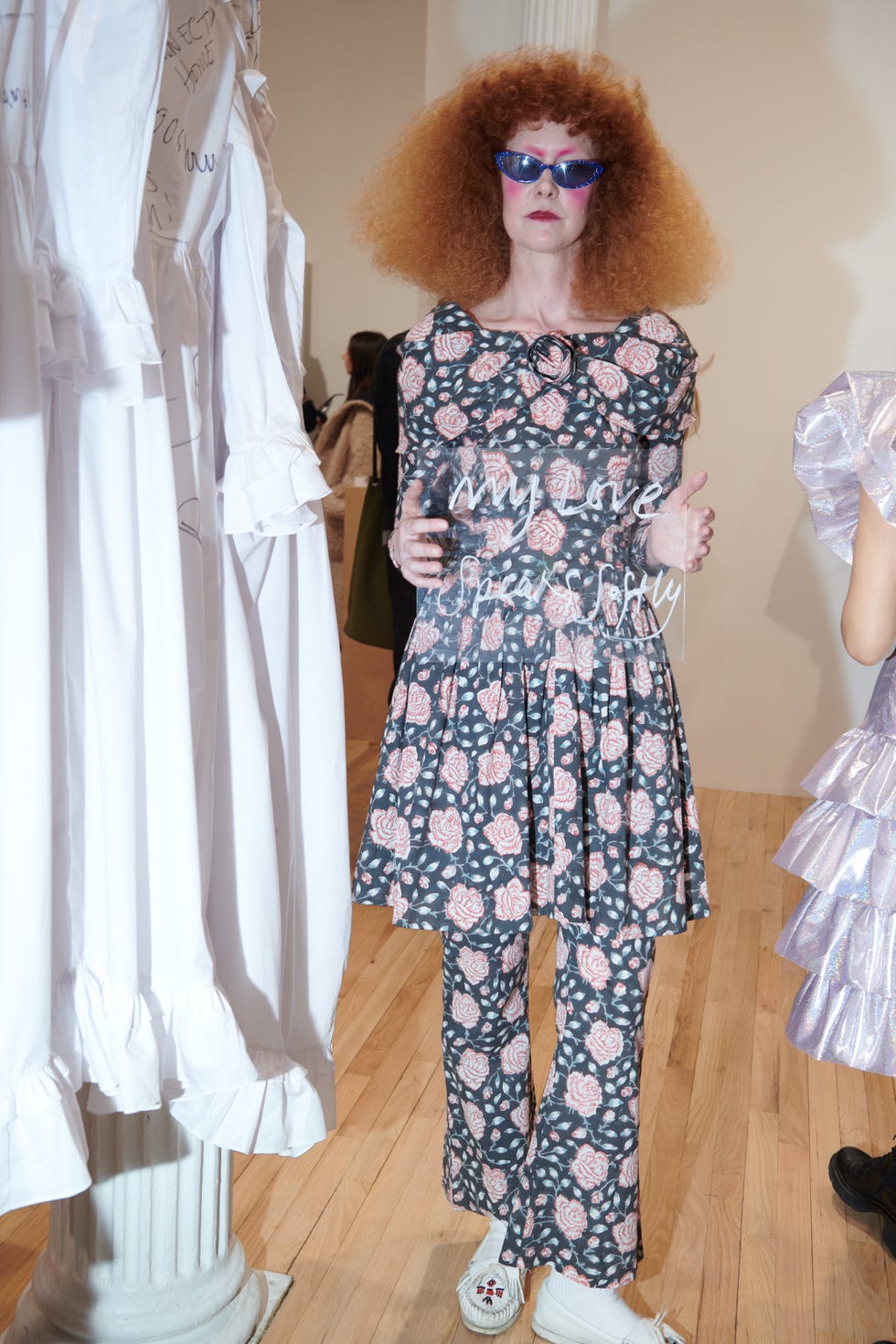 "What kind of look are you feeling today?"
It's a question you expect to hear at a hair salon or a make up studio, but not when you're working backstage at New York Fashion Week. But Batsheva Hay, the New York City-designer known for hosting playful and innovative presentations for her eponymous line, upped the ante at the Fall/Winter 2023 presentation.
"I have always loved the process of getting dressed," Hay shares with ELLE. "The emotion of being transformed by clothing. That's how I wanted to show this collection, in the terms of how it impacts the wearer."
More From ELLE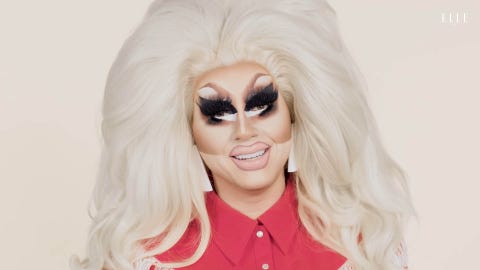 The vision began when the show's dozen models—"all friends," Hay says—met to view the collection. "I asked them to pick out the pieces they liked," she said. And it was as simple as that… those were the pieces Jordan Roth, Rachel Fleit, and more wear for the show. "It felt very personal."
The day of, hair and makeup teams led by industry icons Brent Lawler and Francelle Daly arrived at Tribeca's Bortolami Gallery ready for anything.
"I brought my entire 90-pound makeup kit," Daly said. I'm nosy and took look: of course, her own brand Lovecraft Beauty was in heavy rotation, along with a full spectrum of Ilia True Skin concealers. "When people sit down in my chair, I'm just checking in with them today. It's not even about asking them, 'what kind of makeup look do you want?' It's more, 'do you want anything at all? How can we make you feel your most confident today?'"
Hay was super-chill about the experience: "When it came to beauty, nothing was off limits. I was down for anything. I wanted each person to look the way they wanted to."
After flash-facials from Tata Harper, the skincare sponsor of the show, model (and makeup industry legend in her own right) Alice Lane stopped by the hair station first. By the time I had arrived, Lawler had brushed out Lane's naturally cherry-colored curls into an impressive topiary.
"It was such a relief to come into this experience knowing that I wasn't going to have a beauty look assigned to me," Lane shared while Lawler frosted her hair with got2b Glued Blasting Freeze Spray. "Obviously, I wanted to spread joy and be a mystical Pomeranian!"
Jokes aside, Lane added that she actually felt a shyness about the opportunity to actually be herself for this show. "It's all about feeling most comfortable. It's not about your 'best self,' which I think is bullshit anyways. Today, I'm just showing off core self. That's who I am all the time, and it's wonderful that fashion has changed enough that I have the space to show it off today. There is room for a 43-year-old woman just expressing myself and my truth."
The final touch of expression and truth-telling were lucite boards where each model could express themselves while they walked around in a look. "My love speaks softly," Lane shared. The audience had the mirrored experience—the Fall/Winter designs were on-hand to for trying (and ordering) and they were welcomed to write their own feelings on white cotton versions of the same designs.
"This type of presentation felt much more 'me' than a traditional show," Hay reflected. I never much liked tradition anyways."