The Society Swan Is This Season's Most Surprising Muse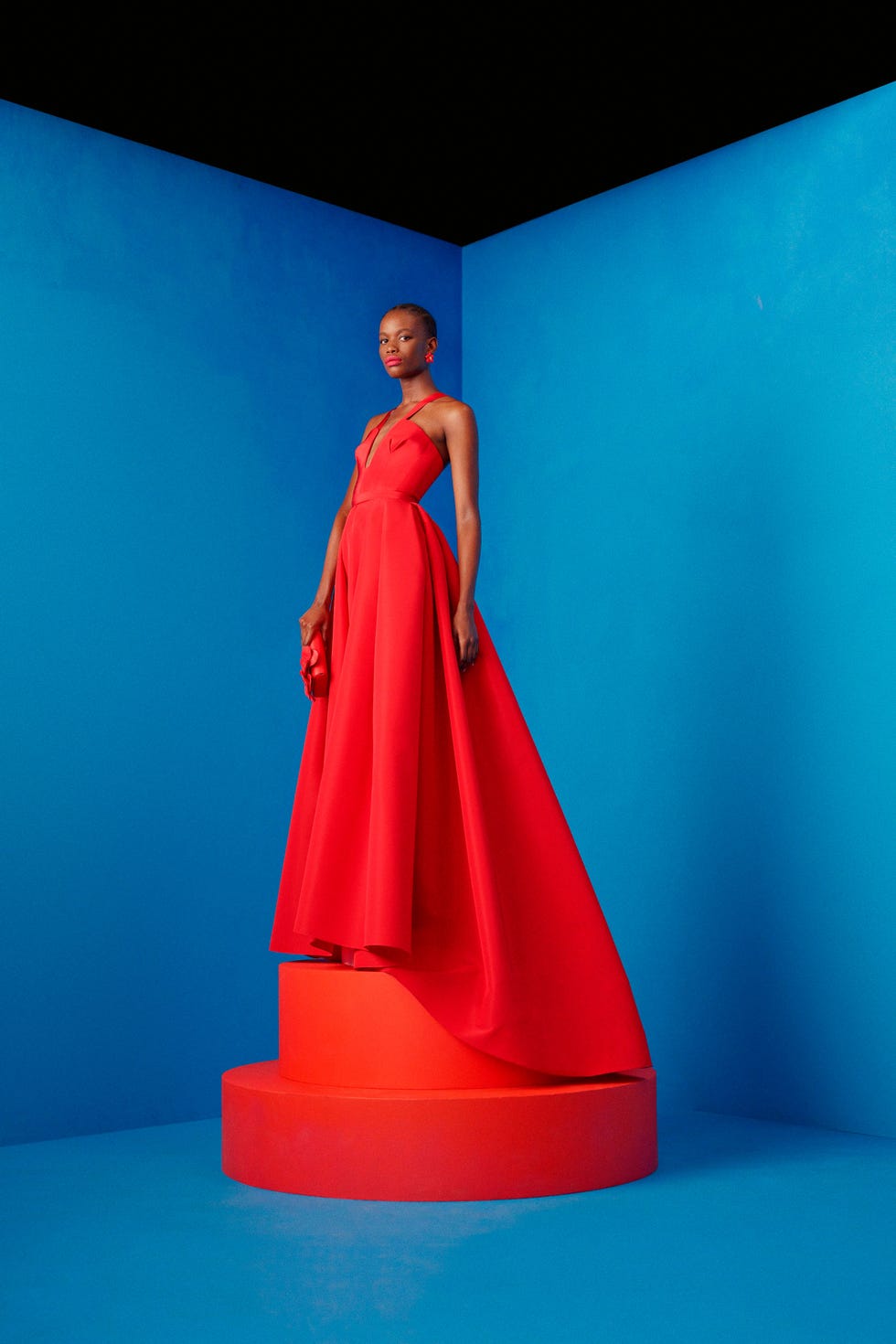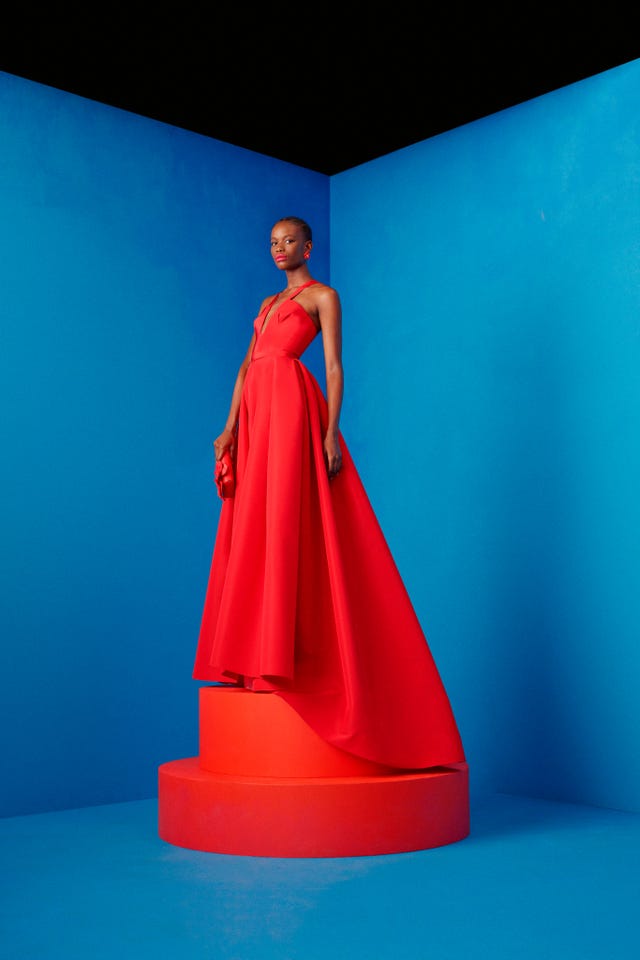 PHOTOGRAPHED BY CAMILA FALQUEZ
They were walking, breathing Slim Aarons photos come to life—literally. The photographer who defined midcentury style by taking photos of "attractive people doing attractive things in attractive places" frequently captured them at home and at play, and often both. Some 60 years later, much like "walkers" and long lunches at La Côte Basque, these stylish women—whom Truman Capote dubbed his "swans"—have largely faded from view.
But this season, they took wing again. Look no further than the 2022 pre-fall shows at New York Fashion Week, where the swans' silhouettes found their way into collections as varied as Oscar de la Renta, Carolina Herrera, Khaite, and Christopher John Rogers—complete with some thoroughly modern updates. At Oscar, perfectly cut tweed suits came with statement buttons and bare midriffs. Carolina Herrera's models stood on pedestals, but their swanlike ensembles included down-to-earth touches like cutouts; Rogers updated classic silhouettes with bold stripes and one-of-a-kind hats. These are clothes for a woman who prizes individuality, maybe even eccentricity, in a sea of algorithm-driven sameness.
"The swans didn't just have money and style, but an extraordinary presentation that Truman Capote considered an art form," says Laurence Leamer, author of last year's group biography Capote's Women, now being adapted for the next season of FX's Feud. "In the postwar world, they legitimized elegant dress as a worthy concern, and that stays with us today."
Figures like Babe Paley, C. Z. Guest, Slim Keith, and Gloria Guinness combined money with idiosyncratic taste in a way that resonates in our new normal of Zoom calls and athleisure. With their families and fortunes, they ruled New York society in its great last gasp during the '50s and '60s—defining the lady who lunches, as well as the lady who is tastefully photographed in her Billy Baldwin-designed living room, effortlessly setting trends.
The concept remains, though in a drastically altered form. "A modern swan is not someone who is only influential within their social circle, but someone who uses their reach to change the world around them," says Lisa Aiken, fashion and lifestyle director of Neiman Marcus. "Someone like Aurora James comes to mind." James, the founder of fashion label Brother Vellies and the nonprofit The Fifteen Percent Pledge, which promotes Black-owned brands, is a perfect example of this revised archetype. No longer are swans automatically assumed to be uniformly white, wealthy women; nor do we think of those who want to emulate them as such.
Today's designers recognize the power of individuality italicized, no matter the wearer's age or background. "It's possible to tap into an essence of elegance and glamour that isn't just owned by one decade," says Wes Gordon, creative director of Carolina Herrera. "And I think now is really a moment where we're seeing that be embraced. Women across all geographies and ages are wanting fabulous, glamorous, heart-skip-a-beat moments from fashion." And we're definitely ready to revive what Gordon calls "the exuberance" of the way the swans lived. Many of the pre-fall collections felt like a color-saturated call to arms for a more expansive life after a period of circumscribed living.
"For over a decade now, we have seen the mass casualization of fashion, so it makes sense that in this moment, we are craving an alternative—especially as we emerge from the pandemic," Aiken says. Now designers are homing in on what she describes as the swans' "effortlessly polished style and sophistication." In an age of influencers, followers, and very little mystery, the swans possess a real appeal. "We saw only what they wanted us to see," Aiken says.
We're all ready for a reason to embrace individuality, and to emulate fictional model Mag Wildwood in Capote's classic Breakfast at Tiffany's (whose indelible creation Holly Golightly more than slightly resembled some of his swans). Mag's beauty, he wrote, came about as the result of "exaggerating defects: she'd made them ornamental by admitting them boldly." Like Mag, like the swans, we could all use a push to live life—and dress for it—with an exclamation point.
This article appears in the June/July 2022 issue of ELLE.
This content is created and maintained by a third party, and imported onto this page to help users provide their email addresses. You may be able to find more information about this and similar content at piano.io