Vera Wang Is More Than Just Her Age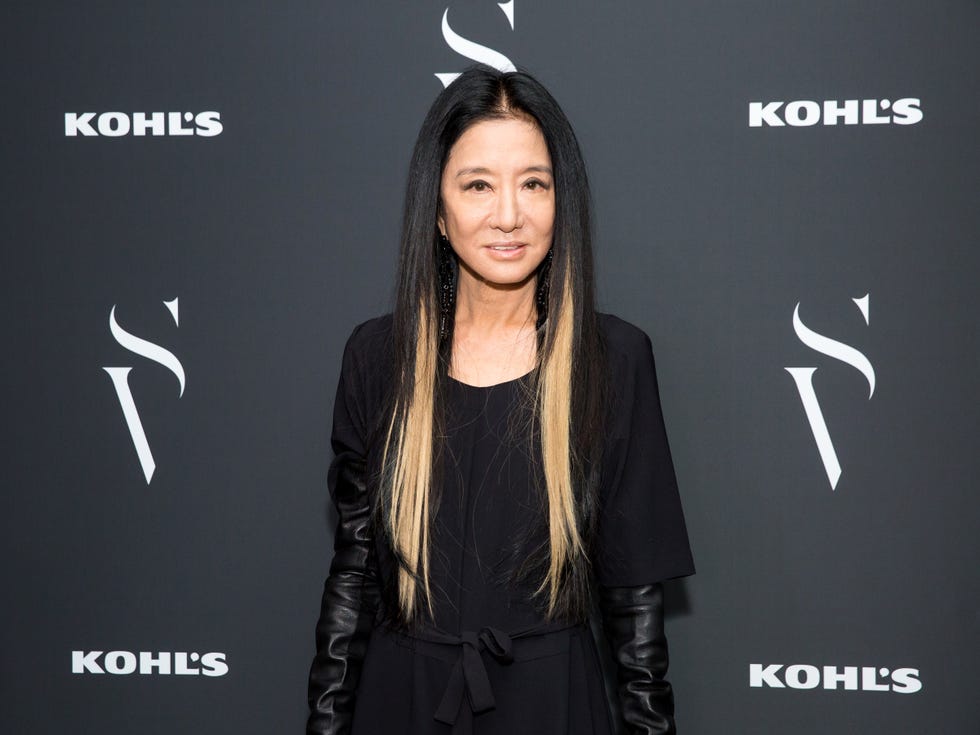 Vera Wang is 73 years old. It's a fact the internet is quick to point out, considering her fresh, lit-from-within complexion. Youthful, ageless, and even immortal are all adjectives that are typically associated with the designer, who, despite having spent her entire career in the fashion industry and famously launching her own namesake line at 40, in recent years has become known just as much for her appearance as her bridal wear. But when I speak to her over the phone last week, the jig is seemingly up. "I'm very flattered that people think I've aged well, but it was never my goal," Wang says matter-of-factly. "I drink vodka, I sleep, I avoid the sun. But I like to work. I don't want to be pigeonholed."
Indeed, Wang, who is celebrating over 15 years of partnership with Kohl's on her affordable Simply Vera Vera Wang line, has always kept her head down and mind active, even while running in the most glamorous circles: working as the sittings editor at Vogue, designing womenswear for Ralph Lauren, and, after stepping out on her own, having her work featured in major storylines on Gossip Girl and Sex and the City. "Work was my lifeline that kept me feeling relevant and challenged me over the years," she says. "I think the mind is more powerful than one could ever understand. The challenges that work and life present us is what keeps us going. That, and sleep."
Below, more from Wang about working with Kohl's, ageism, and the possibility of returning to the runway.
Why does your partnership with Kohl's continue to be such an important part of your business?
Kohl's enabled me to reach women that used to write me and say they related to me, but couldn't afford one of my wedding dresses. My whole life and my entire career has been about other women. When I started as a magazine editor nearly 20 years ago, I hoped to in some way influence and be there for them, and get my point across visually in every issue. Then, once I became design director at Ralph Lauren, which pretty much encompassed everything from sleepwear to shoes, I not only got to create things that would affect women's lives, but was also able to connect with women on a whole other level though fashion. Reaching so many women now is something that I'm very proud of.
Everyone marvels over the fact that you started your company at 40. Does that seem late to you?
Honestly, I don't know that I could have started it one day sooner, because I think what I learned along the way was so invaluable. That was a whole other education. I felt very lucky that even at 40, I could start a company of my own, because I never wanted to start a company in the first place. I got married at the ripe old age of 39 and three quarters, and my father suggested that I get into the wedding business because there was a clear market for it, but he wouldn't help me. He said, "If you think you're such a hotshot, go get a job." I always wanted to be a designer and wanted to go back to design school after college, but he wouldn't pay for that either. Ralph Lauren was a much easier transition because it allowed me to build up a resume. We actually designed things that I saw women using and wearing, which was a dream. When I saw a woman on the street with a bag I had worked on, I became hysterically happy. I never thought I would get married, but once I did, I found myself relating to women on the most intense private and public day of their lives. And I've been doing that for 35 years.
A lot has been said about your ageless appearance, specifically after the BAFTAs. Why do you think our culture is so obsessed with age?
I'm confronted with a bit of a moment now where so much has been said about my aging. I just hope that it doesn't supersede my work. It brings up the issue of ageism, and I don't want to be pigeonholed. We pigeonhole women that are pregnant, small, tall, athletic…authenticity means so much to me. I have to be honest: my Asian girlfriends are anywhere from the age of 50 all the way up to 75 and they all look pretty amazing. For a lot of them, I don't think it's magic potions or going off to clinics in Switzerland, or whatever is the rage out there. I was never really obsessed with aging. I can't speak for younger generations, but things that exist now did not exist 50 or 60 years ago. There was no such thing as Botox. I've always focused on work. Work was my lifeline that kept me feeling relevant and challenged me over the years. I think the mind is more powerful than one could ever understand. The challenges that work and life present us is what keeps us going. That, and sleep. I can sleep around the clock.
How many hours do you typically sleep per night?
Nine. Sometimes I get by with less, but I need more than six or seven. I find that sleep is restorative and calming. I think it's so important. I try my best to pace myself, but with social media and the way the world has changed, it's just outpaced the human brain and everything we can deal with. But there are positives, too. When the Kardashians came along, their biggest gift was showing that you don't have to be the size of a runway model to really feel good about yourself and feel beautiful in your own way. That's something that my mother always preached to me: every age has its own set of beauty standards. I'm very flattered that people think I've aged well, but it was never my goal. I drink vodka, I sleep, I avoid the sun. But I like to work. I don't want to be pigeonholed. Designing clothes is also extremely intense physically.
I'll bet. Do you still figure skate?
Not so much anymore. I did over the holidays with my daughter. I was like, "Let's make sure we don't end up in the hospital." I hear everybody's rollerskating now, though. I'm gonna try that this summer.
Which wedding dress trends are you loving these days?
For the most part, they're extremely romantic, and that shouldn't be a surprise, but there's another side that is more tomboy and everyday, like Kristen Stewart's Chanel shorts suit at the Oscars last year. That, to me, is modern eveningwear.
What's your best piece of career advice for aspiring designers?
Reach, resonate, and connect with your audience. With so many people starting brands, it can be hard to fight for airtime and space. Have a dedicated team and find your tribe so you can grow and develop as a designer and a businessperson. We're all striving to communicate to the client, and for them to understand what our meaning and intention is. It takes an enormous level of effort, passion, desire, care, and respect.
What's next for you?

I've always been interested in film; if I didn't go into fashion, I would probably be working in the entertainment world. I still always dream that there's a movie in me…I joked with Tom Ford about following in his footsteps. For me, fashion is all about storytelling.
Do you think you'll ever make a return to the runway?
I don't know; I haven't found it meaningful yet. Technology has changed so much with screens and phones, and it's become increasingly more difficult to make an impact with such a packed calendar. I think there were over 400 shows this season alone. Everybody's fighting for oxygen. Whenever I look at my phone, it feels like another 20 shows just happened. Designers have to deal with so much—not only designing, but promoting the product, having a political voice. But never say never. At this stage in my career, I just want there to be an understanding of just how passionate and dedicated I am, and how much I care. It's why I continue to go to work every day.
This interview has been edited and condensed for clarity.

Deputy Editor
Claire Stern is the Deputy Editor of ELLE.com. Previously, she served as Editor at Bergdorf Goodman. Her interests include fashion, food, travel, music, Peloton, and The Hills—not necessarily in that order. She used to have a Harriet the Spy notebook and isn't ashamed to admit it.