Keep the booze comin'! How did bottomless mimosas become a brunch staple?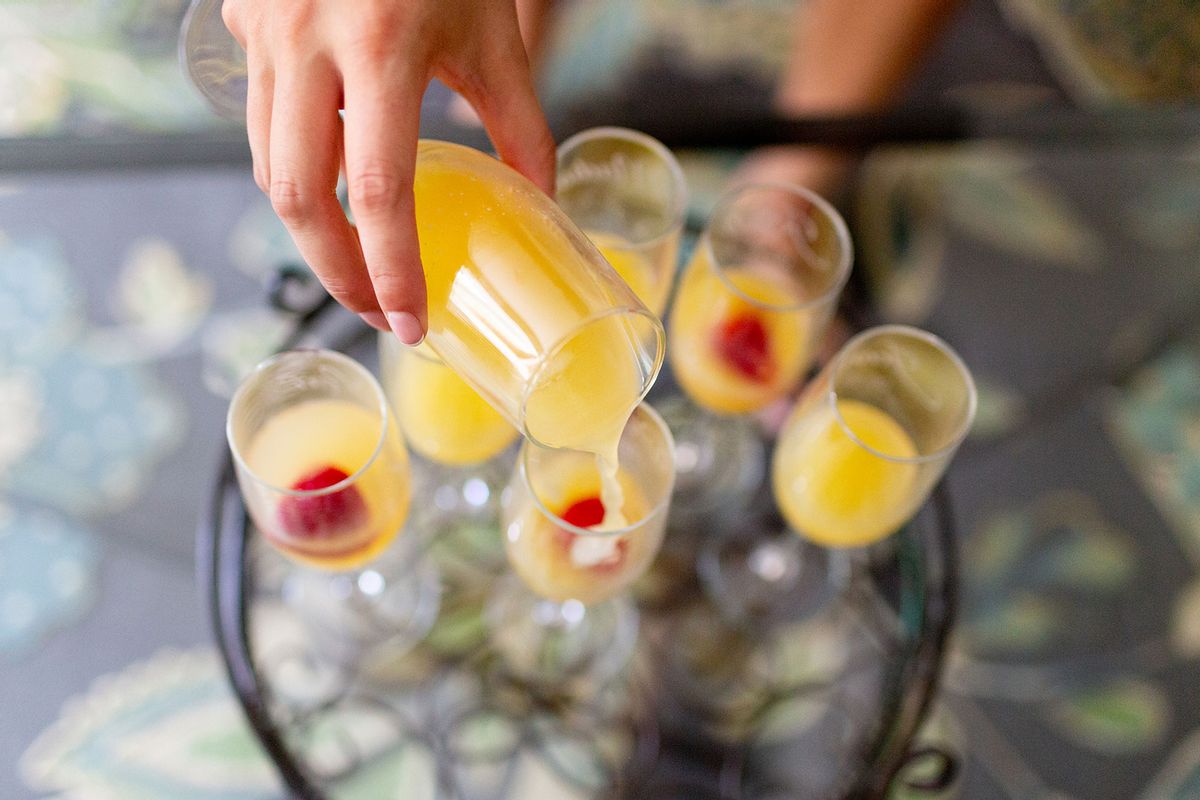 Avid brunch-goers know that no brunch is complete without mimosas, the citrus-based cocktail that has been hailed as its official drink. And restaurants know this too, which is why they've introduced the überpopular "bottomless brunch" in recent years.
If you're not familiar, bottomless brunches incorporate more booze than your traditional brunch by offering food and unlimited alcohol for a set price. Unlike brunch, which rose to popularity across the United States in the 1930s, bottomless brunch is a more modern phenomenon. According to data from Google Trends, search interest in both bottomless brunch and bottomless mimosas grew steadily in 2011 and peaked just a few years ago in April 2021.
When it comes to mimosas, it's no surprise why the cult favorite drink is a must-have brunch pairing. The mimosa is tasty. It's sweet. And, it's effortlessly elegant when served in a tall champagne flute. It's also quite simple to make — just mix champagne with chilled orange juice or any citrus beverage of choice.
Mimosas were initially known as "champagne-orange" in London, where they were introduced to the Queen by Earl Mountbatten of Burma after a visit to the south of France. "The royal family has begun a new fad in drinks among London's fashionable Mayfair set," reported the Sydney Morning Herald in 1961. "The Queen, the Duke of Edinburgh, and the Queen Mother all have adopted a Champagne cocktail they call mimosa." Like its name suggests, a "champagne-orange" consisted of nothing but cold champagne over orange juice. But instead of drinking it during the day, the cocktail was typically enjoyed before dinner.
It was the Europeans who brought the mimosa to the United States in the late 1960s. By then, brunch had already taken off as a national success but with a different menu of cocktails. Banana daiquiris — made with rum, bananas, lime juice and maraschino cherries — and double martinis were quite popular. Robert Moss of My Recipes wrote that Charley O's, an Irish pub in Rockefeller Center, served their own rendition of a "champagne orange" made with champagne, orange juice and Cointreau.
Surprisingly, mimosas were a major hit in swanky New York nightclubs and amongst Hollywood elites. Alfred Hitchcock was once seen "drinking mimosas (Champagne and orange juice) and smoking an eight-inch cigar," according to a reporter for the London Express. Vanessa Redgrave also sipped on a "Champagne mimosa … her pet mixture of bubbly and orange juice" during a visit to the Big Apple. And French actress Denise Darcel told the Detroit Free Press, "In France we drink mimosa."
By the 1970s, mimosas became a signature brunch cocktail alongside the bloody mary. Mimosas were a common offering "on brunch menus in restaurants all across the country, like the Brewery in Chicago, the Old World Restaurant on Sunset Boulevard in Los Angeles, and Brighton Coach Restaurant in Dallas," Moss wrote. Soon enough, recipes for mimosas appeared in newspapers and magazines.
As for bottomless mimosas, the unlimited cocktail further emphasizes the hedonistic aspect of brunch — it's delicious and it makes you feel really good! Bottomless mimosas also convince consumers they are getting more bang for their buck, which is an old-school marketing principle called "psychological pricing," per Eater.
"Essentially, to a customer, $19.99 price feels far less expensive than $20, even though the difference is a mere penny," explained Eater's Brenna Houck. "The same concept explains why those $17 bottomless mimosas you're drinking seem far better than paying $8.50 per individual glass."
---
Want more great food writing and recipes? Subscribe to Salon Food's newsletter, The Bite.
---
"When you go bottomless, you're estimating that you can consume two or more cocktails in one brunch date to get the full value of the purchase."
Houck added that bottomless mimosas are considered a "loss leader" or "an item sold at a loss with the goal of getting diners to spend more on other items." So interestingly, endless supplies of the cocktails also help restaurants generate revenue.
Take it from Niki Gross, the managing director of the Heritage Restaurant at the Whitney Peak Hotel in Reno, Nevada, who told Eater, "Even though our margin might be eaten into just a little bit, we really make up for it on the food side because we're keeping people here for at least two to three hours. We're selling more food. So it all balances out in the end."
So there you have it, bottomless mimosas are a necessity and a pleasure! They're all the more reason to go out for Sunday brunch, even if that crippling hangover from Saturday night says otherwise…