Learning the Language of Rhythm in Istanbul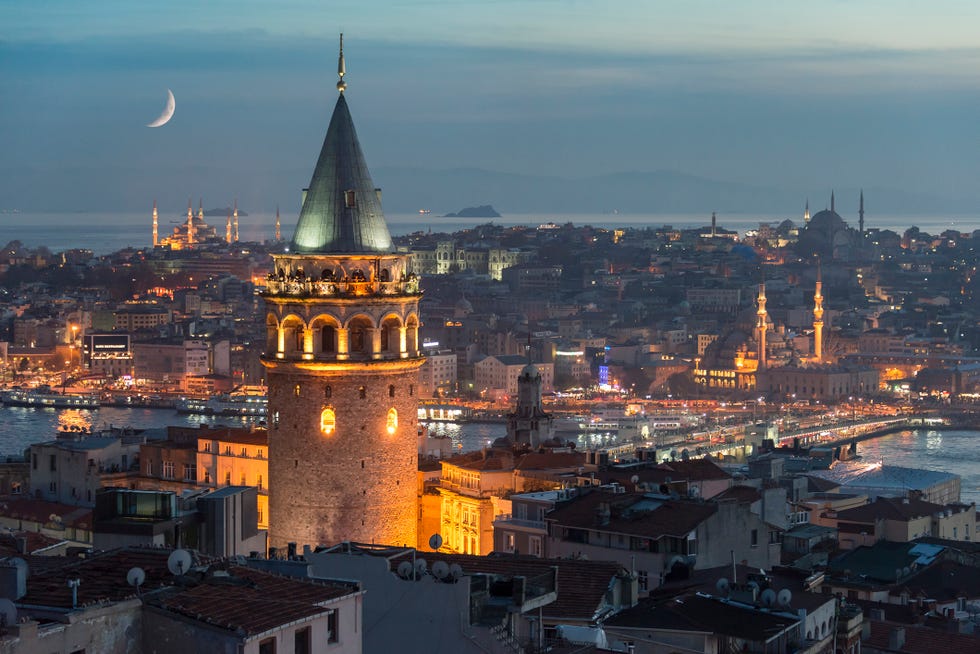 It's been said that everything in this world has a rhythm. And while that may be a familiar notion for a performing arts figure such as principal ballet dancer-turned-choreographer Lauren Lovette, it's a concept that also rings true for mixologist Begüm Ural. As the award-winning tastemaker behind the cocktails of The Ritz-Carlton, Istanbul, Ural gracefully shakes and stirs—sometimes subconsciously keeping tempo with the Bleu Lounge's live entertainment—until the series of steps and a set of spirits sync to create a consummate cocktail.
Even the city Ural calls home—Istanbul—moves at a unique cadence. The buzzing cultural hub of Turkey spills across two continents—a fact that means eastern and western traditions share a dance card daily. The spiritual and the secular constantly whirl around each other, and the past sways cheek-to-cheek with both the present and the future. It's a locale where calls to prayer bellow out of ancient mosques as loudly as the pulsating electronic beats that pump through the city's world-renowned nightclubs. Cobblestone streets either lead to contemporary art galleries or grand Ottoman palaces and Romanesque watchtowers from the 1300s. You can feast on Anatolian lamb with chickpeas and eggplant or grab a burger from a familiar restaurant chain—either way, the famous clowder of street cats would be happy to share.
Istanbul's distinct energy is something dancer Lovette has been lucky enough to experience first-hand. "To have the old so close to the new made me feel the depth of the city. I was immediately drawn in by the colors and the smells, the different landscapes, and eras, all coming together to choreograph Istanbul's unique story and energy," Lovette says of her recent but all-too-brief experience in the cultural hub. "Dance is the universal language, but Istanbul is the most diverse place I've ever been. I would have needed to stay weeks longer to truly understand its creatively enticing spirit and rhythm."
Few have a more inspiring vantage of Istanbul in motion than Ural, who regularly finds herself sitting atop the city at The Ritz-Carlton. "You can feel the whole city from here," effuses Istanbul-native Ural, who started her career at sixteen in the property's kitchen. "The Bosphorus is just under your feet, and the refreshing breeze dances across your skin at the rooftop bar." Harnessing the city's momentum to turn a routine visit into a spectacular sojourn is a mastered art at The Ritz-Carlton, Istanbul. So, if you're looking to better acquaint yourself with the rhythmic language that courses through the destination, the property is happy to help with the translation.
Fresh from a thoughtful redesign that marries modern comforts with the rich textures of Turkish style—think Iznik tiles, layers of gold and copper, Gravure art, sumptuous fabric headboards, cobalt blue wall panels inspired by Anatolian ceramics, crystal chandeliers inspired by indigenous blooms, and glazed replicas of coins from an era when sultans reigned—The Ritz-Carlton, Istanbul offers a new perspective on the destination's dichotomies. After all, it's a place where you're welcomed with a splash of sahlep under an antique door dating back to the Seljuk empire, then further indulged with suites that offer technology butlers and personal saunas.
"It's a place where you can learn and experience new things but still feel like a home where you are safe and welcome," says Ural. A fair part of that warm environment is due to a dedicated staff always ready to send you off with a cup of steamy Turkish coffee and a list of must-dos.
Even the spa borrows from multiple epochs, cultures, schools of self-care, and design. Its centerpiece is a hammam modeled after the 16th-century traditional baths in Roxelana. But the glass-sided outdoor infinity pool, which allows you to simultaneously soak up the sun, swim laps, and watch ships float, gives it a run for its money. "The spa was the perfect way to unwind after a long flight. The hammam body treatments are a necessary addition to a tired traveler's first-night experience," says Lovette, adding that many amenities on offer at The Ritz-Carlton are well-equipped for easing time zone transitions. "We live in such a fast-paced and stimulating world," Lovette says. "Every moment of blissful flow amidst the hurricane of life must be cherished and held with gratitude."
Ural, a proud Istanbulite, can't think of a better or more enjoyable way to get in step with the City on Seven Hills than experience it through the senses. She encourages travelers to head to the bar for a chance to drink the destination in.
"My style of mixology is to add local spices and natural ingredients to make a cocktail that tells a story about Istanbul. I want you to feel the same authenticity and energy as you do when you walk on the narrow cobblestone streets, smell the air in the Grand Bazaar, sit in a café in old town, or share raki with friends after dark," she says. For Ural's Butterfly Effect cocktail, which changes from blue to purple, she draws upon the dramatic hues surrounding the Dolmabahçe Palace at twilight. In another creation, she uses bay leaves, a signature ingredient of Turkish cuisine, to infuse a sense of local authenticity. "Every color or ingredient I use is inspired by things I love here," says Ural.
Stepping out of the hotel, it's easy to see the chromatic connections to Ural's inventions. The matcha refresher might recall a stroll through Gülhane, the verdant park that used to be Topkapi Palace's manicured gardens and off-limits to the hoi polloi. The chamomile and whiskey concoction could evoke the gilded ceiling of the Hagia Sophia. And take your pick of connections for the red Bi Negroni: the colorful facades in the old Jewish quarter of Balat, pyramids of powdered spices at a street market, the vintage trams in Beyoglu, or the night-lit Bosphorous Bridge (which coincidentally can be seen from Ural's liquor laboratory which also happens to be shrouded in blue hues).
It makes Ural happy when guests draw their own associations to her cocktails and when she sees the smile spill out from behind the glass as they start imbibing. But for this creative, the drive to push the envelope is also a matter of personal accomplishment. Since Ural set out to pursue a career in mixology, she has become one of the leading female voices in Turkey's cocktail culture and a true mover and shaker in the field. "I like when the guests enjoy my work, but creation is never for somebody else. You do it for yourself," she says. "The magic drives you to some other world, and you let everyone else join you there."
From the moment Lovette picked up her Pointe shoes, the world of professional dance brought the California native to countless, far-flung destinations around the globe. Now, as the dancer takes the leap into choreography, travel is as much a part of the creative process as it is a perk. "I am constantly living in a world of inspiration," Lovette explains. "I think that is the gift of being a creator; the reality that ideas can come from anywhere creates a world of possibilities no matter where you step foot."
The spark of curiosity Lovette experiences every time she arrives in a new city inevitably sets a journey of inspiration into motion. Upon her arrival to Istanbul, a destination that has long topped her travel bucket list, the choreographer seized the opportunity to immerse herself in the spirit of the city. "One of my favorite ways to experience a new place is get lost in it—to wander and see where your eyes take you," she says. "Istanbul was a creatively enticing place to be. I loved walking through the cobblestone streets and winding paths, enjoying the bright colors of the fashion and taking in the aromas of the markets."
The inspirational sources, the dogged pursuit of perfection, and the final choreography is where Lovette and Ural's two worlds meet. "The use of visually stimulating ingredients—color, texture, smell, variety of feeling, and an element of surprise—link these two forms together," Lovette says. "I respect the creativity, storytelling, and pride Ural brings to her field. We talked about what it's like to pursue a craft for a decade and still be perfecting it daily. It's all something I relate to."
Ultimately, so can travelers, and both of these innovators agree that exploring a new place is one of the most inspiring things you can do. "It's stimulating to all the senses [to] get out of your comfort zone and immerse yourself," Lovette says.
---
Video Direction by Josh Brede; Styling by Lilli Millhiser; Styling Assistance by Tess Parker; Hair and Makeup by Uğur Özgümüş; Production by Anne Ritz and Mandi Hayes; Production Assistance by Brian Byrd and Duran Cribbs.