The Rise of the Baby Beauty Junkies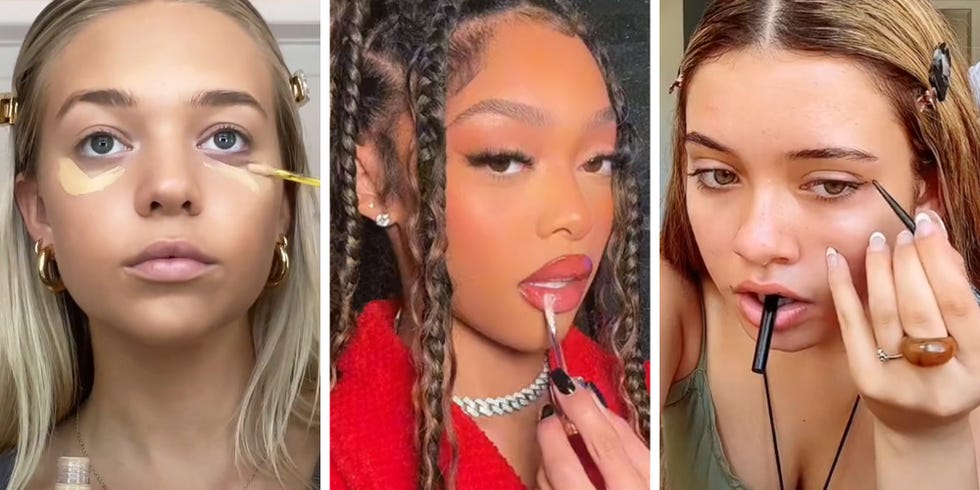 My 13-year-old daughter, Mia, is learning all the typical middle school stuff, her schooldays taken up by the ho-hum of algebraic equations, cell division, and research papers about historical events. But ask her about the hydrating properties of hyaluronic acid, how kojic acid can help brighten skin, or how color theory can camouflage under-eye circles—and this is when she really understands the assignment, so to speak. Her eyes light up—and it's not just from the shimmery dot she carefully placed in the inside corner of each tear trough giving her that lit-from-within glow. Three years ago, her travel cosmetics bag was a Ziploc that I packed —mostly the bare minimum of shampoo, conditioner, sunblock, and soap. Now her vanity case is actually one of two, Glossier-pink, and stuffed with more makeup and skin care than can fit on most vanities or hotel-room sinks.
Mia is right on target with her fellow beauty lovers in Generation Alpha, roughly defined as kids born since 2010. At 10 years old, North West posts TikTok videos of her beauty routines. Ayesha Curry's 11-year-old daughter, Riley, has a full skincare routine. According to a spring 2023 report on teen spending from Piper Sandler, a financial services firm, teens spend an average of $123 a year on makeup and $119 on skin care, a 32 percent increase for makeup from the year before, and an 11 percent increase for skin care. While teenagers have always been drawn to makeup, 45 percent of them wear it every single day—the highest level in the survey to date. They like to get their hands dirty, too, with 84% of teens prefer in-store shopping to online. (If my daughter doesn't come directly home after school, chances are that she and her friends have walked a few blocks to the nearby Sephora to cruise the aisles—not to mention claim it's each of their birthdays to receive the special gifts.)
"Stores like Sephora and Ulta Beauty are more appealing than actual candy stores for this generation of tween and teen girls," says New York City dermatologist Elizabeth Hale, MD, whose own daughter is 12. While there is no hard data on Gen Alpha specifically (the semiannual teen survey has an average respondent age of 16.2), it's "a good leading indicator of where spending among other age groups is heading, particularly for preteens," says Korinne Wolfmeyer, a senior research analyst who covers beauty and wellness at Piper Sandler. Jordana Mattioli, an aesthetician in New York City whose clients include adolescents, says, "They love products that feel nice on their skin, like cleansers with jelly or milky textures—anything dewy." (Wednesday Addams aside, isn't the factory setting for tween and teenage skin dewy to begin with?)
More From ELLE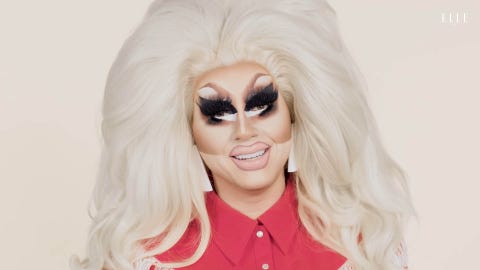 I've personally observed that they also love anything with a distinct scent. After my daughter and her friends get ready for a party or dance, the scents linger in the air long after their chattering has faded. Opening Ceremony cofounder Humberto Leon says his twin nine-year-old daughters are freaky for the gorgeous fruity-roses smell of the Ukiuki Weekend Hair Fragrance. It's no wonder that Bath & Body Works continues to have a chokehold of 31% of teenagers. The gentle price point is helpful, considering that this generation seems to want a scent for every day of the week or even to match an outfit, says Wolfmeyer.
My own daughter and her Gen Alpha friends, for their part, definitely go hard for brands like Drunk Elephant, Sol de Janeiro, and Glossier, which feature cleverly colorful packaging that seems almost designed with a collect-them-all aesthetic that doesn't feel all that different from the Squishmallows and LOL Surprise! Dolls they've only barely left behind. For boys, who are also spending more on beauty, the top skin care brands are the more utilitarian CeraVe and Neutrogena.
The beauty culture our kids are growing up in is largely thanks to the deluge of "Get Ready With Me" videos on TikTok and other social media platforms, says Sheryl Gonzalez Ziegler, PsyD, a child and family psychologist in Denver, as opposed to how older generations grew up watching their mothers. "Watching my mother get ready—that was my tutorial," she says. "Now my daughter watches me and gives me advice." Their incessant scrolling of short-form clips reflect the fast-changing beauty trends— ping-ponging from "glass skin" to "dolphin skin," "cold girl" to "soft girl," "glazed donut nails" to "lip gloss nails." "We're seeing micro-influencers—people with only a couple thousand followers—go viral," Wolfmeyer says. "We're seeing doctors and scientists become influencers, because at the end of the day, the preteen, tween, and teen generation wants authenticity."
A lot of today's baby beauty junkies were barely getting their second set of molars when COVID started, my daughter Mia included—and the amount of time she spent online and on beauty seemed to skyrocket. Jenn Falik, style expert and creator of The Ultimate Edit newsletter, says that her daughter, Alexa, 12, interacts with beauty in a variety of ways, but "for her, it's just…fun! She's really into finding dupes because she's learned a lot about the different price points out there. Sometimes her interest in things like baking or contouring can feel a little worrisome, but for now, she sees it as just fun —almost like cosplay. She loves seeing what she can do with her appearance." Wolfmeyer notes, "This generation is a lot more open to finding ways to improve mental health and well-being, and a lot of that comes through beauty. When you're standing in front of the mirror for 15 minutes going through your 10-step skin care routine, that's time you're spending only on yourself." However, Ziegler adds, "There are a couple of things that we know from the research that make me concerned. We know that girls who are more consumed with their beauty and body image are more susceptible to eating disorders and depression. I see girls this age really personalizing these messages, really trying to look a certain way, and if they don't perceive that they've achieved it, they can experience anxiety and thoughts about how they aren't good enough."
The relationship between mental health and beauty is a fraught and complicated topic. My daughter says that for her, "it's a way of expressing myself, just the same way that clothes can." Plus, she says, "when I do my makeup, I feel like I've accomplished one small thing for the day—like I took a moment to take care of myself." I can't help but suppress a tiny twitch hearing my kid talk about "self-care," and wonder if that is truly what's happening here. Ziegler is circumspect. "I am concerned about their ability to see it as just fun and harmless." And at least one mom told me she's seen her kids' friends overusing retinols or piling on so many ingredients they get rashes and breakouts. (What do you call antiaging before you've even aged?) But another beauty junkie side effect is that this is a generation of girls who are much more sun savvy and thanks to their skincare routines, they are wearing sunscreen regularly from a very young age, says Dr. Hale. "It's the perfect opportunity to educate about the basics."
More than any cult product or viral look, Gen Alpha has a real need and opportunity for deeper beauty conversations. "Beauty can be a real way to love on yourself," says Julee Wilson, executive director at BeautyUnited, who is based in New York City. But the adults in teens' lives will want to make sure their beauty values feel healthy and are not coming entirely from the internet. Ideally, Wilson says, the next generation will learn that "you're already good—you don't need this stuff. If you have something to enhance, that's great, but it's not about fixing things."
---
A version of this story appears in the August 2023 issue of ELLE.