Fashion Can Be Exploitative. Can A New Bill Fix That?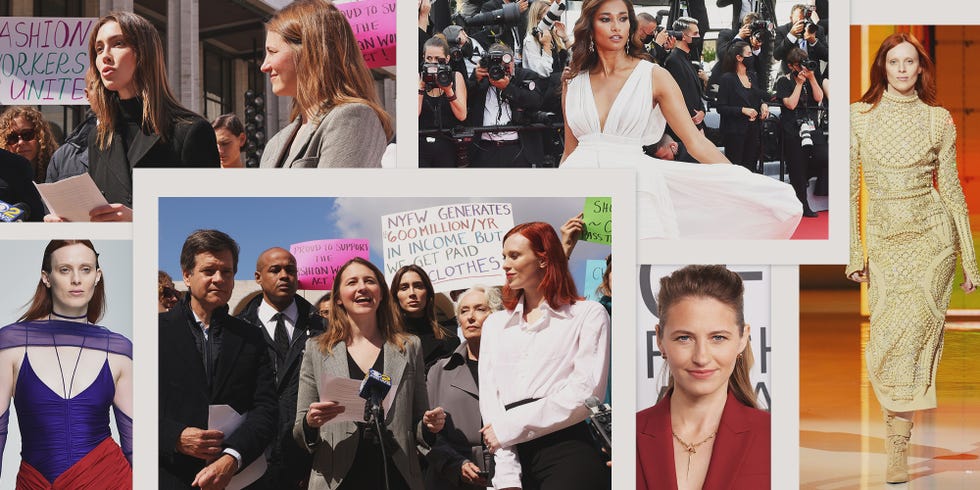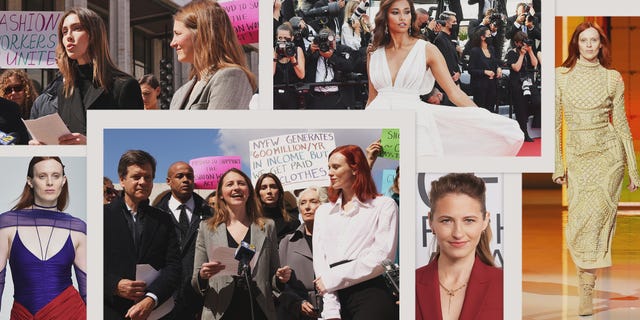 Press Conference: Reed Young; Other images: Getty Images
Style Points is a weekly column about how fashion intersects with the wider world.
Models are not high on the list of professions that garner public sympathy. YouTube is full of supercuts of them falling on the runway. Eyerolls greet their public complaints. As Sara Ziff, founder and executive director of the labor-advocacy group Model Alliance and a former model herself, readily admits, "I think there's very little public sympathy for models or people working in fashion more broadly, because it's seen as a glamorous profession, a privilege, not really a job."
Still, as her organization's work has shown, models are workers. As are stylists, hairstylists, and makeup artists—the people the Fashion Workers Act, a new bill going before the New York State Senate and backed by State Senator Brad Hoylman and Assemblymember Karines Reyes, aims to protect. Amid a labor revolution that's happening everywhere from Starbucks to media companies, those behind the bill want to draw attention to the exploitation that can be all too common in the fashion industry. The bill would require management companies to pay creatives within 45 days and cease exploitative practices, like including mystery fees or overcharging models for services.
"I've worked off and on as a model since I was 14 years old and I'm turning 40 next month," Ziff says. "And unfortunately, the very same problems that I encountered as a young model are what we hear about every day through our support line." Models have also aired grievances via the anonymous Instagram account @shitmodelmanagement, which Ziff says the Model Alliance was in touch with in advance of announcing the Fashion Workers Act. Accounts like these have provided an outlet for some models to speak up without risking their livelihoods. "If people are scared and don't feel like they have any other avenue to air their grievances," Ziff says, "then it makes sense that they would use social media in that way."
Last week, the group held a press conference on the anniversary of the Triangle Shirtwaist Fire, a potent reminder that fashion has long exploited some of its most vulnerable workers. (One attendee's sign read: "NYFW Generates $600 Million/Yr In Income, But We Get Paid in Clothes.") Among the models who spoke were industry vet Karen Elson, Teddy Quinlivan, and L'Oréal global ambassador Nidhi Sunil. It's been challenging to enlist people to speak up, however. For working models, says Ziff, "that concern of being blacklisted is very real. And it's something that has been a challenge for us as an advocacy group, because people are really sticking their necks out when they attend a press conference to ask for some basic labor protections. It shouldn't be controversial, but it is. It's a chicken or the egg [scenario]. You can't get the protection without people speaking out and sharing their stories, but in sharing their stories, there's a legitimate fear of jeopardizing [their] livelihood."
Sunil, who is from India, explains that for models like her who are immigrants, their visas are sponsored by their agency. It's a precarious position that can make them afraid to retaliate. As a young model, she says, she experienced exploitation, which is unfortunately common for those in her situation. "You're not educated on your rights. So when you come in, you're immigrating, you're here by yourself, and there's no family [present], you feel like your agency sort of owns you."
When Sunil initially reached out to Ziff, she offered to help others who were dealing with some of the same issues she'd faced. Since then, she says, "I've found good people to work with, who have the same beliefs in the system, in the sense of: We need to get paid on time. And that's not a lot to ask…To have an act that expects you to be paid in 45 days; that's really not a big ask, honestly."
The proposed bill also ties into a more recent trend: public regulation of the fashion industry, something we've also seen recently with The Fashion Act, which would set sustainability targets for brands and require them to disclose their ecological and social impact. For Sunil, this kind of governmental intervention has been a long time coming. Modeling has "functioned in this non-regulated space for so long," she says. "You just assume, because it looks so legitimate from the outside, and it gets the most press coverage of all the industries that you possibly could enter into as a young teenager, that you're entering into this very structured industry. In reality, you walk into it at 17 or 18, and you assume everything is going to be very set in stone. And then you realize, it's all wishy-washy. It depends entirely on how empowered you are and how well you know your rights. If you don't, you'll be totally exploited, essentially."
Adds Ziff: "The [fashion] industry employs 180,000 people in New York. It creates about $11 billion in wages. And the fact that the creative workforce behind that success is unprotected is pretty remarkable." When the bill makes it to the State Senate floor, she says, "We hope that it will have a swift passage. But we're in this for the long haul as well."
This content is created and maintained by a third party, and imported onto this page to help users provide their email addresses. You may be able to find more information about this and similar content at piano.io