I Cycled Through Both of My Pregnancies, and I'd Do It Again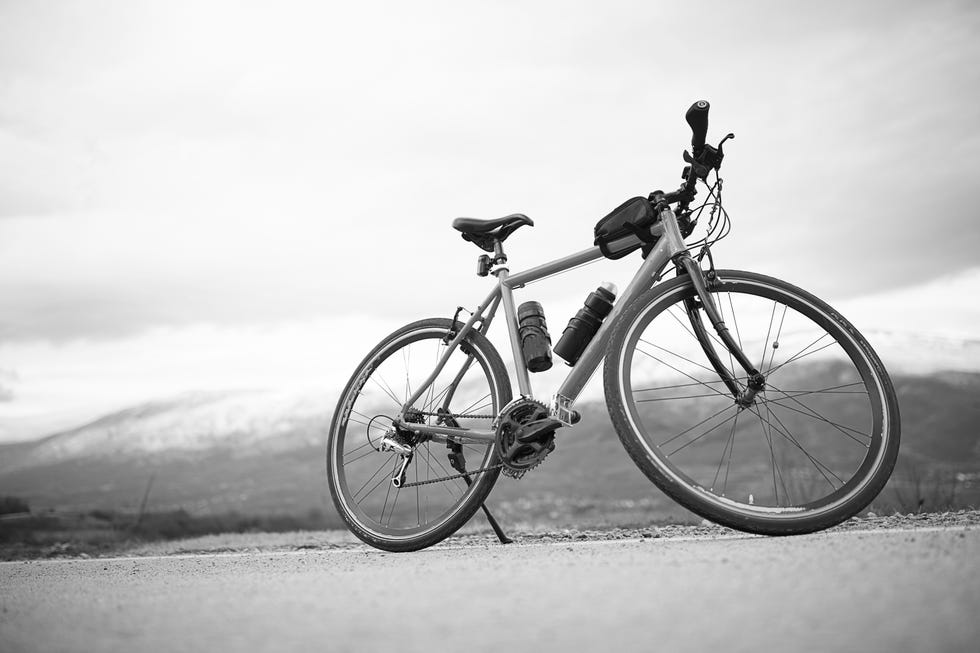 A professional cyclist and Cannondale brand ambassador, Laura King was determined to not lose her identity as an athlete when she became a mother to her two children, Hazel, 2, and newborn son Hayden. So after learning she was pregnant with her daughter, she raced and rode up until the day she gave birth. King was back on the bike six days postpartum, breastfeeding before, during, and after her rides, which sometimes exceeded 100 miles a day. And she just did the same with her second child, too. Here, King explains her decision to cycle through both of her pregnancies, and shares the ups and downs of balancing parenthood with her physically demanding career.
---
I've been cycling competitively for 20 years. Growing up, I was always very athletic, but I didn't play sports until high school, when I decided to join the swim team on a whim. I was quickly told by my coach that I had a natural aptitude for endurance sports and needed to take things to the next level. Because I got a late start, I still feel like I've hardly scratched the surface of understanding what my potential might be.
After 12 years of competing in triathlons, I moved to Marin County, California, aka the birthplace of mountain biking. There, I discovered my passion for an entirely new sport. Cycling is just as challenging as any multisport race in terms of physical prowess, but the personalities are often more laid-back, and there's an inherent sense of adventure—it isn't strictly about winning. I even met my husband riding a bike. This was back in 2016, when he had newly retired from the highest ranks of European racing. We both started cycling on gravel and experienced success; and together, we now have a variety of jobs within the cycling industry, one of which is to race in events around the country. My life—and our life together—revolves around cycling, not just because we love to compete, but we also love getting people to love it like we do.
All that is to say, when I became a mom, if I didn't continue riding, I wouldn't just be giving up a hobby, I'd be giving up my career, my relationship, my social circle, and every aspect of the joy that the sport brings to my life. That's when I made the decision to continue cycling through my first pregnancy in 2019. I did the same for my second, and weeks ago, I gave birth to another healthy baby.
I'll be honest: this was an experiment, and doctors cautioned against it. Whenever you ride, there's a risk of falling, but I had the confidence to know that what I was doing was as safe as it could possibly be. Everything involves an element of risk, and I wanted to see what my body was capable of, without sacrificing the one thing that makes me feel like myself. Surprisingly, my exercise regimen did not change in a big way. I was training 15 to 20 hours a week before I was pregnant, and 15 to 20 hours a week while I was pregnant, both times. I still traveled to racing events because I still craved being a part of the community. The unique thing about cycling is, even if you're not there to compete at a top level, you can still try to complete the distance, and that in and of itself can be satisfying. There was a constant progression of, hey, let's see how this goes, and I would almost always surprise myself. When I was eight weeks postpartum, I went on a 140-mile ride and stopped to breastfeed my daughter along the way.
There's no doubt that pregnancy is challenging. One thing I didn't anticipate, though, was how all-consuming it would be in my head. If I was out for a long ride, I was always worrying: about time, about whether I had left enough breast milk, about whether I was drinking enough water. It was a constant source of stress. When you're used to having control over your body and what it can do, and then you lose that control, it's tough. Time moves slower. My mindset was just to take things one day at a time. For me, cycling boosts my mental and emotional health. It's really helped temper the highs and lows. One recent high was riding while pregnant from San Francisco to L.A. in four days, averaging a little over 100 miles a day. It's hard to put into the words the fulfillment that brought me.
I was definitely criticized for my decision. There are all these things they say to avoid in pregnancy: lunch meat, sushi, alcohol⁠—but what do the numbers actually show? It wasn't that long ago that people were worried about women running marathons because their uteruses might fall out. You need to weigh the risk and make the decision on your own. No one understands my mindset and what fuels me better than me. Taking it easy simply isn't how I operate. At the end of the day, no one really cares more about the health and well-being of the baby than the mom. If you're concerned, you need to know that my level of concern is higher. There are all sorts of risks in life; you can't help but second-guess, am I doing the right thing?
For my second go-around, I took it further—this time, partaking in a 100-mile gravel race in Oklahoma. I still have the same anxieties as before, especially now that I'm dealing with a two-year-old, a packed travel schedule, and the complexities and logistics of flying around the country with two children, two bikes, and a whole lot of gear. I try to remind myself that it's all part of the journey. I thrive on challenges, and this adds a little more complexity to the equation. I feel more confident knowing what I can do, and I'm thankful to not have had any complications.
It is a pleasure to report that I didn't receive any negative feedback while riding through my second pregnancy, most likely due to the fact that both my daughter and son are in good health. That's a testament to how quickly things are changing. There are so many pregnant women out there accomplishing amazing things, and it's opening the door for people to realize that your body really is so much stronger than we give it credit for.
This content is created and maintained by a third party, and imported onto this page to help users provide their email addresses. You may be able to find more information about this and similar content at piano.io