Latinx Beauty Is Everything
Latinx beauty looks like a sleek bun, penciled-in brows, and dark lip liner. It looks like sharp, winged eyeliner and bright red lipstick. And it looks like curly hair, barely-there makeup, freckles, and subtle, glossy lips. It looks like all of these things, or none of them. No one can tell me what Latinx beauty looks like. I am never surprised when someone tells me they're Latinx, because we look like everyone. You can find Latinx people in every corner of the planet.
People try to put labels on us, to confine us to niches or cookie-cutter shapes, but we're too varied a group to fit into one category. We don't all look like one another; we don't all come from the same culture or the same hometown. We can live near tropical beaches or towering mountains, in cities or small towns. We retain our Indigenous cultures, or they've been taken from us a long time ago. When my Mexican friend and I speak Spanish together, she doesn't get my Nicaraguan slang, and her accent sounds nothing like mine. More than 4.5 million people in Peru speak Quechua, but when I hear it spoken, I can't understand a word.
We can have 4C coils or pin-straight hair, and we can be any skin tone. My mother's hair is so dark it looks blue in a certain light, but her sister is naturally blonde. My friend's grandmother taught her how to apply a cat-eye and arched brow, and now she never leaves the house looking unpolished. But my mom asks for my help putting on her eyeliner before dinner because she was never taught how to do it. We were doing Clean Girl looks before it was a TikTok trend, but we can switch it up with the best lip liner tricks, and bold lipstick if we feel like it. We are not a monolith. Limiting terms or clichés can't contain us.
More From ELLE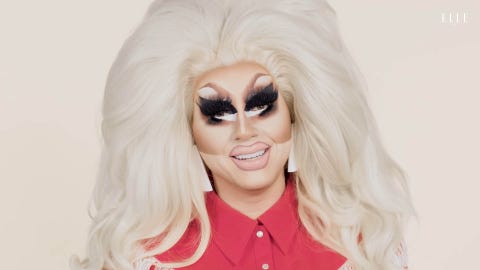 What we are is relevant. Latinx people only make up 19 percent of the U.S. population, yet when it comes to beauty products, we outspend other groups by 30 percent, according to a 2019 NielsenIQ Homescan consumer report. Ceremonia became the first Latina-owned hair care brand carried at Sephora. Rea Ann Silva created Beautyblender. Seventeen of its iconic egg-shaped sponges are now sold globally every minute. Joanna Vargas' A-list clients appear on every major red carpet. Models like Mica Argañaraz and Manuela Sanchez walk the runways of Saint Laurent and Dior, respectively.
We are innovators. Selena Gomez, already an international pop star, launched Rare Beauty, a brand so popular that some of its products, like Soft Pinch Liquid Blush, are often out of stock. Tata Harper, who grew up in Barranquilla, Colombia, couldn't find quality natural skin care products that were effective, so she grew the ingredients herself and created a luxury skin care brand in the process. Lulu Cordero was suffering from alopecia, so she mixed up her own concoctions using the hair formulas of her native Dominican Republic. Her brand, Bomba Curls, soon followed.
We are so powerful precisely because we are so diverse. There is room for every experience, every hair type, every skin tone, and every background. We aren't just making these beauty products for ourselves: What these founders and companies have created is for everyone, even if you aren't Latin American, don't get all the little specific references, or don't speak Spanish. It's critical that our histories, brands, and cultures don't get pushed into certain months, making us a niche interest, instead of mainstream.
So maybe if Latinx beauty is to be neatly defined, it should be with this phrase: "Para nosotros, para todos." For us, for everyone.
This article appears in the October 2022 issue of ELLE.
Tatjana Freund is a Beauty Commerce Writer, covering makeup, skincare, and haircare products and trends. She's a fan of vodka tonics and creepy Wikipedia pages.