"That could be the ballgame": Experts say "sharply incriminating" Pence testimony could doom Trump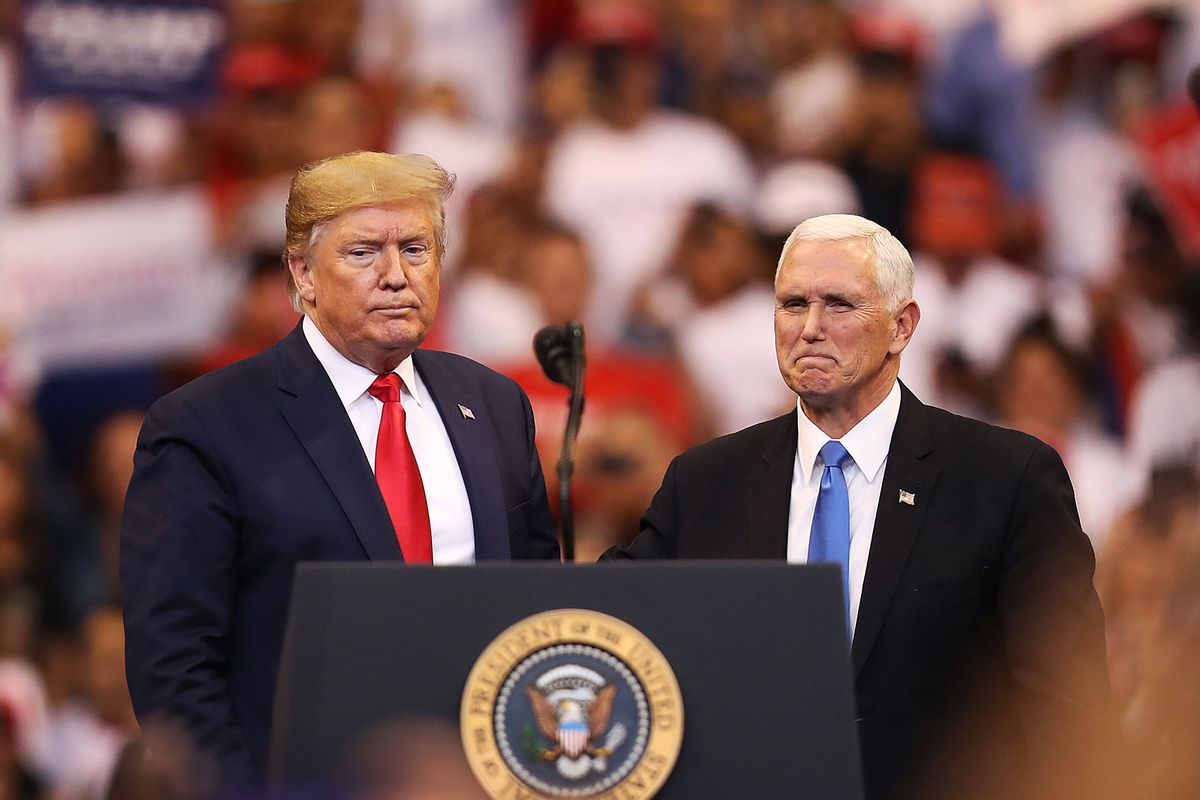 A federal judge on Tuesday ruled that former Vice President Mike Pence must testify before a grand jury about conversations he had with former President Donald Trump leading up to the Jan 6 insurrection.
In a still-sealed ruling, Chief Judge James Boasberg of the U.S. District Court in Washington, D.C., indicated that Pence will be able to decline questions pertaining to his own actions on the day of the Capitol riots but rejected bids from both Pence and Trump seeking to limit questions about his discussions with the former president, per CNN. Pence and Trump could appeal the ruling but it's unclear if they will do so.
Pence, who did not participate in the House select committee's Jan. 6 probe, offered several telling details in his memoir published last year. Pence wrote that Trump criticized him for being "too honest" several days before Jan 6, over Pence's refusal to partake in flipping the 2020 presidential election results.
"Hundreds of thousands are gonna hate your guts," Trump allegedly told Pence in a New Year's Day phone call. "People are gonna think you're stupid."
Pence wrote that he replied, "Mr. President, I don't question there were irregularities and fraud. It's just a question of who decides, and under the law that is Congress."
Special counsel Jack Smith, who is heading the Justice Department investigation into Trump's efforts to overturn the election, subpoenaed Pence for testimony and other documents earlier in the year. In February, Pence announced that he was going to "fight the Biden DOJ subpoena" on the grounds that it was "unconstitutional and unprecedented." CNN reported that Pence is contesting the subpoena under the Constitution's Speech or Debate Clause, which protects lawmakers from particular law enforcement actions related to their legislative roles.
The judge ordered Pence to testify about "any potentially illegal acts committed by Mr. Trump," a source told The New York Times.
"That could be the ballgame," predicted New York University Law Prof. Ryan Goodman, adding that the carveout the judge gave Pence was "very narrow."
"To be clear, Pence's motion resulted in a narrowing of his testimony, but he is required to testify regarding illegal activity, which is the focus of Special Counsel Jack Smith's investigation. That's what matters," explained former federal prosecutor Renato Mariotti.
---
Want a daily wrap-up of all the news and commentary Salon has to offer? Subscribe to our morning newsletter, Crash Course.
---
Former U.S. Attorney Harry Litman explained that Pence "must testify about alleged Trump illegality" under the judge's order.
"That is consistent with construing the speech and debate argument as a limited immunity like executive privilege. It also corresponds to the most important evidence from Pence," he tweeted. "What does Smith most need from Pence? The one on one conversations with Trump where Trump ripped him to shreds (vulgarly) & showed his ruthless determination to break the law. What does he least need? The senate public deliberations that the court said Pence may be able to shield," he added.
"Pence can't evade the law and telling the truth anymore," tweeted former Watergate prosecutor Jill Wine-Banks, adding that Pence's testimony will "greatly improve" the DOJ's case against Trump.
"Pence has some of the most sharply incriminating evidence of Trump's criminal conduct AND his criminal intent," wrote former federal prosecutor Glenn Kirschner. "Plus, it looks like the courts are done letting Trump and his lackeys weaponize court delay."
Read more
about the DOJ probe