"This man is a recidivist criminal": George Conway trashes "ridiculous" GOP defense of Trump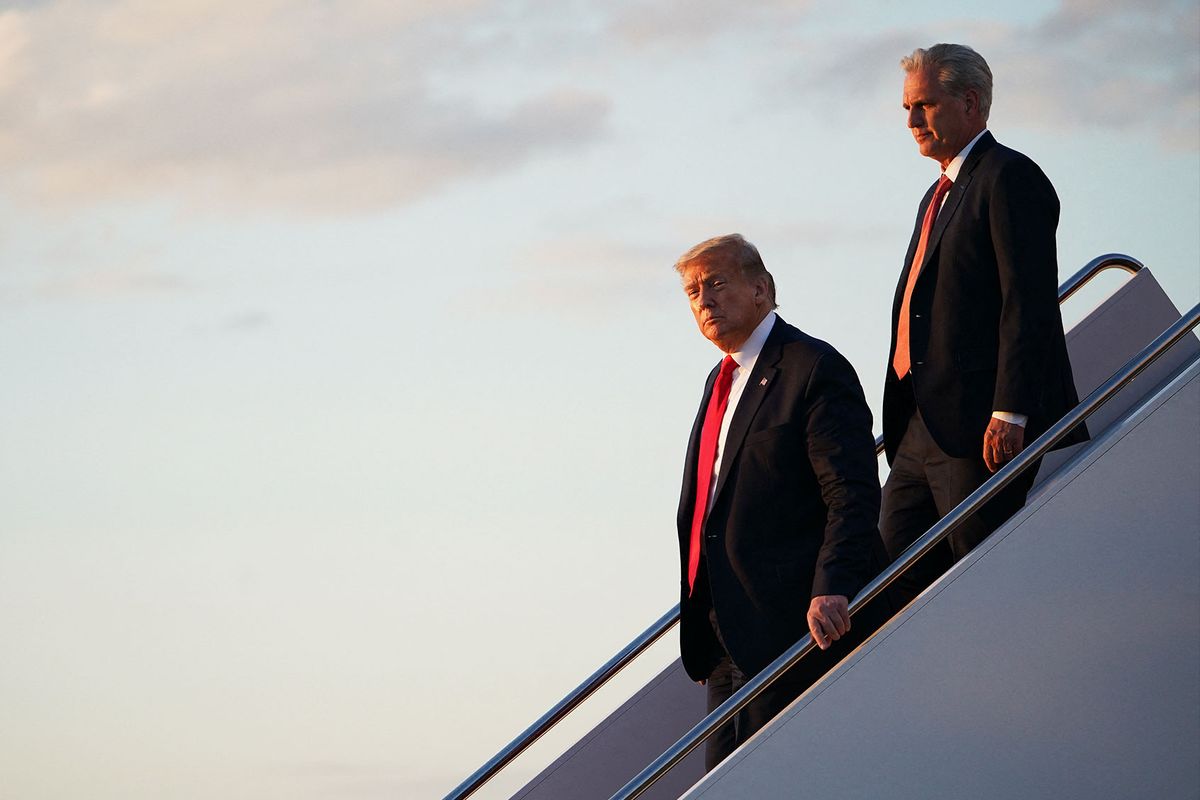 Conservative attorney George Conway called out Republicans for acting like "complete disgraces" in their defense of former President Donald Trump's alleged underhanded dealings.
Trump, who expects to be arrested this week in connection to hush money payments made to adult film actress Stormy Daniels in the final days of the 2016 presidential campaign, recently called on his supporters to "PROTEST, TAKE OUR NATION BACK!" in a rambling Truth Social post. Republicans have pushed back on Trump's call to protest but defended him against the looming potential charges in New York, echoing Trump's claim that he is being politically persecuted.
Conway lambasted Trump's defenders in an interview with MSNBC's Morning Joe.
"The Republicans are behaving like complete disgraces," Conway said. "They're basically saying that, by saying that Trump is being persecuted, they're essentially saying, you can't touch Trump and Trump is above the law. Whatever slack you might have wanted to cut a former president, that was gone after Jan. 6. This man is a recidivist criminal, he's committed fraud all his life, he's lied all of his life."
"This Stormy Daniels thing was something he cooked up," Conway asserted. "The notion that [Michael] Cohen is going to be discredited on it is ridiculous given the paper trail. We see the checks signed by Donald Trump. It's hard to say he is being picked on for paying $130,000 in hush money to a porn star and concealing that and using a straw donor, which was Cohen, to do that, and saying he's being persecuted somehow when no one has ever done that. So, it's just completely ridiculous."
Former U.S. Attorney Chuck Rosenberg also appeared on the show on Monday and warned that Manhattan DA Alvin Bragg's case against Trump should not be dismissed as "weak" by members of the GOP.
---
Want a daily wrap-up of all the news and commentary Salon has to offer? Subscribe to our morning newsletter, Crash Course.
---
"People keep referring to the New York case as the weakest case. To me, as a former prosecutor, weak means a case where the evidence is thin or perhaps you don't have a reasonable probability of conviction," Rosenberg said. "What I think they might mean is that it's the less serious case and how serious a case is reflected in how it is categorized or classified."
"In this case, under New York State law, it's a misdemeanor so it's admittedly less serious and how serious a case is also sort of explained or demonstrated by how it is sentenced," he continued. "Murder is a very serious case and people often go to jail for a very long time, if not for life. Falsifying business records under New York state law is a less serious case, so the penalties are less severe."
"It doesn't make it a weak case if you look at it from the perspective of a prosecutor — you bring your case when it is ready," he added. "So it would be a political decision to bring it too soon for some other purpose or to wait for some other purpose. If the case is ready, and as the elected prosecutor in Manhattan, you believe it is an appropriate charge, you bring it. It may be less serious than the other cases out there, but that doesn't make it weaker."
Read more
about the Manhattan DA probe