How England are blocking out the noise ahead of Sweden semifinal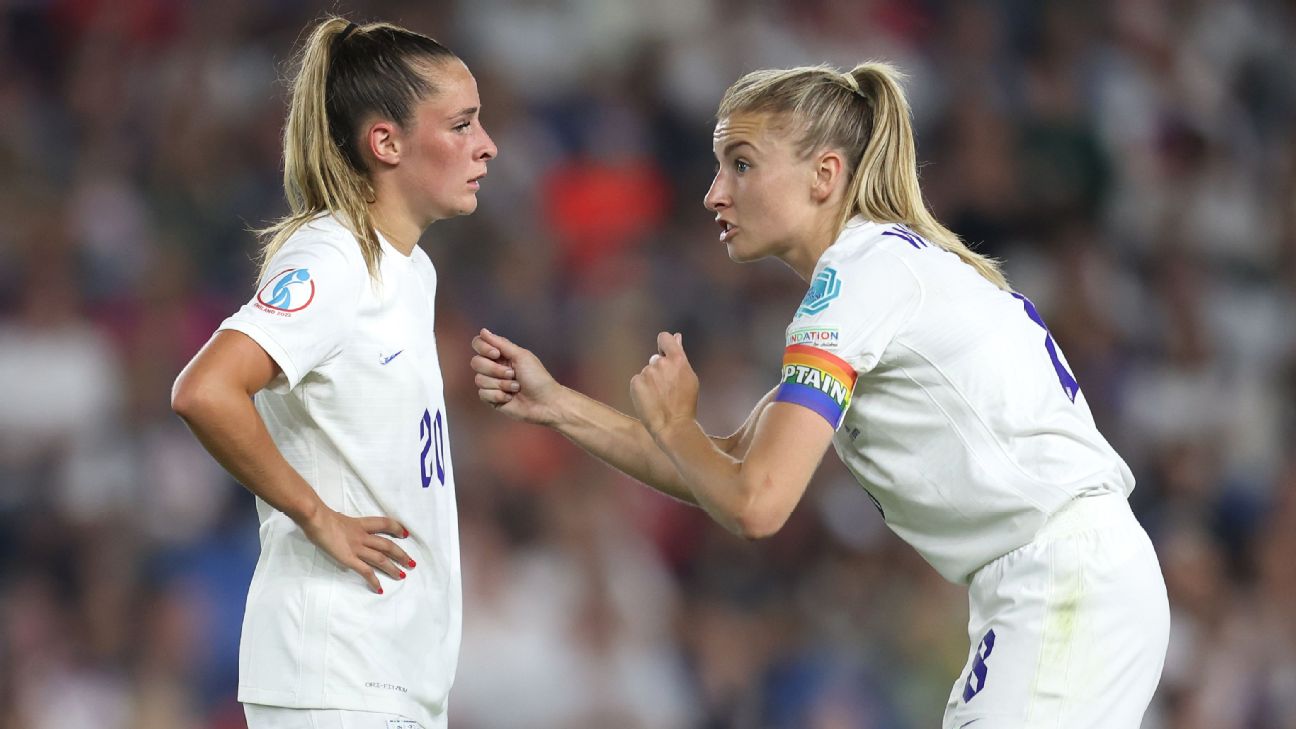 Lucy Bronze knows the pain of losing a semifinal in a major international tournament all too well. She was there for England's last three "Final Four" knockouts. So, having experienced the expectation and then the heartbreak, it's easy to see why she was a little withdrawn after their 2-1 quarterfinal win over Spain on Wednesday. While the team celebrated in the changing room, she sat in the tunnel, chatting to the team's photographer.
Three years ago at the 2019 World Cup in France, Bronze was playing the best football of her career. But then came upheaval on the morning of their semifinal against the United States. Goalkeeper Karen Bardsley was ruled out through injury, the team was thrown, and later that incredibly hot evening, the USWNT won 2-1 to end England's World Cup dream. Just like the 2015 World Cup and their 2-1 defeat to Japan, and at Euro 2017 to eventual champs Netherlands, England had fallen at the penultimate hurdle.
This year, while the country is gearing up for Tuesday's Euro 2022 semifinal against Sweden in Sheffield (Stream live on ESPN+ at 3 p.m.), it's business as usual at the team's southwest London hotel. They know the magnitude of what a win on Tuesday will achieve, but equally they're blocking out the noise, trying to separate themselves from the hype and focusing on processes.
It sounds a little dull — but that's the key to a champion's mindset. Other sports teams have spoken about how in the buildup to a major game, the mentality or routines shift, and suddenly everything that's got a team to that point is jolted out of sync and the fortunes shift.
"That's probably why I'm a lot more cool, calm and collected now, because I've been at those very high heights and still being knocked down," Bronze said. "It's a feeling that I don't particularly enjoy being reminded about. It's something that I learned a lot from. It's a huge experience and I try and share it with the girls and with the players I'm playing with."
Experience is the key to England's run at their home Euros. Three years ago in France, after England beat Norway in the quarterfinals, then manager Phil Neville addressed his team: "I said to them at the end in the huddle: 'Are you ready to win a World Cup?' I'm not ashamed to say it. We're in it to win it."
– Euro 2022: News & features | Bracket & schedule | LIVE on ESPN
– Stream ESPN FC Daily on ESPN+ (U.S. only)
– Don't have ESPN? Get instant access
Five days later, England lost. The mentality is opposite this time around.
"We haven't won anything yet," was Sarina Wiegman's message after their 8-0 dismantling of Norway this time around, and despite the celebrations on the pitch after the win over Spain last week, the players weren't dreaming of a final spot.
"We don't look ahead of the next game, but when it comes to looking each other in the eye and believing in each other, we have that," midfielder Georgia Stanway said.
Rachel Daly singing Celine Dion's version of "River Deep, Mountain High," while a rendition of Tina Turner's "Proud Mary" was also heard from the changing room. Pizza and lemon drizzle cake were also sent in. But then came the coach journey home — guided by Leah Williamson's playlist, through the kitman's phone — and by the time they were back at the hotel the focus was sleep — with the in-house sleep specialist helping — and then reset.
Chelsea head coach and ESPN analyst Emma Hayes couldn't hide her excitement in the studio as England advanced to the semifinals with a 2-1 win over Spain.
Despite the extended five-day turnaround between matches, the schedule stayed the same. On Thursday, those who played against Spain had a rest and recovery session. For those who were off the bench late, or didn't play, they had the "blowout session," which is far more high paced. Then it was "off-feet" Friday, and by Saturday it was back to preparing as they've done four times before this tournament for the next match.
Within the inner walls of the Lionesses' camp up on the first floor of the hotel are a series of England-branded rooms. Alongside the "Diary Room" and the "Relaxation Room" are others named after former greats: Casey Stoney, Alex Scott (not veteran midfielder Jill Scott, much to her disappointment), Mary Phillip, Kelly Smith, Fara Williams, Sheila Parker, Rachel Unitt and Rachel Yankey. It reminds the players of where they've come and the legacy left by those before. It's all about grounding.
The "Relaxation Room" has two table tennis tables (Lauren Hemp is formidable here), a pool table (Beth England and Jess Carter rule the table), two darts boards, a basketball game, a couple of PlayStations and a massive TV with beanbags in front. There's also a colouring-in booth. The tournament's games are shown on the TV, along with the latest episodes of "Love Island," a popular show.
But there are no newspapers and no real reminders of the outside world. Before the tournament, some players decided to come off social media — like Millie Bright, and Daly. The team had a series of workshops on how to manage social media, which included how to minimalize unwanted notifications and how to filter out certain subjects, words, phrases. They're leaving nothing to chance.
Wiegman has been here before. She steered Netherlands to the 2017 title on home soil and is fully aware of how the hype can build around a team as the tournament progresses. The team spoke about it before the campaign.
"It was a case of working out how we can manage the pressure," Fran Kirby said. "The girls who are in their first tournament have managed it well, as it can be daunting. [Serena] has shown us how to deal and manage the pressure of a home tournament."
It's part of what the players call their "little bubble."
"Our mentality from start to finish has been so strong with the opponents that we've come up against," Bright said. "And for me that comes down to us creating our own little bubble where no outside noise gets in. We've really got this tight bubble where it's just us until the end now and we're just going to do our best every game."
Bright is one of the team's vice-captains alongside Ellen White. And Williamson, as captain, talks frequently about "controlling the controllables" within this campaign and "preparing for every scenario."
"We are in our own little bubble," she said before Spain. "We are aware and realistic about circumstances, but we've got a job to do and we are professional footballers and we have a great opportunity."
This weekend, the Trafalgar Square fanzone will be full, while Bramall Lane — where the semifinal is taking place — is sold out. But ask Wiegman about pressure, and she deflects it.
"You talk about pressure all the time and we talk about football," she said in the buildup to Spain.
So that's why on Tuesday night, when England walk out for one of the biggest games of their lives, don't expect anything to be different. For all the talk of whether Wiegman should shake things up and start Alessia Russo, or potentially go with another option at left-back, don't be surprised if it's the same XI that have got them this far. The routines will stay the same — Daly will have four Weetabix before the game, Stanway will have her beans on toast. And then it'll be out there into the packed stadium to face Sweden, trusting in the processes that have got them this far.
"We want to be in the moment, and make memories," goalkeeper Mary Earps said.
For Bronze and the others who've been here before, it is a chance to correct previous mistakes and reach that elusive final. But they won't be talking about that, not until they get there.
"It's probably the most relaxed we've been as an England team in a tournament, certainly in my time," Bronze says. "That's probably the thing that bodes well, because we know we're favourites, and the hosts, and a lot of these things, but as a team and as a collective group, we're very level-headed and we're not focusing on a final or lifting a trophy just yet."