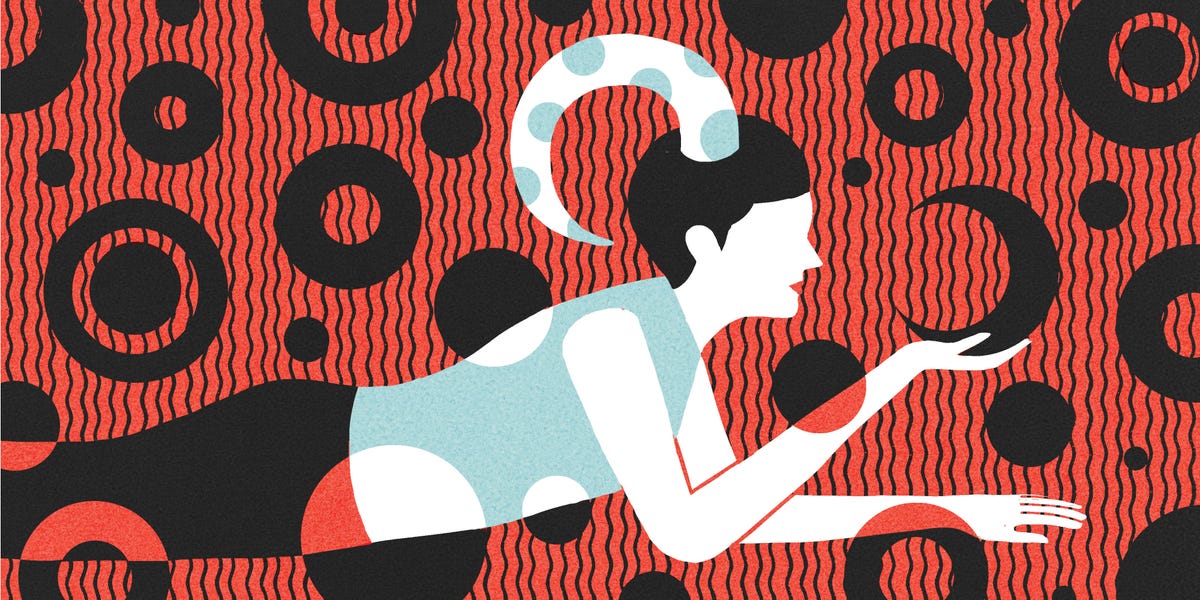 MONTH OF April
Off to the races you go! Whether your March went out like a lion or a lamb (make that a Ram, thank you very much), you'll feel a jolt of renewal as soon as April starts. Not only is it Aries season, but the month opens with an April 1 Aries new moon, kicking off a vibrant six-month cycle for your personal goals and passions. Sneak peek: With expansive Jupiter moving into Aries on May 10, consider this the runway to an even bigger launch coming a month later.
Speaking of Jupiter, a historic moment will arrive on April 12, when the red-spotted planet makes its once-every-13-years conjunction (meetup) with enchanting, compassionate Neptune. This boundless, freedom-driven connection will take place in idealistic Pisces, the zodiac sign co-ruled by both Jupiter and Neptune. It's the first time they've united here since March 17, 1856, a transformational era for anti-slavery and women's rights efforts, and a peak era in the Spiritualist movement.
That's not the only rare event in April, either. This month will feature a second new moon, aka a black moon, on April 30, which also happens to be a solar eclipse. Ready to boost your bottom line? In Taurus, the partial eclipse will rev up your revenue sector and could bring a surprising new source of income. With any eclipse, the key is to expect the unexpected. Stay open to receive abundance from places you don't normally look!
Fresh starts incoming! Aries season and the April 1 Aries new moon
It's your time to shine, Aries! The Sun is blazing through your sign until April 19, waking you up to your passion and purpose. With the year's only Aries new moon arriving on April 1, the action kicks off right away. No, this is not an April Fool's Day joke: This annual lunation is your "personal new year," a cosmic coming-out party that perfectly positions you for a debut or a total change of direction. If you've got something to launch or share, it's time to make the first move. The efforts you initiate at this new moon will culminate at the October 9 Aries full moon.
Communication planet Mercury and healer-feeler Chiron are hovering near the new moon, helping you spread an important message. Do you have a personal story to share that could be useful to others, a challenge you've overcome or an experience that taught you tough but crucial life lessons? This could somehow figure into anything you start near this date.
This new moon could also kick off a major self-discovery process, revealing areas of personal growth or a set of skills you might develop. Let your inspired birthday-season wishes unfold this month. Set a few intentions, light the spark—then see where it guides you.
The April 4 Mars-Saturn disrupts group harmony
Watch for extreme emotions when your ruler, restless Mars, forms an exact conjunction with Saturn on April 4. This cosmic combo is like having one foot on the gas, the other on the brake, and bearing down on both at once. With Mars and Saturn meeting in Aquarius and your collaborative eleventh house, you'll want to find a moderate pace when thinking about teaming up with anyone.
Be careful not to rush into any group endeavors, especially if they involve doing business with friends. Take the time to vet people carefully. If a team member has become the frustrating "weak link," don't just cut them off unceremoniously (which you'll be tempted to do). See if a conversation, and maybe some additional training for them, might not move things in the right direction. You don't have to force an outmoded situation, but perhaps one last try will give you the closure you need to either move forward together or move on.
Mars and Saturn are known as the "malefic" (unfavorable or challenging) planets. Their last conjunction was on March 31, 2020, right as the United States ordered a stay-at-home quarantine for 240 million Americans and the pandemic's reality struck hard. With both planets in Aquarius, the sign of community and society, we can expect to feel the strain of their combined transit once again.
The April 12 Jupiter-Neptune conjunction opens a powerful healing portal
Release the pain of the past, Aries—a new reality awaits. On April 12, an extremely rare meetup between future-forward Jupiter and healing Neptune occurs in Pisces and your twelfth house of closure, forgiveness and imagination.
Under this cosmic combination, your creativity could also reach an all-time high, along with your manifesting powers. Allow the borders of fantasy and reality to overlap and see what your subconscious dishes up! This could be a breakthrough day for your Aries originality. But do stay intentional and aware of your thoughts: This can be like the Law of Attraction on steroids. Your fears, which may be rooted in the past rather than your current reality, could be magnified by supersizer Jupiter and illusion-spinning Neptune.
The April 16 Libra full moon is a turning point for your relationships
Ready to make it Instagram official? On April 16, the year's only Libra full moon blossoms in your seventh house of committed relationships. It may be time to take things to the next level in a personal or business partnership. And if so, you'll have plenty of lunar support to take that step! Page back to October 4, 2021, when the Libra new moon set events in motion. In the light of the full moon, you can evaluate whether this duo can go the distance. If not, perhaps it's time to amicably decouple and put your energy elsewhere.
Despite your best efforts to keep that Libra-style peace and harmony, things could get complicated today. Be prepared to negotiate! class="body-el-link standard-body-el-link" This full moon will form an ultra-tense square to alchemical Pluto, which is wedged at a combative 90-degree angle to both the Libra moon and the Aries Sun. With Pluto in Capricorn and your tenth house of long-term goals, it can be hard to align on your desired direction. Power struggles could ensue if you don't handle things with care. Perhaps your professional and relationship paths aren't intersecting neatly.
Two days later, on April 18, the Sun and Pluto will lock into an exact square, sparking a showdown. That war could happen internally as you feel pulled between your personal and professional goals. The Sun in Aries and your self-directed first house wants autonomy, adventure and spontaneity (and who wouldn't?). However, Pluto in Capricorn and your accountable tenth house hammers on deadlines, systems and clear objectives.
At this full moon, you may also struggle to compromise (not totally a new thing for you, Aries). The gatekeepers of a certain project may not be fans of your renegade ways this week. In fact, you could alienate a key decision maker by pushing too hard or being TOO much of a pioneer. Before you fight to have your way, listen to the long-term objectives. Can you adjust your brilliant idea a bit so the more skeptical team members don't feel threatened? You don't want them to shut down before you have a chance to persuade them. See how you might craft a savvy strategy where everyone wins.
Taurus season begins on April 19
A little more stability for you, Aries? When the Sun moves into Taurus and your second house of security and money, you'll shift from birthday mode to builder mindset. Are you getting the most value for your time and efforts? You've had a lot of ideas over the past month, sparked by the Aries new moon and the Sun in your sign. Now, one or two of them may reveal their power to go the distance. Invest a little time and map out their potential.
Between now and May 20, the key is to prioritize. What will give you the most joy while also paying the bills? Your Taurus season mission: recalibrate your life to the highest level of satisfaction. At the crossroads of comfort and curiosity, there IS a job or lifestyle that will please you, Aries (and that's no easy task). Think: something with just enough consistency to keep you out of chaos while allowing your restless, trailblazing sign to go bigger, higher, faster and pursue the novelty you crave.
With future-forward Uranus and the karmic north node BOTH in Taurus this year, this won't be any ordinary Season of the Bull. Business as usual could get a shake-up, especially once the Taurus solar eclipse arrives on April 30. Stay optimistic and open to something totally new!
Professional path pivot? Pluto turns retrograde April 29
Are the current structures of your life strong enough to support your goals and pclass="body-el-link standard-body-el-link" lans? That could be up for review this month as Pluto begins its annual five-month retrograde in Capricorn and your tenth house of long-term agendas and professional endeavors. From April 29 until October 8, the tiny avenger will backspin through this ambitious zone, causing you to rethink your career trajectory. Men and fathers fall in this zodiac zone, which could illuminate a relationship with a key male that needs transformation or repair.
Before you go on a rampage (or Ram-page—excuse the pun!), be aware that Pluto rules the unconscious, including the ways we project our own blind spots and baggage onto others. Is that iron-fisted boss or client-from-hell reflecting some part of you…or driving up feelings you need to confront? Don't block the messenger. Look deeper and do the inner work, Aries. Once you resolve this conflict within yourself, a person might stop triggering you.
Money magic arrives at the April 30 Taurus solar eclipse
Ready for a new revenue stream, a cash infusion or a plum new client? Expect the unexpected on April 30, when a partial solar (new moon) eclipse arrives in Taurus and your second house of work and money. Unhappy on your curreclass="body-el-link standard-body-el-link" nt trajectory? If Pluto retrograde hasn't sparked a course correction, this solar eclipse will.
This is also a "black moon", meaning it's the second new moon in a single calendar month. One or two ideas sparked at the Aries new moon on April 1 could turn into something tangible before the month ends.
Look back to November 19, 2021, when a Taurus lunar (full moon) eclipse kicked off a series of game-changing eclipses on the Taurus/Scorpio axis that will occur until October 2023. You may be ready to put insights into action or to take the first steps exploring a new moneymaking possibility. Ready to start a positive new habit, like renewing your meditation practice or going to bed at a reasonable hour? This eclipse will set you on your way.
Is your heart experiencing a spring awakening? Let the winter freeze thaw! With amorous Venus in whimsical Pisces and your imaginative twelfth house from April 5 until May 2, you won't want to remove the rose-colored aviators that have perched themselves on your nose, Aries. Which is all well and good—provided you don't get SO swept away that you overlook any glaring issues. If you're in a relationship, a dream trip (near the water if you can swing it!) or a special night with all the stops pulled out could be the perfect birthday gift, so start dropping those hints now.
Unattached? Your best use of this transit might be a timeout for some heart-healing work and self-care. (Feel free to take yourself on vacation too.) If you're feeling vulnerable, be careful not to get wooed by someone whose intentions or personal storyline isn't clear. With impressionable Jupiter and Neptune syncing in Pisces on April 12, you'll be extra susceptible.
From April 14 until May 24, activator Mars will join Venus in Pisces, which could turn up the sizzle on a spring fling or intensify emotions around a breakup. No matter where your love life is, take this month to be in a more receptive place, rather than seeking answers or making decisions. Next month, when Venus and Mars move into Aries, you'll be in a better position to move forward with clarity—especially if you take the time to process things in April.
A beautiful and optimistic day arrives on April 30, when Venus and Jupiter, known as the "benefics" for their positive, helpful influence, unite. As they embrace in Pisces, you can let down your walls, or, if ending a chapter, release each other with blessings and well wishes.
This month is a powerful one for making bold moves. Not only is the Sun in your sign until April 20, but the year's only Aries new moon arrives on April 1 to usher in your personal new year. Your power word for the month is "actionable." Follow up those lofty ideas with concrete moves. Inspired to start an online business? Take a class on SEO or digital marketing. The April 16 Libra full moon helps you get organized with a proper plan. It also reveals where you may need to hire a pro or boost your own skill set. Don't be surprised if taking a hard look at that also whets your appetite for freedom, if not a whole new path.
No need to rip any bandages off, though, Aries. One concrete step is all it takes to move the needle, then the momentum will build from there. With a second new moon arriving on April 30—this one a powerful solar eclipse—April offers a rare and ideal window to make money moves. All the more reason because this eclipse is in Taurus and your second house of work and finances. It's the perfect runway to lucky Jupiter's entry into Aries on May 10 (spoiler alert!), when the world truly becomes your oyster.
Get soul-centered business mentorship from us! Join Astropreneurs.
Calling all mystics on a mission! Got a brand, business or passion project you're developing? We want to be your mentors. Our new Aclass="body-el-link standard-body-el-link" stropreneurs monthly mastermind group teaches soul-centered entrepreneurs the tools of modern business and astrology—with a supportive community and a private platform. https://galaxy.astrostyle.com/astropreneurs
Love Days: 10, 15
Money Days: 2, 21
Luck Days: 28, 19
Off Days: 13, 16, 26
This content is created and maintained by a third party, and imported onto this page to help users provide their email addresses. You may be able to find more information about this and similar content at piano.io