10 Pro-Approved Contour Brushes for a Sculpted Face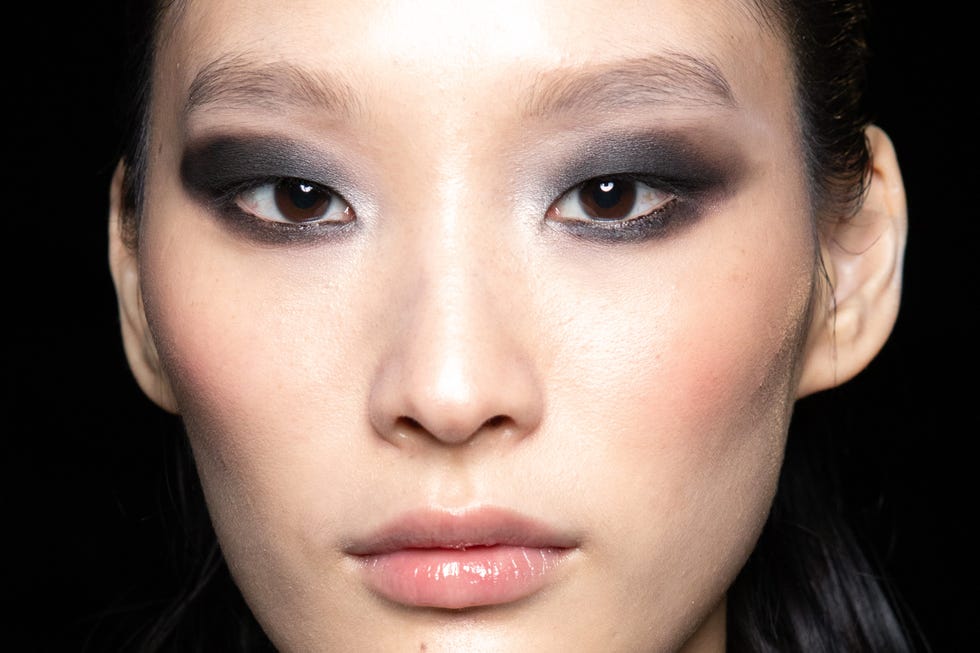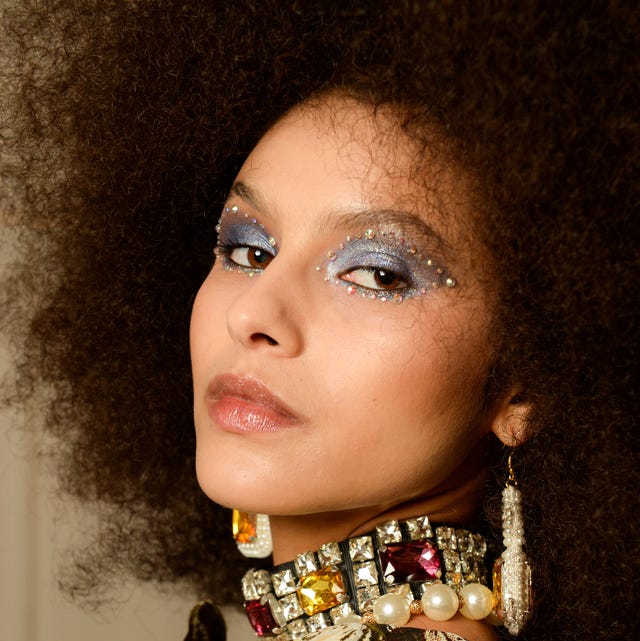 Nicky Sims/BFC
If you've applied your favorite foundation and found your face looking a bit flat, chances are you haven't become acquainted with contouring. You've likely heard of the term, or at least, the person who help popularized the method: Kim Kardashian. Essentially, contour helps to add life to your face after your foundation application.
"Contour is meant to create depth, dimension, and shape in the face. Your contour shade should be 1-2 shades deeper than your skin tone with grey undertones as it is meant to mimic natural shadows," celebrity makeup artist Kasey tells ELLE.com.
With the rise of "soft glam" and "clean girl" makeup aesthetics, one might believe the beauty world has moved past the need to have a chiseled, Kim Kardashian-esque contoured makeup look. KVD global artistry ambassador Sandra Saenz says harsh, heavily contoured faces are out, but contouring will never go out of style.
"Many people want to look and feel like their natural selves and just enhance their facial features instead of transforming them. In fact, many people are just now learning how to properly contour. While extreme contouring might be out, [a] well-applied contour can prevent faces from looking flat by sculpting and defining features, even with a 'natural' look," she says.
A good contour starts with a dense, flexible brush. Below, 10 beauty expert-approved brushes to give you the chiseled cheekbones of your dreams.
Advertisement – Continue Reading Below
Best For Multitasking
Real Techniques Setting Brush
Can be used for multiple areas
Celebrity makeup artist Sang Jeon's kit is always stocked with this Real Technique's setting brush. While typically served for loose powders, Jeon uses this fluffy brush to create chiseled cheekbones. The brush works best for contour powder like Jeon's favorite, Kevin Aucoin Sculpting Powder.
Best Drugstore Option
e.l.f. Cosmetics Blush Brush
A brush's intended purpose doesn't matter to Jeon because he'll always find a different way to use it. "I've been using this for more than four years as a bronzer/contour brush," he says. Sometimes, he'll use it for blush but he prefers the flawless contoured finish it provides.
Best For Nose Contour
Pomade Brow Brush #70
Creates sharp nose and brow contour
Bristles can fray after awhile
Don't let the small, angled tip deter you from purchasing. If you love a sharp contour, Saenz says to invest in this brush, which "allows you to be extremely precise when it comes to sculpting the nose, lip, and eye area."
Best For Control
Double Take
"I like a more refined angle brush to contour the face this brush has a perfect contour end. The angle helps you get into the natural hollows of the face and accentuate them. You also want something a bit smaller because you want more control when you're creating these shapes to sculpt the face," celebrity makeup artist Kasey explains. The dual-end allows for more space in your makeup bag, and doubles as a brush for blush, contour, loose powder, etc.
Best For Even Distribution
Sculpting Brush
Makeup whiz Charlie Riddle suggests using powder brushes for contouring. "You want to use an angled brush or a smaller dome powder brush as this is going to guide the product to define and sculpt without placing too much. The Surratt Sculpting Brush is so soft you'll never get any harsh lines, and it distributes the product really well," he says.
Best For Firm Application
Sculpting Bronzer Brush 195
Bristles can dent after awhile
Another favorite of Jeon's, Fenty Beauty doesn't mince on quality. This sculpting brush is firm, dense and soft, and picks up your product beautifully without leaving a muddy mess.
Best For Fluffiness
0.12 – My Flat Powder
Flat design allows for precise application
The flat top allows you to place the product exactly where you want, while the fluffy, rounded edges help to diffuse the pigment to your liking.
Best For Cream Contour
E4 – ANGLED CONTOUR BRUSH
The slanted point hugs the hallows of your cheeks to deliver a defined, angled contour that stays in one place.
Best For Subtle Contour
F23 Soft Angled Contour Brush
Sigma Beauty brushes are makeup bag staples for its longevity and quality, and the contour brush is no different. If soft glam is your jam, this brush is best for buffing out any harsh lines for a seamless, well-blended mug.
Make sure your contour is undetectable.
There's nothing worse than someone pointing out how harsh your contour lines are. Saenz advises spending time blending your product out to avoid any distinct demarcations.
"A key is blending out so that it's seamlessly placed into the complexion, with the goal of it looking like a natural shadow on your face, never a harsh line," she explains. When blending out with a brush, the direction of your brush matters. "When it comes to application, always blend and diffuse the contour upwards, never down and inwards towards the middle of your face. Pulling the contour down can visually drag down the face when we want to lift," she adds.
Contour should be applied under your other cheek products.
According to Riddle, you should always "place contour below bronzer and blush and sweep along the jawline for a more defined and dimensional look."
Less is more.
"You can always add more but it's harder to take away," Kasey says. To avoid packing on too much product, Kasey advises swirling your brush in the product and dusting off any excess before applying it to your face. "Then I buff out the contour with a clean, dense buffer brush. Don't blend with the same brush you used to place the product. This will ensure a super natural blended contour," he says.
This content is created and maintained by a third party, and imported onto this page to help users provide their email addresses. You may be able to find more information about this and similar content at piano.io
Advertisement – Continue Reading Below