Why France's daily baguette is costing so much dough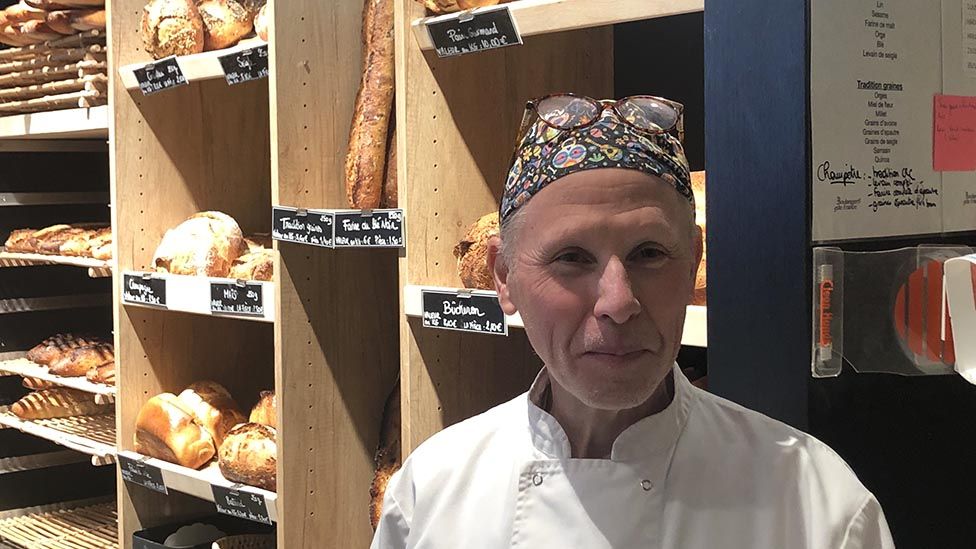 At l'ARTisan du pain, an upmarket boulangerie outside the French town of Metz, the morning is getting busy.
Customers from nearby offices are popping in for coffee and croissants, while in the ovens dozens of baguettes are browning nicely.
A delicious aroma of fresh breads hangs in the air.
But the owner of this family-run business, Christian Haberey is anxious, he says his costs are rising, and he is having to put up his own prices as a result.
"The price of our baguettes is €1.30" he explains.
"We've already had to put it [the price] up once. It used to be €1.10 (£0.92) but I think from September, we are going to have to put it up again – maybe to €1.50 (£1.25)."
Under normal circumstances, staffing costs make up roughly half of the cost of each baguette.
But with the cost of living rising rapidly, Mr Haberey is under pressure to pay his staff higher wages, and he can ill-afford to lose trained people from his team.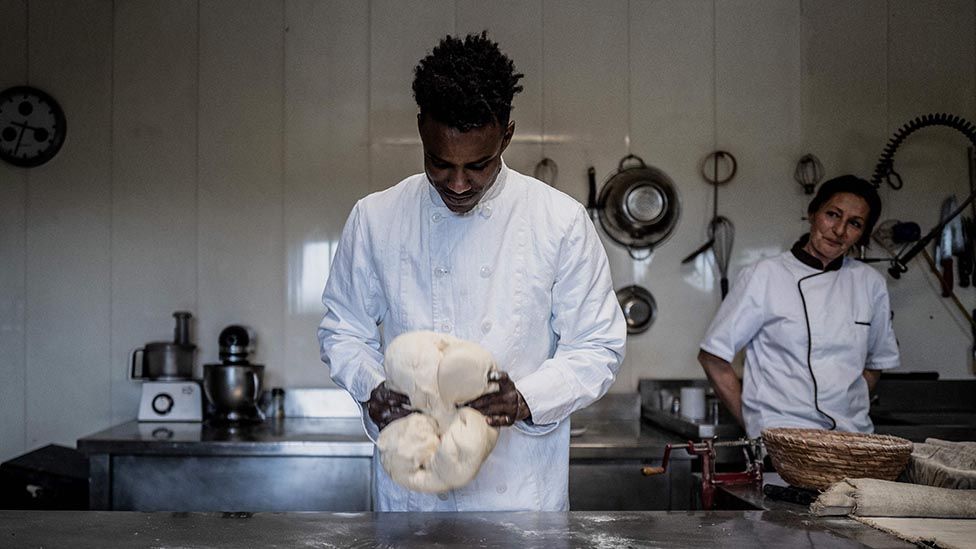 Energy costs are soaring in France too, in part because of the conflict in Ukraine, which has caused the cost of electricity and gas to increase on international markets.
"The baker who was paying €1,000 a month (£833) for his electricity – his bill will be going up to €3,000 (£2,500)," Mr Haberey says.
"It's huge. We could all go and start crying into our handkerchiefs. But then there's gas… it's not even worth getting the handkerchiefs out.
"Gas bills are going to be eight times what they used to be".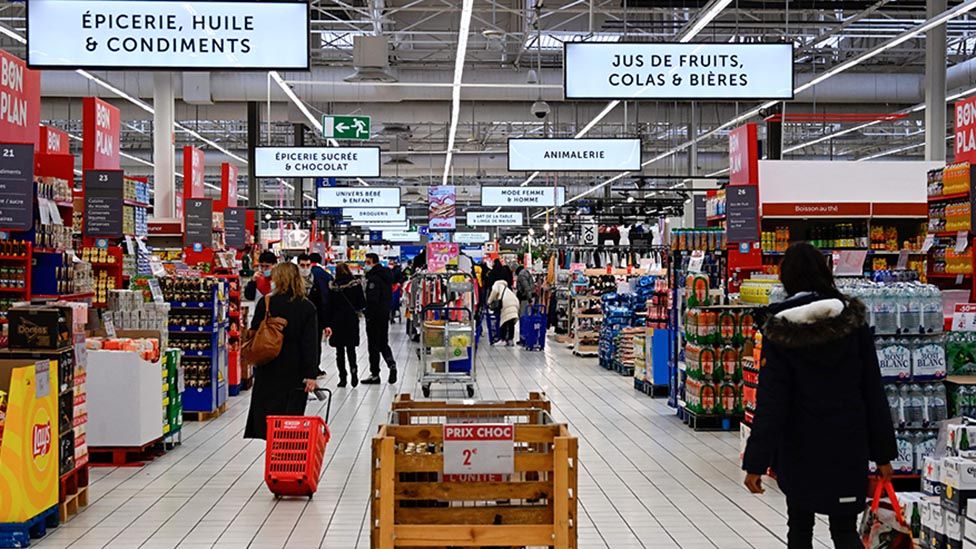 However, the pressure of rising staffing and energy costs are only part of the picture. The price of raw materials, and in particular wheat, has been increasing rapidly as well.
The Moulin La Camphinoise, near Lille, supplies around 100 bakeries with flour.
The mill did good business during the pandemic, as customers became frustrated at shortages in the shops – and sought to buy what they needed locally.
It's currently well-stocked: it has three huge silos, filled with flour ready to be bagged up and sold.
But recently, the cost of wheat has shot up. Ukraine and Russia are both major wheat exporters, and the loss of those supplies has had a big impact.
"Since the conflict in Ukraine broke out, the rise in the cost of wheat and corn has been remarkable", says Christophe Wattrelot, the co-owner of the mill.
"Back in September, the price of wheat was €240 (£200) per tonne – and it's now over €400 (£333)".
He says the business has absorbed half of the extra costs itself – but cannot avoid passing on the rest to its customers.
The fluctuating cost of a baguette has become a proxy in France for the rising cost of living. Strolling through a market in Lille, traders and customers tell BBC News it's not just bread that's become more expensive.
They say that prices of all foods – fresh vegetables, meat, fish or grains – seem to be rising.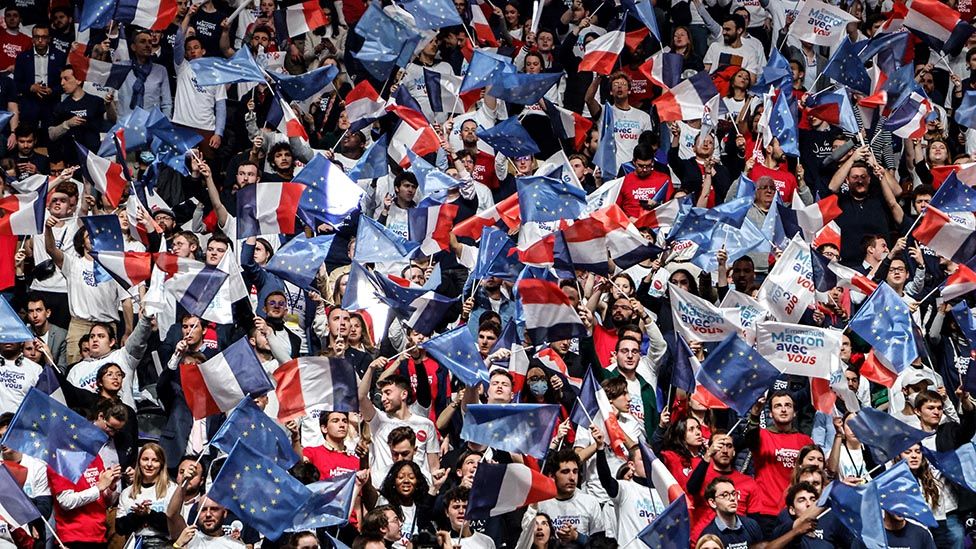 "When you're buying goods wholesale, prices have really gone up 30-40%, in some cases. It's really difficult", one stallholder says.
Unlike their counterparts in the UK, domestic consumers have been shielded from the worst impacts of the rising cost of energy by government intervention. But the soaring cost of petrol and diesel is a major concern.
And as prices rise, for the moment wages are not keeping up. While everyone is affected, the impact is not evenly spread.
"We're seeing cost increases for things like pasta and coffee, agricultural products", explains Olivier Dammette, a professor of economics at the University of Lorraine in Nancy.
"It's a problem, because when you look closely, it's the low-cost products, discount products, that will be most impacted – and these kinds of products are consumed by low-income households," he says.
"So, it's a big issue. The price of fuel is also very important".
With France heading into what could be a closely fought presidential election, the rising cost of living has become a deeply political issue, proving to be fertile campaigning territory for the far right leader Marine Le Pen, in particular.
President Emmanuel Macron has responded by promising to boost the maximum level of tax-free bonuses companies can offer to their staff to help with the cost of living, from €1,000 to €6,000.
However, the cost of living has been a key battleground between the pair and will almost certainly be a key preoccupation for whoever ultimately wins the keys to the Elysee Palace, for months to come.