This Flat Iron Gives My Hair Next-Level Shine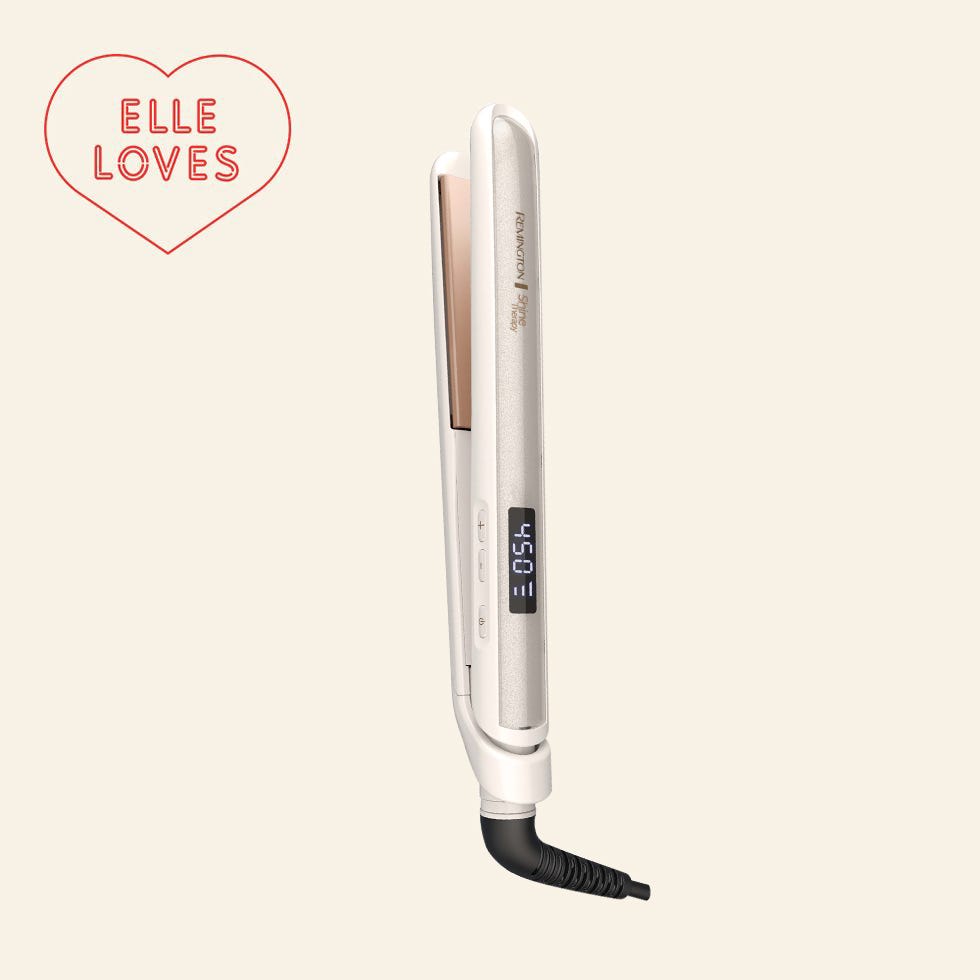 When you think of using a flat iron, you may also imagine fried-looking strands. While that can be the case with high-heat, low-quality hot tools (especially when used on unprotected hair), the Remington® Shine Therapy™ Argan Oil & Keratin Flat Iron was created to change the narrative. Instead of parched, straw-like strands after styling, the innovative tool is built to deliver shiny, sleek, and healthy-looking hair.
The flat iron is part of Remington's Shine Therapy collection, an eight-piece line that features hot tools (a blow dryer, curling wands, a straightening brush, and flat irons) infused with a micro-conditioner, antioxidant-rich argan oil and protein-rich keratin. Remington infuses the iron's ceramic plates with these ingredients and the micro-conditioner is released directly onto strands when styling for a glossy finish with less frizz.
Despite the stated benefits of the Shine Therapy collection, I'd be lying if I said that I wasn't skeptical. Can a $30 tool really give me a head-turning shiny look without damaging my fine hair that tends to break easily? I got hands on with the flat iron, as well as a curling wand from the line, to find out.
My Shine Therapy Styling Routine
After washing my hair, allowing it to air dry, and applying a heat-protectant spray, I reached for the 1″ Shine Therapy Flat Iron, which has nine heat settings and only takes 30 seconds to reach each. As promised, the plates passed smoothly from my roots to ends and imparted notable shine in the process. I was seriously impressed by the salon-like sheen the iron gave my super fine hair, and I'd wager to bet that anyone with thicker, coarser hair would fall head over heels for the smoothing results as well—they're pretty remarkable.
High-quality performance aside, I also like the metallic gold appearance of this flat iron, which seems way more luxe than the $30 price tag suggests.
To style my hair, I used the Shine Therapy Argan Oil & Keratin .5-1" Tapered Wand, which features 10 heat settings and an auto shut-off mechanism. My hair has always fared best with thinner wands—after using thicker barrels, my curls typically fall out within 30 minutes of styling, no matter how much hairspray is used—and this one did not disappoint.
Like the Shine Therapy flat iron, the curling wand made my hair look majorly shiny, and delivered curls (that I combed out into waves, per my usual styling) that held their shape all day long. While the barrel itself is smooth, when heated, it somehow manages to grasp hair so that strands don't slide off during use. This makes styling strands so much easier. And speaking of easy, the ample, non-heated tip makes gripping the tool less of a literal pain—it helps insure you won't accidentally burn your fingers.
My hair felt and looked healthy and sleek after using both tools, and I was able to achieve the results with minimal effort (no post-styling, shine-boosting products required!) and for a fraction of what I would typically spend on quality hair tools (think $100+). Consider me a Shine Therapy devotee.
This content is created and maintained by a third party, and imported onto this page to help users provide their email addresses. You may be able to find more information about this and similar content at piano.io