China's WeChat suspends some accounts linked to NFTs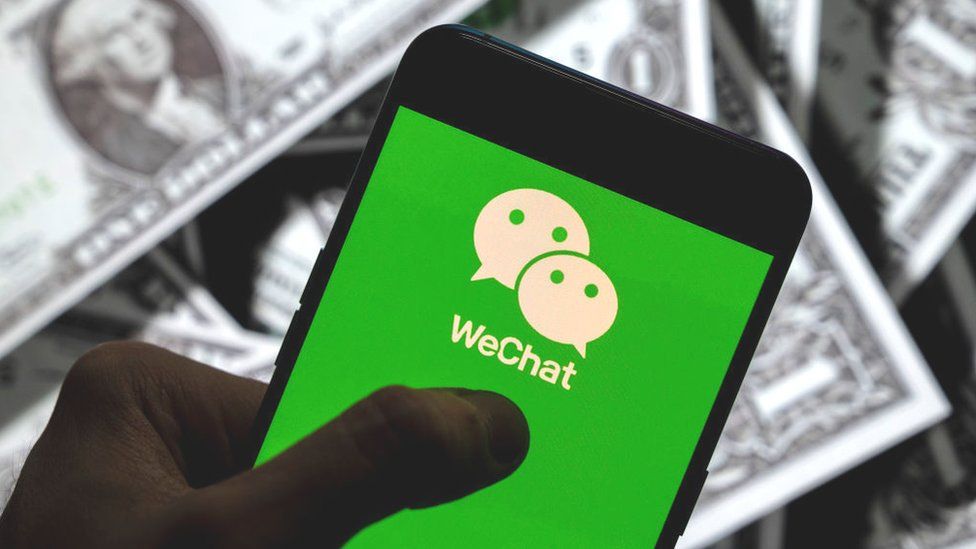 China's popular WeChat messaging app has suspended some accounts linked to non-fungible tokens (NFTs), to prevent speculation in the digital assets.
The platform says it has "rectified" accounts which it found to be promoting NFT market speculation, that can help to drive up prices.
There are no regulations against NFTs in China, although the trading of cryptocurrencies was banned last year.
NFTs can be bought and sold in China like any other piece of property.
For this reason they have been touted as the digital answer to collectibles. However, they have no tangible form of their own, and experts have warned about risks in the market.
On Thursday, WeChat responded to local media reports that the accounts had been banned.
The platform said it had "recently standardised and rectified public accounts and small programmes for speculation and secondary sales of digital collections".
It added that this was done "according to relevant national regulations, in order to prevent the risk of speculation in virtual currency transactions".
Chinese technology giant Tencent, which owns WeChat, declined to comment further when approached by the BBC.
The move comes as China's technology industry has come under intense scrutiny by authorities.
The sector has seen a large amount of official action against it since last year, including crackdowns on ecommerce firms, online finance services, social media platforms, gaming companies, cloud computing providers, ride-hailing apps and cryptocurrency miners and exchanges.
Even after all the measures, the trading of NFTs is still not illegal in China. However, the digital assets are built on technology which is regulated by Beijing.
Under the rules, buyers have to purchase NFTs in the local currency, the yuan, rather than cryptocurrencies, which are banned.
The "one of a kind assets" have been sold for thousands – and even millions – of dollars.


You may also be interested in: