Umbrella Academy Season 3: Everything We Know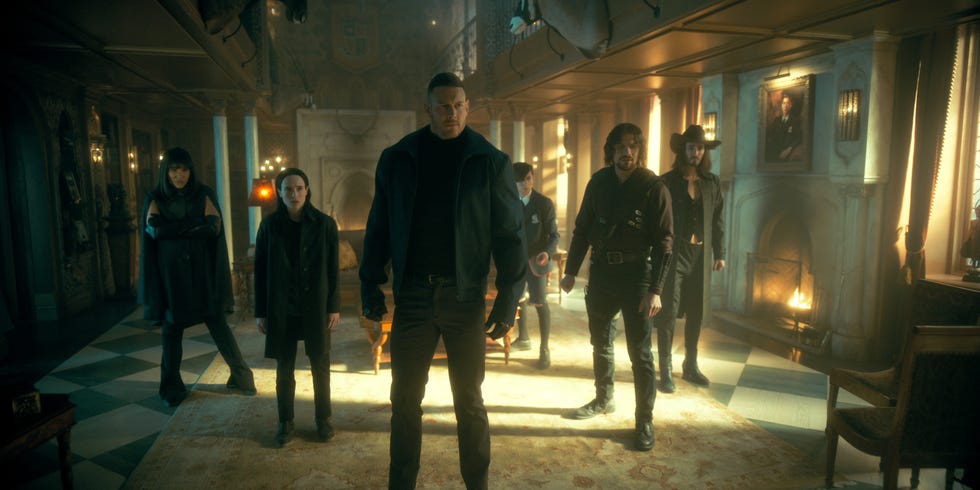 In traditional Umbrella Academy style, the season 2 finale rolled its credits with one hell of a cliffhanger: After the OG Hargreeves kids return to 2019 after a timeline-unscramble, they find themselves replaced by a new crop of Hargreeves youngsters—and this crew includes a telekinetic cube! In case that wasn't enough to boggle the mind, Ben is alive, though perhaps not the Ben we once knew…
With so much to wrap our minds around going into the next chapter, season 3 can't come soon enough. Thankfully, a third season has officially been confirmed. Here's everything we know so far about The Umbrella Academy season 3, including who's returning and when.
When will season 3 of The Umbrella Academy be released?
The wait is almost over: Our favorite crew of misfits are headed back to Netflix on Wednesday, June 22, 2022. The streamer announced the date during SXSW and shared a teaser of the Umbrellas facing off with the Sparrow Academy.
This content is imported from Instagram. You may be able to find the same content in another format, or you may be able to find more information, at their web site.
Netflix officially renewed the show for season 3 on November 10. Renewal wasn't a huge surprise—the show was reportedly a huge hit for Netflix in 2019, and season 2 drew even more buzz.
What will season 3 be about?
We can only speculate at this point, but here's a quick refresher on what we do know: After transporting the Hargreeves family to the 1960s, season 2 wrapped up with them time-traveling back into the present day, having succeeded in averting yet another apocalypse circa November 1963. Landing back in 2019 on April 2, the gang realizes with delight that their actions in the past have somehow also prevented the other apocalypse that happened in the final moments of season 1—that one was supposed to take place on April 1, 2019. Hooray for killing two apocalypses with one stone!
Their celebration is short-lived, however, because it turns out that in this version of 2019, several things are…different. For one, their father Sir Reginald Hargreeves is alive. So is their brother Ben, aka Number Six, who was supposed to die in 2006. And most unsettlingly of all, Hargreeves already has seven adopted children, whom he calls The Sparrow Academy, and whose faces are kept in shadow except for Ben. In other words, the Umbrella Academy has been replaced.
Will the original cast return?
With news of the show's renewal, Netflix confirmed that Five (Aidan Gallagher), Klaus (Robert Sheehan), Allison (Emmy Raver-Lampman), Diego (David Castañeda), Ben (Justin H. Min) and Luther (Tom Hopper) will all be back for season 3, as will Sir Reginald (Colm Feore)—who's now got two separate sets of adopted children to neglect and torment—and Pogo (Adam Godley).
Another returning character is Ritu Arya's Lila, a compelling new addition to the cast in season 2, who's revealed to be the Hargreeves's long-lost sibling—in the sense that she's another of the 43 super-powered babies who were born under mysterious circumstances in October of 1989. She flees after discovering her true lineage at the end of season 2, and doesn't travel with the others back into the 21st century. Thankfully, we haven't seen the last of her.
Finally, Elliot Page will return, but his character—previously the cisgender woman known as Vanya Hargreeves—will be revealed as Viktor, a trans man using he/him pronouns. Page confirmed the announcement on March 21, 2022, tweeting "Meet Viktor Hargreeves."
This content is imported from Twitter. You may be able to find the same content in another format, or you may be able to find more information, at their web site.
Who's new to the cast?
Showrunner Steve Blackman, who returns for season 3, confirmed that the members of the Sparrow Academy won't simply be doppelgängers of the existing Hargreeves siblings. "They are new people," he told Inverse. "They're not our characters. They are different people, and that's all I can really say."
On Monday, January 11, 2021, Netflix announced the casting of five new actors and, erm, an "Existential Dread Inducing Psykronium Cube" as the Sparrow Academy. Min will also reprise his role as Ben, who's known as Number Two within this group, and according to Netflix, "This is not the sweet Ben we know and love. This Ben is a Machiavellian tactician, wrapped up in a pretty boy body with a rumbling inner-squid. Vicious, pragmatic, and hyper-vigilant—Ben is determined to gain his status as the leader at all costs."
Meet the rest of the new Sparrow Academy, according to their Netflix descriptions:
Justin Cornwell as Marcus / Sparrow Number One: "A charming, chiseled, colossus. Honest, virtuous, and demanding, Marcus keeps the family together. Graceful but lethal, calculated but compassionate, he is as smart as he is strong. Marcus is disciplined, rational, and in control. He oozes confidence and leadership without ever having to raise his voice."
Britne Oldford as Fei / Sparrow Number Three: "Fei sees the world in a special way. She comes across as a misanthrope who would rather be alone than spend even a second with you. But truth be told, Fei wishes she had a friend. Most of the time, Fei is the smartest person in the room and willing to work things out. But if you cross her there's no looking back because Fei won't stop until the job is done."
Jake Epstein as Alphonso / Sparrow Number Four: "Years of crime-fighting have left his face and body with countless visual reminders of his battles. To compensate, Alphonso is armed with a caustic and biting sense of humor. The only thing he likes better than verbally battering anyone foolish enough to get in his face is a good pizza and a six-pack of beer."
Genesis Rodriguez as Sloane / Sparrow Number Five: "A romantic and a dreamer who feels a higher cosmic calling leaving her eager to see the world and experience a life beyond her upbringing. But obligations to her family keep Sloane tethered to the Academy, as does her fear of crossing the family line. But Sloane has plans…and one day she might just be brave enough to act on them."
Cazzie David as Jayme / Sparrow Number Six: "Jayme is a loner hidden under a hoodie. She doesn't say much because she doesn't have to. Jayme has a fear-inducing snarl. Catch a glimpse of it, and you'll run across the street to avoid what follows. Smart and sharp as a knife, she spends most of her time hanging with Alphonso, her only friend."
Existential Dread Inducing Psykronium Cube / Sparrow Number Seven: "Christopher is a telekinetic cube of unknown origin. He can turn the room freezing cold and induce paralyzing fear. He acts as the Sparrows' consulted oracle who hands out incredible advice and serves as the family mediator. Trustworthy, loyal, and treated by the Sparrows like any other sibling, Christopher is a force to be reckoned with."
Netflix also confirmed in March 2022 that Javon "Wanna" Walton, known for playing Ashtray in Euphoria, is joining the cast. Further details about his character are under wraps, though.
This content is imported from Twitter. You may be able to find the same content in another format, or you may be able to find more information, at their web site.
How do I pass the time until the show returns?
If your Umbrella Academy withdrawal symptoms are already setting in, why not check out the graphic novels on which the show is based? Three volumes of the Umbrella Academy series by Gerard Way and Gabriel Bá have been released so far, and the show has made some significant deviations from the comic canon, so you won't simply be reliving plot lines you've already seen on screen. Given the COVID-19 situation, it's entirely possible than Volume 4 of the show—which, by the way, is entitled Sparrow Academy—will be released before season 3 of the show makes it to Netflix.
This content is created and maintained by a third party, and imported onto this page to help users provide their email addresses. You may be able to find more information about this and similar content at piano.io