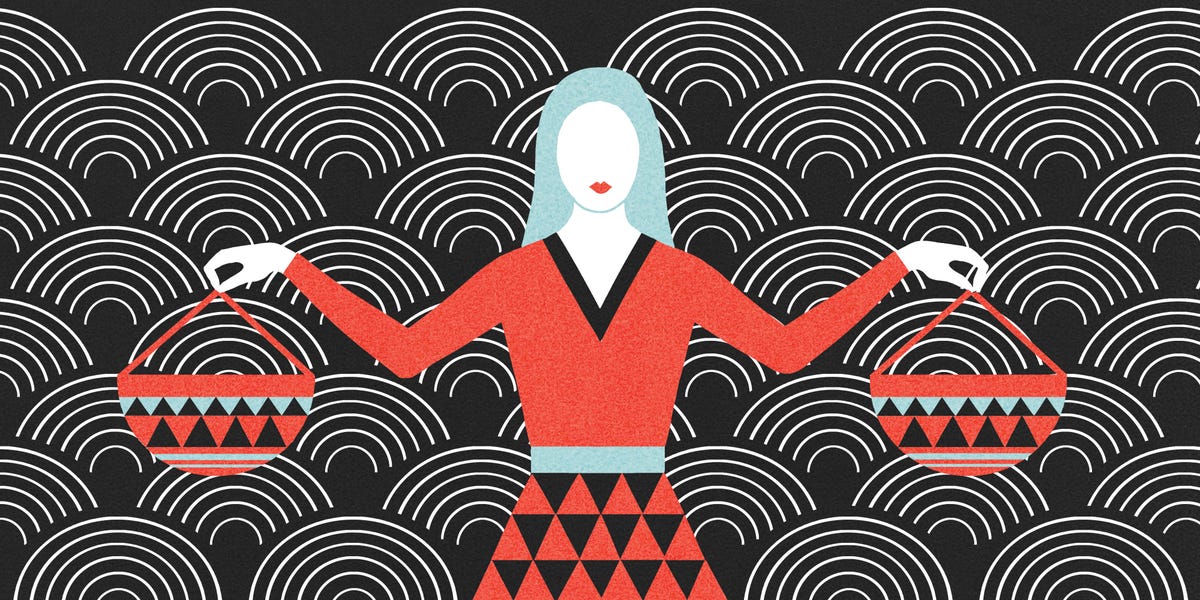 MONTH OF March
Let the spring cleaning commence! Shake off those last gasps of winter by getting your life in fighting shape. The Sun is in Pisces until March 20, heating up your sixth house of health and organization. By the time the balancing (Libra keyword!) equinox arrives that day, you should be in sweet harmony with the universe. Even better? There are NO retrograde planets in March, so your efforts to move ahead with plans and projects should have an easy runway to lift-off.
Your ruling planet, Venus, is also wrapping up a long run through Capricorn and your domestic fourth house that began on November 5. Your household may have been a hotbed of friction and activity in January while Venus was retrograde—possibly even longer since aggravator Mars also entered Capricorn on January 24. At best, Chateau Libra has been anything but quiet and boring since 2022 began. (And at worst, there was some family feuding or repair drama afoot…)
That's about to change this month—and the news comes with a bonus bout of early spring fever! On March 6, both Venus and Mars will move into Aquarius and your romantic, passionate fifth house. With the love planets heating up this frisky sector until next month, you've got license to flirt, dress up and step into the spotlight with Libra style and flair!
By the time the Sun moves into Aries for a month on March 20, one of your admirers could turn into a serious LTR contender. If you're already attached, the new season will help bring equality and harmony back to your bond.
Pisces season helps you get green and clean
Where is your life not as efficient or healthy as it could be, Libra? Take inventory because this month is ideal for making some concrete improvements. The Sun's in Pisces and your orderly, wellness-focused sixth house until March 20. Don't wait for the snow to melt before you heat up your body temperature with a great workout or an Ayurvedically appropriate meal (think: garlic, ginger and warming ingredients). With the Sun activating your helpful-people sector, look to where you can delegate duties or bring in a specialist for support.
The Pisces new moon arrives on March 2, kicking off the month in this meticulous mindset. Start banishing those winter blues with some seasonal greening and cleaning. Get busy free-cycling old furniture and clothes, rebooting a fitness practice and "eating the rainbow." Declutter and rearrange your space. Hire a handy person to build shelves if you're not feeling the DIY spirit. Less is more! Bring back the light and airy Libra vibes with some grounding daily practices. Gentle yoga or guided meditation, anyone?
If you're hoping to make some health and fitness improvements, this new moon is the perfect day to start. The results of your efforts will pay off over the next six months, between now and the Pisces full moon on September 10.
You'll get an extra burst of motivation to break out of your comfort zone this year. Jupiter, the planet of growth, luck and adventure, is also in Pisces until May 11. On March 5, the Sun and Jupiter will make their once-a-year conjunction (meetup). Nicknamed the "Day of Miracles," the annual Sun-Jupiter alliance is believed by some astrologers to be one of the most fortunate dates of the year. It's certainly a shot of optimism and can-do energy that you can channel into any project or passion that's hit a plateau. Don't stall progress simply because you don't want to "deal" with a step that's confusing or hard. The Day of Miracles could bring an ingenious solution or specialist into your orbit—so stay open to that divine assist!
Mars-Pluto conjunction could disturb the peace at home
Is "home" your sanctuary, Libra, or just another four-letter word? Peace and quiet might be hard to come by today as two intense planets make a rare yet combustible mashup in your domestic sector. Provocative Mars bangs into manipulative Pluto, something they only do once every other year. Relationships and situations may suddenly feel fraught with tension. Making it harder is the fact that you're keyed into people's moods and feelings. The more you can close yourself off, the less stressed you'll feel. Don't ghost anyone, but do feel entitled to duck out whenever necessary.
Here's the good news: Peacemaker Venus (your ruler) will wedge itself into this conflict, playing mediator at a moment when that's needed most. Try to find the common ground—or at least a middle ground—rather than getting caught up in a power struggle. If all else fails, take a timeout and nurture yourself. Once you reestablish equilibrium within, you'll be able to navigate this chess game without making a reactive move.
Rest and release at the March 18 Virgo full moon
Is there something you've held onto past its prime? Let it go instead of hanging on for dear life. On March 18, the Virgo full moon activates your twelfth house of healing and release. It's a moment for closure so you can clear space for something new to come at the Libra full moon a month from now.
Your inner guidance system wants your attention. Tune in and see where it leads you. The unknown might seem scary, Libra, but what good is staying in your confining and painful "familiar zone"? Veer off the predictable path. The universe might just offer a more inspiring option or two! La luna could bring a huge intuitive download or a nudge to get a spiritual practice going. Meditation, prayer, crystals…whatever speaks to you, open up to those divine downloads.
Aries season begins March 20 at the spring equinox
Your go-to support team rallies again after March 20, when the Sun kicks off a monthlong visit to Aries and your seventh house of partnerships. This is your annual "dynamic duo" time, so seek out people with complementary skills and values. If you've been struggling to get a straight answer or searching for a kindred spirit, commitments firm up now. Romantic and business relationships turn serious, and single Libras could meet someone with long-term potential.
With the Sun in your opposite sign, your "solar power" could be a bit low. All the more reason to lean on your support system or team up with someone who's a whiz in areas where you may struggle. Call in those favors, delegate and ask for help when you need it.
The March 22 Mars-Uranus square drives up emotional intensity
Dodge the divas and detractors in your circle today, especially ones who want to bring down your joy. Brash Mars in your expresclass="body-el-link standard-body-el-link" sive fifth house will lock into a tense square with unpredictable Uranus in your private and brooding eighth house. Some people might find your effusive or emotional sharing, especially on social media, to be "too much." Yes, there's a pandemic upon us, but that doesn't mean you can't personally choose to be happy.
Be sensitive to the fact that some people are dealing with hardships and losses and may not have an appetite for humor or Pollyanna-ish positivity. But also bear in mind that everyone's feeling caged-in and cooped-up—and a restless Mars-Uranus square creates prime conditions for people to unleash frustrations on each other. If you feel like a dormant volcano ready to blow, crank up the music, find some personal space and dance like no one's watching. Or break up the intensity and make it a group dance party, singalong, game of tag—pick your version of childlike fun and indulge without an ounce of guilt! Your emotional and mental health will benefit.
One last dip in the emotion ocean? For the past four months, love planet Venus (your cosmic ruler) has been in "highly sensitive" terrain, taking an extended lap through Capricorn and your domestic fourth house. Since November 5, your feelings have been magnified, and, since most of the world was spending a lot of time at home already, hosting Venus here might have worked in your favor—at least, until the holidays.
From December 19 to January 29, Venus was retrograde, a challenging cycle that disrupted domestic bliss, particularly with female relatives, and made it hard to feel peaceful at home. With stressful Mars joining the Capricorn party on January 24, stress under your roof could have spiked further. You may still feel some of the smoldering embers of tension from that time. Hopefully you didn't embark on any major redecorating sprees, and if you did, fingers crossed that any style misfire buys were refundable or repaintable.
Whatever the case, get ready to leave that in the rearview. Cupid's got a better-late-than-never landfall planned on March 6. That day, both Venus AND Mars will move into Aquarius and your fifth house of pleasure, play and romance. You're ready to flirt, play and invite love back into your life. Hit up spring sales for a couple new pieces and step out for some al fresco gatherings. Been in homebody mode? Once the love planets enter your frisky fifth house, Chateau Libra will feel less like a retreat center and more like an isolation chamber, especially if you heed their call to action and glam up, get out and rejoin the human race!
Hoping to get serious with a romantic prospect? When Venus and structured Saturn unite on March 28, a casual flirtation could show the promise of becoming something more. Entertain talks, but take it one step at a time. For coupled Libras, the Venus-Saturn meetup is a good day to make sure you're prioritizing fun and together-time.
Who says your creativity can't bring in cash? With go-getter Mars in Aquarius and your passionate, performance-loving fifth house, the spotlight could be fervently seeking you. Tap into your talents from March 6 to April 14 and give you fans an unforgettable show! With your ruler, aesthetic Venus, also here from March 6 on, it's the perfect time to refresh your public profiles with some glamorous or artistic new portraits. Make them as striking as you dare.
Meantime, it's a great month to get things in order behind the scenes. Are you ready to systematize and streamline your operations? With the Sun in Pisces until March 20, along with a March 2 new moon and a lucky March 5 Sun-Jupiter conjunction, your orderly sixth house is a bustling place. Look into new software, service providers and specialists to ease your workload and add more efficiency. When the Sun moves into Aries on March 20, your partnership house heats up—an ideal time to team up with a complementary force to create some win-wins.
Get soul-centered business mentorship from us! Join Astropreneurs.
Calling all mystics on a mission! Got a brand, business or passion project you're developing? We want to be your mentors. Our new Astropreneurs mastermind group supports soul-centered entrepreneurs with the tools ofclass="body-el-link standard-body-el-link" modern business and astrology—with a supportive community and a private platform. https://galaxy.astrostyle.com/astropreneurs
Love Days: 27, 4
Money Days:12, 21
Luck Days: 10, 18
Off Days: 17, 7
This content is created and maintained by a third party, and imported onto this page to help users provide their email addresses. You may be able to find more information about this and similar content at piano.io