Everything We Know About Only Murders in the Building Season 2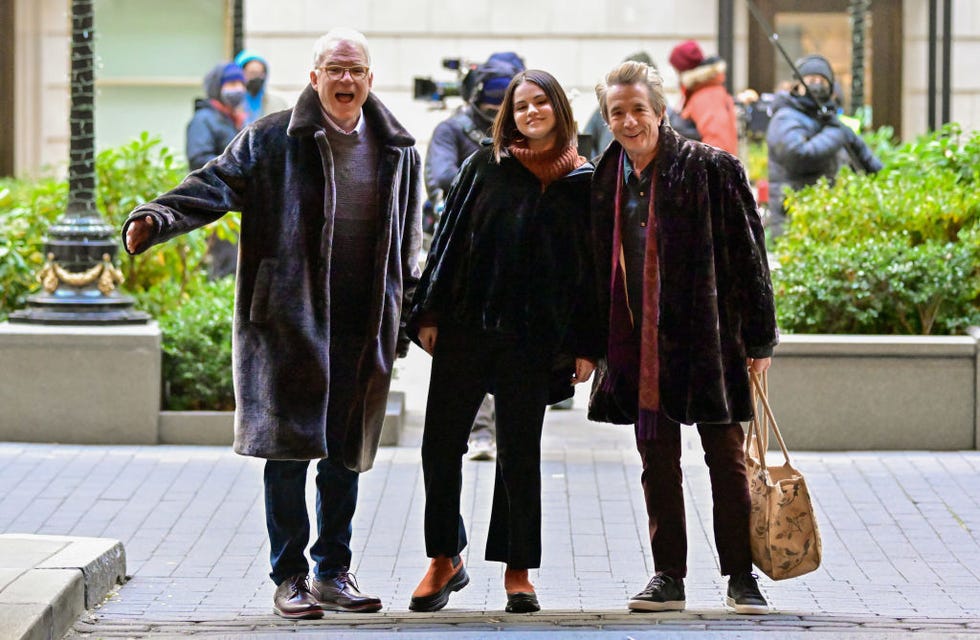 Spoilers for season 1 of Only Murders in the Building below.
Selena Gomez, Steve Martin, and Martin Short have decided to extend their stay in the Arconia—in spite of, you know, all the murders in the building. (Our hope is rent will go down, at least.)
The popular Hulu comedy has been a success story from the beginning, when the show launched as the streamer's most-watched original comedy on premiere day. The wacky mystery stars Gomez, Martin, and Short as a trio of true-crime connoisseurs who launch a podcast investigating a murder in their own Upper West Side building, only to be roped in by their unexpected ties to the crime. Besides beating out HBO's The Undoing for its array of magnificent coats, the show has proved a consistent source of good-hearted fun in an otherwise oft-dreary crime genre. So it comes as no surprise that Hulu has renewed OMitB for a second season.
"There has been something about this project that felt almost fated from the start; from [co-creator Dan Fogelman's] first lunch with Steve in which Steve happened to mention he had an idea for a series, to [co-creator and executive producer John Hoffman] jumping aboard to co-create it, to Steve's agreeing to star but only if Marty joined him, to the inspired addition of Selena," Karey Burke, president of 20th Television, said in a press statement. "The comedy this team delivered has been the obsession of every executive at this studio, and our friends at Hulu have treated it like the crown jewel that it is."
Below, everything we know about the case our merry bunch might crack next.
Who will be in the cast?
Martin, Short and Gomez are all reprising their roles. After Hulu's season 2 announcement, Gomez took to Instagram to share her excitement for next season.
Neither Martin or Short have Instagram—as Gomez's Gen Z-friendly character, Mabel, might put it, they're "olds"—but we can assume they're pretty happy about the news, too.
On December 1, 2021, Variety revealed that Paper Towns and Suicide Squad actress Cara Delevingne has been cast as a season 2 regular, playing Alice, "a sophisticated art world insider who becomes enmeshed in the mystery." There's not much else we know about the character just yet, though Delevingne did tell ELLE.com that her character's style is "definitely most like me than any other character I have ever played, but with some more daring looks, for sure."
Later, in February 2022, Martin revealed in a tweet that My Big Fat Greek Wedding actress Andrea Martin and Annie's Zoe Colletti had joined the cast in two as-yet-unannounced roles.
When will season 2 come out?
Mark your calendars: Only Murders in the Building returns to Hulu on Tuesday, June 28. Watch Gomez, Martin, and Short's silly date announcement video below.
This content is imported from YouTube. You may be able to find the same content in another format, or you may be able to find more information, at their web site.
Co-creator Hoffman previously told Queerty that season 2 would begin filming by the end of 2021, hinting that season 2 could arrive as early as mid-2022.
What will the next chapter be about?
Here's Hulu official synopsis for the next season:
Following the shocking death of Arconia Board President Bunny Folger, Charles, Oliver & Mabel race to unmask her killer. However, three (unfortunate) complications ensue—the trio is publicly implicated in Bunny's homicide, they are now the subjects of a competing podcast, and they have to deal with a bunch of New York neighbors who all think they committed murder.
The season 1 finale left us with a jarring cliffhanger—and plenty of speculation about where season 2 might take us next. We know Jan, Charles's girlfriend, killed Tim Kono in a jealous rage before poisoning Charles himself. Thankfully, Charles flops around the building enough to get Mabel and Oliver's attention, and the trio manages to assist in Jan's arrest. But they don't have long to celebrate before the fire alarm goes off in the Arconia, and Charles and Oliver race down the stairs to discover Mabel in her apartment, where she's found kneeling in front of a corpse.
She tells her friends, "It's not what you think," but might she be lying? It certainly wouldn't be the first time Mabel has twisted the truth. Still, the fan-favorite becoming a cold-blooded murderer seems a stretch. It's more likely other nefarious forces are at play, but we won't get a better look at them until the show starts filming season 2.
"Our trio is in the hot seat at the end of season 1," Only Murders co-creator John Hoffman told Deadline. "They have to reckon with their relationship with Bunny in the days prior to what happens at the end of the season and there's a lot that went down…There's a lot there we start peeling back that's built around what happened at the end of Season 1 and leading into 2. It gets more complicated and more fun in weird ways. It also puts pressure on them to solve the case."
Hoffman later told ELLE during an October 2021 interview, "We do have a good solid track for season 2. We actually start shooting in a month…That's what we've been doing, and now we're speeding our way through the scripts, and we're about halfway through."
Will there be more than two seasons?
"I sure hope so," Hoffman revealed during a Twitter Spaces event with ELLE. "I think what's going to be interesting in season 2—not to tip off too much—but there's a bit of an expansion to all their stories. In New York, it doesn't take long for an interesting story to make headlines. So there is an expansion happening around everything in their lives and in the podcast. I think there's something in there that might help us expand the show, maybe beyond the building, in future seasons."
Will there be more fabulous coats?
This content is created and maintained by a third party, and imported onto this page to help users provide their email addresses. You may be able to find more information about this and similar content at piano.io