"Blatant disinformation": Mike Lee gets slapped down for pushing Jan. 6 conspiracy theory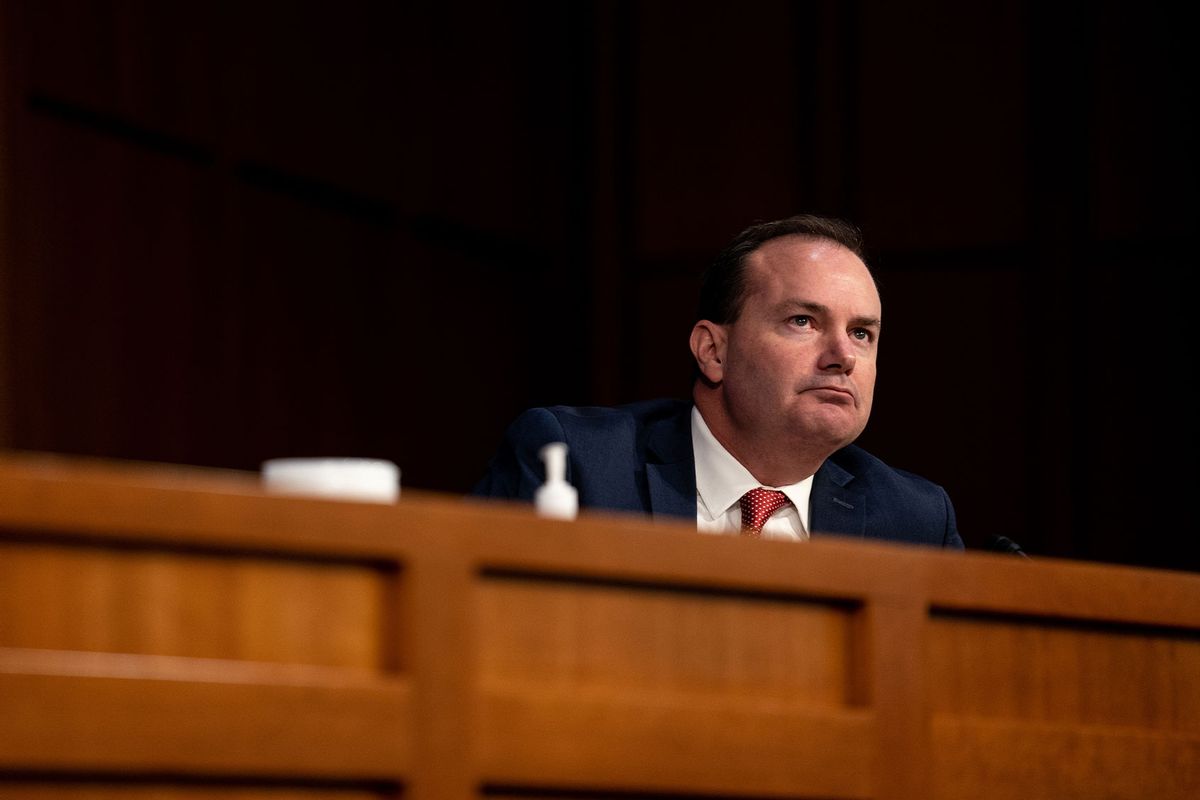 Sen. Mike Lee, R-Utah, peddled a baseless conspiracy theory that federal agents or informants were among the rioters who stormed the Capitol on Jan. 6, 2021 and that one may have flashed a law enforcement badge — which in actuality was a vape — during the attack in two posts to X/Twitter over the weekend, Rolling Stone reports.
Lee, who was involved in efforts to help former President Donald Trump overturn the 2020 election results, quoted a tweet from former House Jan. 6 committee member Liz Cheney with footage of the Capitol attack, saying, "Liz, we've seen footage like that a million times. You made sure we saw that—and nothing else. It's the other stuff—what you deliberately hid from us—that we find so upsetting. Nice try."
"P.S. How many of these guys are feds? (As if you'd ever tell us)," he added.
Lee had also called for an investigation into the Jan. 6 committee in an earlier tweet.
In a late Saturday post, Lee quoted another tweet pertaining to Jan. 6 from ex-West Virginia Republican lawmaker Derrick Evans, who pleaded guilty to a civil disorder charge after live-streaming himself participating in the riot, asking if an image from a video of the attack inside the Capitol shows a rioter "flashing a badge" and claiming that if it did, it "would prove there were undercover federal agents disguised as MAGA."
"I can't wait to ask FBI Director Christopher Wray about this at our next oversight hearing," Lee said in his post. "I predict that, as always, his answers will be 97% information-free."
The man pictured with the alleged badge was Kevin Lyons, a Trump supporter who is shown in another photo carrying a vape in his hand. Twitter users added two fact-checks to the tweet, including a post from NBC News justice reporter Ryan J. Reilly, and wrote that Lyons "is not a police officer and is not holding a badge. He is carrying a vape and a photograph and wallet stolen from Pelosi's office."
Lyons is currently in prison on a four-year sentence for his actions in the Capitol, which include stealing a wallet and a framed photo of late civil rights activist and Rep. John Lewis, D-Ga., from then-Speaker Nancy Pelosi's office.
"I'm an idiot, I realize that. I was stupid. I don't know what came over me. … I apologize to you, the country and my family," Lyons told the judge ahead of his sentencing.
Quoting Reilly's tweet, Politico's Kyle Cheney promptly called out the claims as "another example [of] disinfo from the tapes" and chastized Lee for parroting them.
"It's been rare for US senators to parrot such blatant disinformation, but here we are," he wrote.
Reilly followed his initial fact-check with a thread, showing a clearer image of Lyons holding the vape and sharing an NBC News report with video the Trump supporter filmed from inside the Capitol.
"The reason Kevin Lyons quickly flashes his palms… is that there's a tactical team coming into the Capitol as he leaves? Seems like a good instinct!" Reilly wrote in another post. "I have to check the time, but that's also the same spot where law enforcement was trying to revive Ashli Babbitt."
Evans later acknowledged that the question he posed and Lee responded to may have been incorrect.
"There's enough fishy stuff going on that we don't need to discredit ourselves by making false claims, which is why I was wondering before I commented on it," Evans replied to a user who informed him that Lyons was holding a vape.
---
Want a daily wrap-up of all the news and commentary Salon has to offer? Subscribe to our morning newsletter, Crash Course.
---
Fox News host Maria Bartiromo discussed the conspiracy theory about FBI informants' participation in Jan. 6 on the Sunday edition of her show, asking former House Speaker Kevin McCarthy, R-Calif., about the rumor that federal assets were involved and if he had any insights into the FBI's role. McCarthy said he wasn't aware of it.
"I personally don't. That's the committee. I would make sure to look at that and see all that and get more information," he told Bartiromo. "I know the director of the FBI has been asked this question numerous times. [Republican Rep.] Thomas Massey is the one working on this, and I think he'd have greater insight for you."
House Speaker Mike Johnson, R-La., said Friday that he plans to release all 44,000 house of Jan. 6 footage publicly, fulfilling a promise he made to appease his right-wing colleagues as he campaigned for the speakership. Ninety hours of footage was posted to the House Administration Committee's website by Friday afternoon.
GOP Rep. Clay Higgins questioned FBI Director Christopher Wray about the conspiracy theory during a hearing of the House Homeland Security Committee last week. Wray had frequently denied that federal agents were involved in the insurrection or its planning.
"If you're asking whether the violence at the Capitol on Jan. 6 was part of some operation orchestrated by FBI sources and/or agents… the answer is an emphatic no," Wray said.