Experts: Audio of Trump interview for new book could backfire in court — especially if he testifies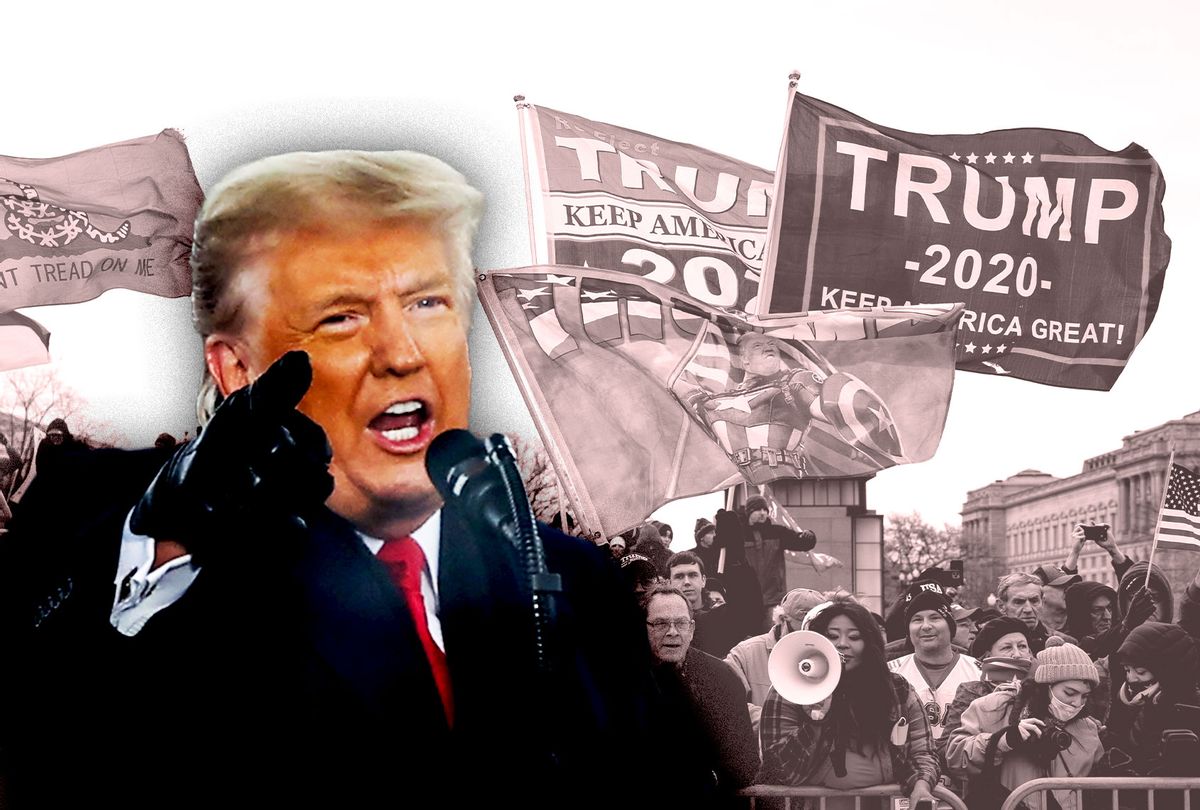 A newly released recording of Donald Trump discussing his interactions with his Secret Service detail as his supporters stormed the Capitol on Jan. 6, 2021, could be entered into evidence in special counsel Jack Smith's federal election interference case, a former federal prosecutor says.
In the audio, which comes from a March 2021 interview with ABC News' Jonathan Karl for his new book, Trump brags that he would have been "very well-received" by the crowd of rioters that showed up on the day the results of the 2020 presidential election were to be certified.
"Don't forget, the people that went to Washington that day, in my opinion, they went because they thought the election was rigged," Trump told Karl per HuffPost. "That's why they went."
Speaking with CNN's John Berman, former federal prosecutor Jennifer Rogers predicted the new audio would lend support to special counsel Smith's federal criminal case against the ex-president in Washington, D.C.
"They have charged him, of course, with this vast conspiracy to effectively steal the election," Rogers told Berman. "They didn't charge him with the insurrection itself per se, but this is all evidence of that conspiracy, right, because the insurrection of course was the last ditch effort to stop Congress from certifying the vote.
"So the fact that he's recorded saying, basically, I knew that these were my supporters — they were there to do what I wanted them to do to stop the certification, is good evidence of his participation," she continued.
Berman agreed, explaining that Trump seemed to have a solid grasp of the violence occurring at the Capitol on Jan. 6 considering that he suggested he could have quelled the insurrection. Berman also underscored the political impact of Trump's apparent understanding and prompted Rogers to dive into its legal value.
"Yeah, I mean, the notion that he sat on his hands while watching TV and did absolutely nothing, knowing that they were there to do what he wanted them to do, and didn't do anything to stop the violence going on at the time is a pretty persuasive point about his bad actions," Rodgers responded.
The former president ultimately ended up in the White House at the time of the Capitol attack and did nothing to stop or intervene in the riot for 187 minutes, instead opting to view the insurrection via TV coverage.
In the recording, Trump also lamented how the Secret Service did not allow him to go to the Capitol while falsely claiming that his Jan. 6 rally ahead of the insurrection was the largest crowd he had spoken to "by far."
"I was going to, and then Secret Service said you can't, and then by the time… I would have, and then when I get back, I saw… I wanted to go back. I was thinking about going back during the problem to stop the problem, doing it myself," said Trump, who told his supporters to go to the Capitol.
"Secret Service didn't like that idea too much," he added of his attempt to attend.
His newly released comments come after accounts that claim he tried to go to the Capitol personally in an effort that included an alleged physical altercation between him and Secret Services where he attempted to grab the wheel of his presidential limousine following the rally.
"I'm the f***ing president. Take me up to the Capitol now," Trump said, according to ex-White House aide Cassidy Hutchinson's testimony before the House Jan. 6 committee.
Hutchinson also told the committee that Trump was angry about Secret Service magnetometers arranged at the rally site to keep armed supporters away.
MSNBC legal analyst Lisa Rubin on Friday noted that the recording "is not evidence in the case yet, nor has it been brought to any court's attention" and it's unclear if special counsel Jack Smith would seek to use it as evidence.
"This not only corroborates Cassidy Hutchinson but, if you listen to what he said at the end of that, when he says 'When I got back to the White House, I wanted to go back,' we know, thanks to timelines and thanks to evidence that the January 6th committee brought out, that at 1:24 that afternoon, when he arrived back at the White House, he was informed that the Capitol had been breached," she said.
---
Want a daily wrap-up of all the news and commentary Salon has to offer? Subscribe to our morning newsletter, Crash Course.
---
"For him to say now that he wanted to go back, and yet there's 187 minutes of inaction, is somewhat at odds with itself," Rubin added. "If Donald Trump were to take the stand in this case, I would expect prosecutors to use that tape to impeach the credibility of his testimony."
Karl's book, "Tired of Winning: Donald Trump and the End of the Grand Old Party," was released earlier this week and came with new revelations about the Trump administration, including that an ex-senior Trump official criticized the former president, deeming him a "traitor" and a "clear and present danger."
The ABC News Chief Washington correspondent also described in the book that Trump believed a conspiracy theory claiming he'd be reinstated as president in the months after his first term in office, a theory that his former attorney Jenna Ellis shut down in 2021.
Read more
about Trump's D.C. case