Tasty chicken tikka nachos from "Great British Bake Off" finalist Crystelle Pereira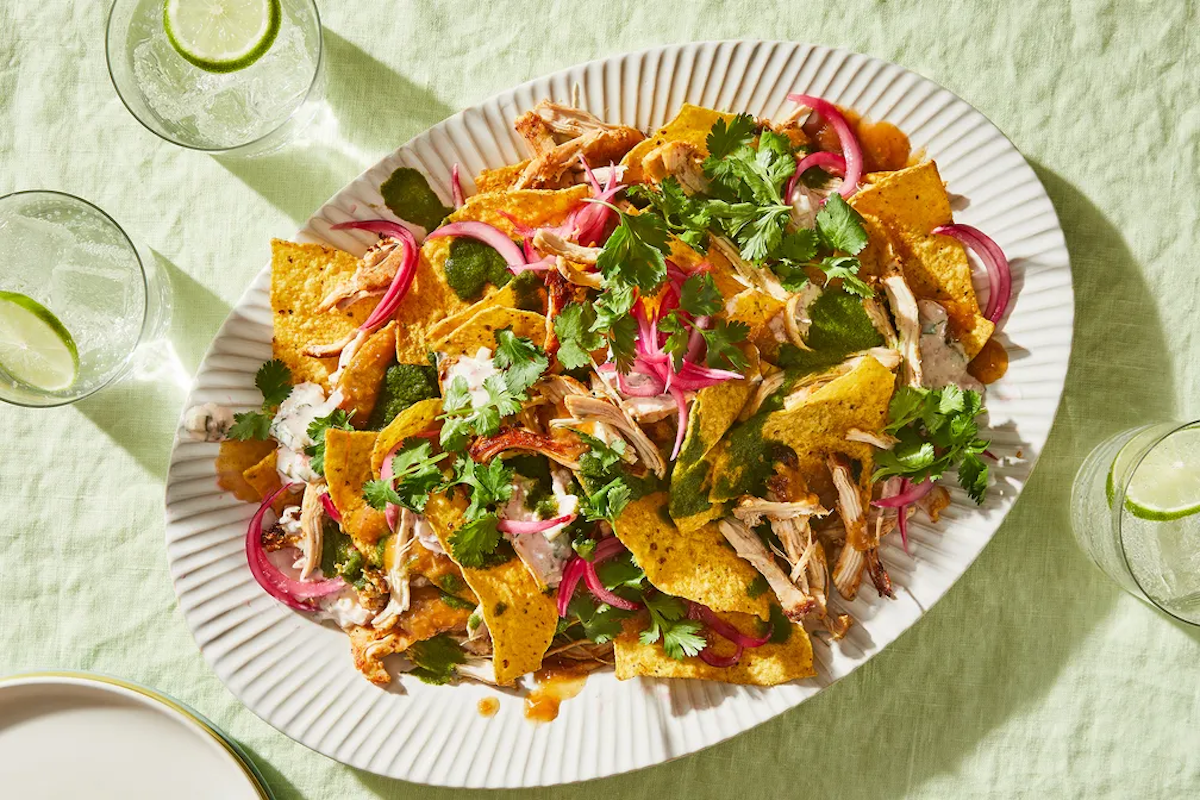 Crystelle Pereira from "The Great British Bake Off" is here to share her recipe for tasty chicken tikka nachos. So full of contrasting flavors and textures, this dish has everything from savory chicken tikka, cool raita, tangy pickled onions, aromatic mint and coriander chutney, crunchy tortilla chips, and sweet mango chutney.
Watch this recipe
Chicken Tikka Nachos from Crystelle Pereira
Ingredients
1 medium tomato
1 medium red onion, cut in half
4 handful cilantro leaves, divided
1/4 large cucumber
2 1/2 medium limes, divided
1 1/3 cups plain yogurt
1 1/2 teaspoons kashmiri chile powder, divided
Sea salt, to taste
2 handfuls mint leaves
2 green chiles, preferably finger or bird's eye, stem removed and roughly chopped
5 teaspoons granulated sugar
5 medium garlic cloves, divded
1 1/2 teaspoons coriander seeds
1 1/2 teaspoons cumin seeds
1 teaspoon garam masala
1/2 teaspoon ground turmeric
1/2 cup whole-milk Greek yogurt
1 inch piece of ginger, peeled and minced
1/4 teaspoon freshly ground black pepper
1 1/2 pounds boneless skinless chicken thighs, diced into small cubes
Refined coconut oil, for cooking
1 bag tortilla chips
2/3 cup mango chutney
Directions
Make the raita: Finely dice the tomato, 1/2 medium red onion, 1 handful cilantro leaves, and cucumber, and add all to a medium bowl. Squeeze the juice of 1/2 medium lime on top. Stir in the yogurt and 1/2 teaspoon chile powder. Season with salt to taste. Refrigerate until ready to serve (this can be done up to 1 day in advance).
Make the chutney: In a blender or small food processor, combine 2 handfuls cilantro, mint, chiles, sugar, 2 garlic cloves, and a pinch each of salt and pepper. Squeeze the juice of 1 lime on top and add 2 tablespoons of water. Blitz until mostly smooth, then adjust the seasoning to taste. Refrigerate until ready to serve (this can be done up to 1 day in advance).
Make the pickled onion: Add 1/2 of a thinly sliced red onion to a bowl and the juice of 1/2 lime on top. Use your hands to scrunch the onion. Set aside to soften.
Marinate the chicken: Add the coriander, cumin, 1 teaspoon chile powder, garam masala, and turmeric to a dry skillet over low heat. Toast, stirring occasionally, for about 5 minutes, until fragrant. Transfer to a spice blender or mortar and grind into a fine powder. In a bowl, combine the toasted spices, yogurt, 3 cloves garlic, ginger, 1 teaspoon salt, and pepper. Squeeze the juice of 1/2 lime on top and stir in. Fold in the chicken. Cover the bowl and refrigerate for at least 1 hour or up to 8 hours.
Cook the chicken: Once marinated, set a 10-inch cast-iron skillet over medium heat and add a spoonful of coconut oil (just enough to thinly coat the bottom of the pan). Add the chicken. Cook for 8 to 10 minutes, until cooked through. Heat the broiler to high. Broil the chicken for a few minutes just to get some color, keeping a close eye to make sure it doesn't burn.
Assemble: On a large, flat serving tray (or sheet pan), scatter 1/3 of the tortilla chips. Add 1/3 of the chicken, 1/3 of the raita, 1/3 of the chutney, 1/3 of the mango chutney, 1/3 of the pickled onions, and 1/3 of the cilantro. Repeat this stacking process two times to evenly use up the rest of the ingredients, then serve immediately.