Celebrities mourn the loss of "Friends" star Matthew Perry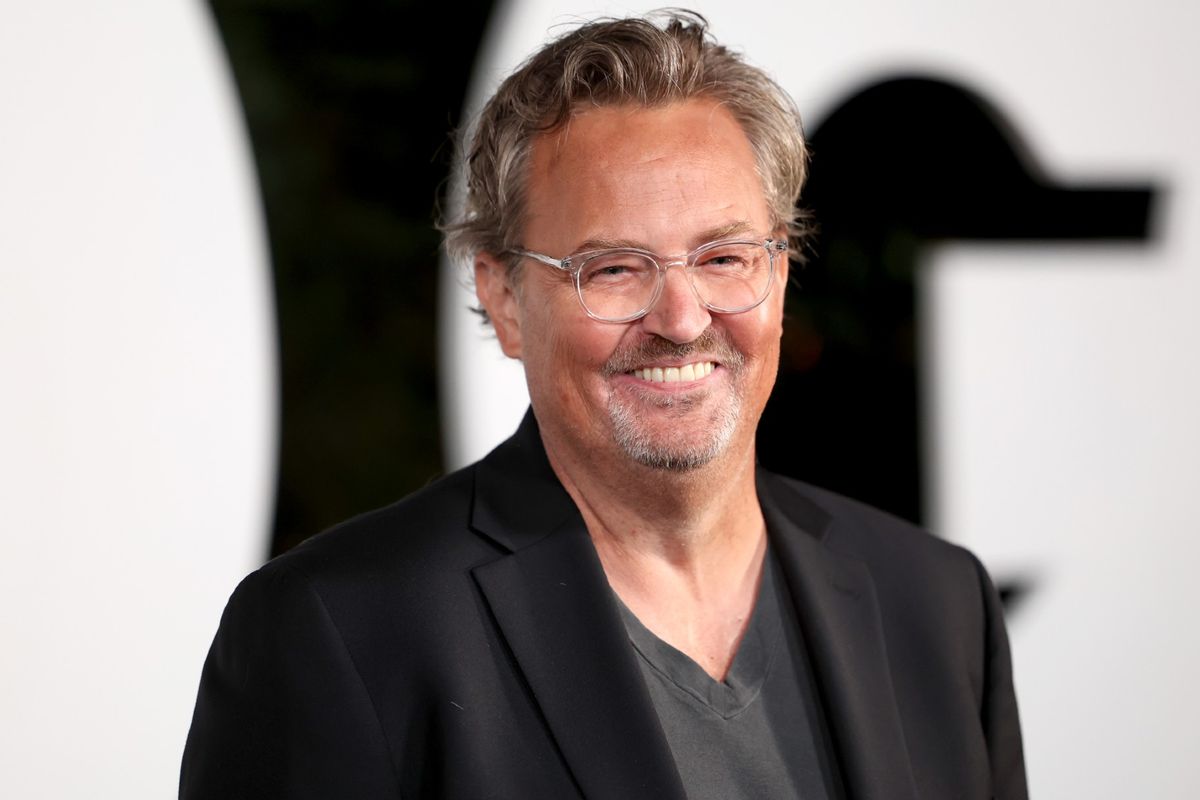 After the news broke of Matthew Perry's death while most of the world was out in costumes, living it up on the last Saturday before Halloween, the celebratory vibe of the weekend took on a somber note as many flooded social media to post remembrances of the "Friends" star, and to reflect on what he meant to them throughout the years.
According to Los Angeles Times, authorities had been called to Perry's home in Los Angeles on Saturday afternoon after he'd been discovered by his assistant unresponsive in a hot tub. A widespread assumption is that his cause of death was drowning, but the Los Angeles County coroner's office has yet to make an official statement to confirm or deny at this time. It has been said by many sources that no drugs were discovered at the scene, and no foul play was involved.
Sadly, Perry's last Instagram post — shared six days before his death — is a photo of him lounging in a hot tub at night, along with the caption "Oh, so warm water swirling around makes you feel good? I'm Mattman." It's presumed that the hot tub featured in the photo is the very same one he'd eventually die in.
In addition to his work on "Friends," on which he played the beloved character Chandler Bing for 10 seasons spanning September 22, 1994 – May 6, 2004, Perry had an expansive list of credits in many other TV shows and films, dating back to when he first got his start in the business at the age of 15. Notably, he had roles in "Charles in Charge," "Silver Spoons," "Growing Pains," "The West Wing," "The Good Wife," and starred in "A Night in the Life of Jimmy Reardon" alongside River Phoenix, Meredith Salenger and Ione Skye, all legends of that time. Most recently, Perry published a memoir in 2022 titled, "Friends, Lovers, and the Big Terrible Thing," in which he opened up about his history of substance abuse.
"I say in the book that if I did die it would shock people, but it wouldn't surprise anybody. And that's what I'm doing with writing this book. That's why I wanted to do it," Perry told People ahead of the memoir's release last November.
---
Want a daily wrap-up of all the news and commentary Salon has to offer? Subscribe to our morning newsletter, Crash Course.
---
"We are devastated to learn of Matthew Perry's passing," a post from the official "Friends" account on Instagram reads. "He was a true gift to us all. Our heart goes out to his family, loved ones, and all of his fans."
"Even in his darkest moments his comedic timing was impeccable," says actress Maggie Wheeler, who portrayed his character Chandler's ex-girlfriend, Janice, on "Friends." "Matthew suffered so terribly as his book revealed to the world. I hope he is at peace beyond that suffering. He died way too soon and will be missed by all who loved and knew him in life, and as the beloved Chandler Bing," she adds.
Even singer Adele paid remembrance during her Las Vegas residency performance last night, saying, "If any of us were having a bad day or feeling low [she and her friend Andrew] would just pretend to be Chandler and I remember that character for the rest of my life."
Morgan Fairchild, who portrayed Chandler's mother on the show, had this to say in a statement made to X: "I'm heartbroken about the untimely death of my 'son', Matthew Perry. The loss of such a brilliant young actor is a shock. I'm sending love & condolences to his friends & family, especially his dad, John Bennett Perry, who I worked with on 'Flamingo Road' & 'Falcon Crest.'"
In the foreword to his memoir, "Friends" co-star Lisa Kudrow reflected on her friend, writing, "I wasn't exactly sure how Matthew was doing. As he'll tell you in this book, he was keeping it a secret. And it took some time for him to feel comfortable enough to tell us some of what he was going through . . . Over those years I didn't really try to intervene or confront him, because the little I knew about addiction was that his sobriety was out of my hands. And yet, I would have periods of wondering if I was wrong for not doing more, doing something. But I did come to understand that this disease relentlessly fed itself and was determined to keep going."
At the end of last night's episode of "Saturday Night Live," the show featured a special tribute card for the actor, who hosted on Oct. 4, 1997.
"We are incredibly saddened by the too soon passing of Matthew Perry," NBC said in a statement to The Times. "He brought so much joy to hundreds of millions of people around the world with his pitch perfect comedic timing and wry wit. His legacy will live on through countless generations."
Read more
about this topic