Take a Chance on Chanel's New Fragrance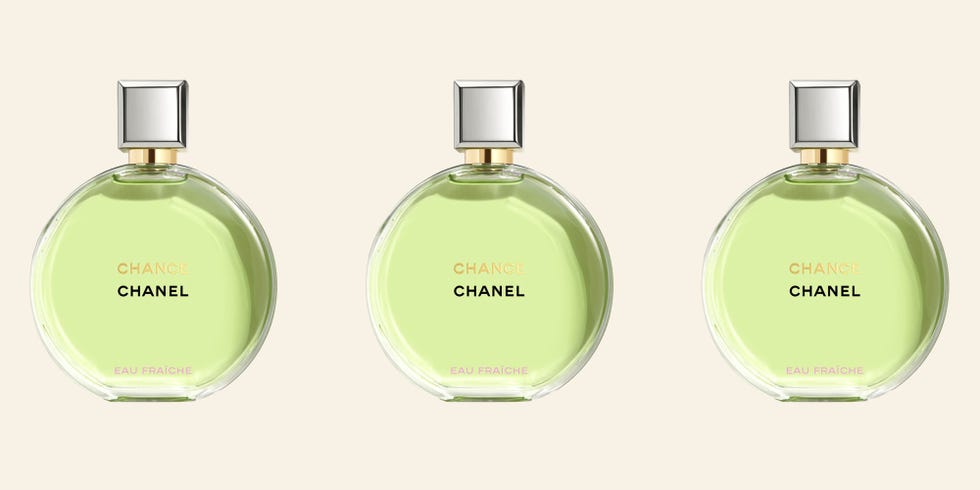 When Chanel launched the original Chance in 2002, it was one of my first introductions to luxury fragrances. It didn't smell overly mature, like other scents in my mother's collection, proudly displayed on her bedroom bureau like a museum. Instead, Chance always gave off a vibrant regalness, like it was ready to play with your pheromones, which historically resulted in a delightful journey for the senses. So when I received the sixth installment of the legendary perfume, a dynamic and woody floral, I was intrigued, to say the least. At first spritz, it was like déjà vu for my nose: familiar, yet different. It had evolved, in the best possible way.
"What is special about this fragrance is the combination of freshness and strength, two contrasted qualities," Olivier Polge, Chanel's in-house perfumer, exclusively tells ELLE.com. There is a unique effervescence to Chance Eau Fraîche, akin to a mischievous giggle during a silent moment at a dinner party. "[It's] a fragrance that has a remarkable freshness and I wanted to make it more sensual. I developed its depth with woody notes while keeping the strength of citrus. I played with the duality of the elements by extending both extremes," Polge adds.
And the fragrance dances within that duality, taking one's olfactory senses to the depths of both extremes. And that's exactly how I choose to wear it. One hot summer day, while battling the sweltering underground of the New York City subway system and its requisite smells, someone commented on "the freshness" of my perfume and inquired about its origin. When I cheerily responded "Chanel," there was a moment of confusion. How could something so luxurious be…on the subway? Ah, the joys of the city and its idiosyncratic beauty, I thought. Just like Chanel, luxury has no walls or restrictions in the concrete jungle—it's everywhere.
For Polge, however, the scent isn't for a particular destination, but more so for one's disposition. "This is a casual fragrance, which, according to me, translates more to one's mood, rather than places in particular," he says. I think of my fellow straphanger—"casual luxury," I whisper, hoping my words will travel to his ears, wherever he may be. I think back to that day underground and reflect: Before I left my apartment, I spritzed on Chance Eau Fraîche because I wanted to feel fresh, like summer, but with fall slowly creeping in—a bright aroma with sensual undertones. "You should wear this fragrance when you want to feel comfortable," Polge says. For me, that's all the time, everywhere.
Before Polge was Chanel's in-house perfumer, his father, Jacques Polge, reigned from 1978 to 2015. In fact, he created the first-ever Chance—the blueprint for which is being expanded upon today. The house currently has 137 perfumes that sit under 15 different collections. If Chanel is a lifestyle, could Chance exude its possibilities?
In a lot of ways, the latest Chance feels like an old-school fragrance. It's expensive, but priced at $135 for 1.7 fl. oz. and $165 for 3.4 fl. oz. respectively, you're acquiring classic luxury at an accessible price. It's also long-lasting with a great trail, so you can leave a whiff of it wherever you go (yes, even on the subway).

Beauty Director
Danielle James is the Digital Beauty Director of ELLE.com. Previously, she was the Fashion and Beauty Director of HelloBeautiful.com and MadameNoire.com. She's bylined for The Cut, InStyle, Allure, Business of Fashion, Nylon, Essence, Good Housekeeping, The Grio, and Huffington Post. Danielle enjoys sailing, thrifting, Japanese whiskey, Naomi Campbell's runway walk, and Rihanna in the comment section.