Glossier's New Stretch Fluid Foundation Takes a 'Skin First' Approach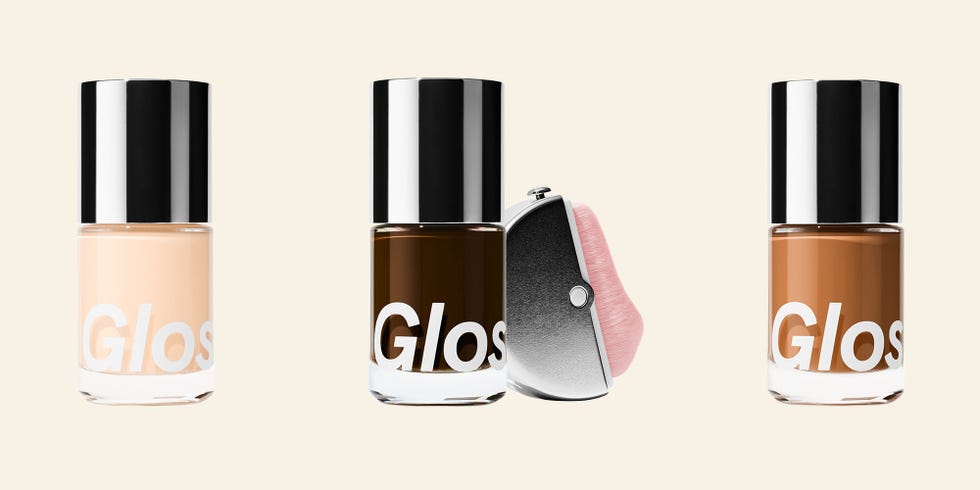 Glossier rolled out its latest complexion launch, the Stretch Fluid Foundation, with 32 shades and four different undertones. In addition, they are updating their cult-loved Stretch Balm Concealer in a matching 32 shades. Glossier has had quite a year—first, stepping outside their minimalistic approach with G-suit, moveable matte lipsticks in bold hues. The dedication to a more inclusive shade range is the response to loud grumblings from the makeup community and further allows the brand to expand its reach and connect with a more rounded audience.
"It was needed," Emily Trillaud, Senior Director of Product at Glossier, says in a matter-of-fact manner regarding the shade expansion. To understand the new Glossier Stretch Foundation, you must understand the inspiration and its origins—the brand's beloved Stretch Balm Concealer. "The finish is really quite dewy. We added a really heavy load of skin-loving oils, including jojoba and avocado, which gives you that natural dewiness. There's a fairly high load of pigment, which makes it really buildable," Trillaud states. However, despite the skin-loving ingredients, during its original launch in 2016, the concealer came in a disappointing 12 shades. A major reason, despite my loyalty to Balm DotCom and Glossier You, I had never delved into their complexion offerings.
Trillaud shares with ELLE.com that the concealer is a top 10 bestseller for Glossier. Consumers of the brand were buffing out the concealer to wear all over their face and Glossier wanted to ensure that it was "suitable" for the face. "That means something fluid. So you can actually put it on all over," she states. The concealer has a medium, dewy finish; however, the foundation is light to medium, natural coverage. Trillaud explains, "We wanted to make sure that it was as true as possible to your natural skin. Your real skin."
More From ELLE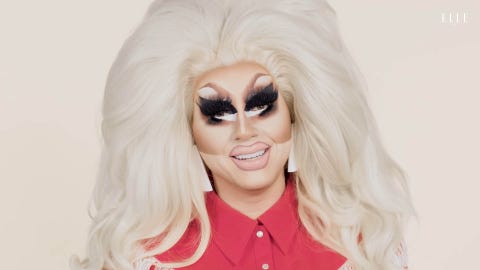 Celebrity makeup artist Katie Jane Hughes, Founder of her eponymous beauty label KJH Brand and makeup artist Shyanna Lundi, introduced me to the new Stretch Foundation. First off—the formula is not overly thick. It's a serum-like consistency and absorbs quickly into your skin. "We hate how foundation feels—that was our guiding principle. We wanted it to feel like skincare," Trillaud says. The formula is a water-based gel cream. The foundation is packed with skincare actives to create a hydrating base, including plant-derived squalene and glycerin. The foundation includes skin modulator actives, like rosehip oil, wild rosemary, and plankton extract. "Together, these ingredients regulate the oil and hydration levels in skin—and they do it all day long," says Trillaud.
The product felt very light on my face, almost like I wasn't wearing anything. It gave off a nice "finish" of looking done but not overly done. My skin, but better. To me, the real star of this launch isn't the extended concealer shades or the foundation. It's actually the cute little gua sha brush that the brand developed to help apply the product best. A nod to a skincare component—when using the foundation, you truly think skin, skin, skin. The makeup application process becomes an experience, a skincare ritual; however, the Stretch Face Brush is perfect for blending and diffusing as it glides across the contours of your face as if you were applying it with your hands. The brush is also great to travel with. Because it encloses into itself, you don't have to worry about foundation getting all over your makeup bag and other products. I've used the foundation about eight times over the past month, and my favorite way to apply it is at my vanity with the brush. My second favorite way is with my fingers, which, as of late, has truly been giving me the best blend with various formulas—what a soothing way to start the day.
We are all familiar with that dreaded feeling at the end of the long day when your face feels heavy from your makeup compounded by daily stress. While Glossier can't get your boss off your back or shorten your commute (damn housing crisis), the Stretch Fluid foundation can leave your face feeling light and hydrated after 12 hours. It's not freshly applied light, but it is barely noticeable and not annoying; I almost forgot I had it on one evening. A lightweight, medium-coverage foundation is a necessary addition to any makeup repertoire. I highly recommend this formula for those with dry skin. Paired with your skincare routine, your skin will be very happy. Mine is!
You can shop this skin-loving foundation Glossier.com or Sephora.com or in a Glossier or Sephora retail store near you.

Beauty Director
Danielle James is the Digital Beauty Director of ELLE.com. Previously, she was the Fashion and Beauty Director of HelloBeautiful.com and MadameNoire.com. She's bylined for The Cut, InStyle, Allure, Business of Fashion, Nylon, Essence, Good Housekeeping, The Grio, and Huffington Post. Danielle enjoys sailing, thrifting, Japanese whiskey, Naomi Campbell's runway walk, and Rihanna in the comment section.