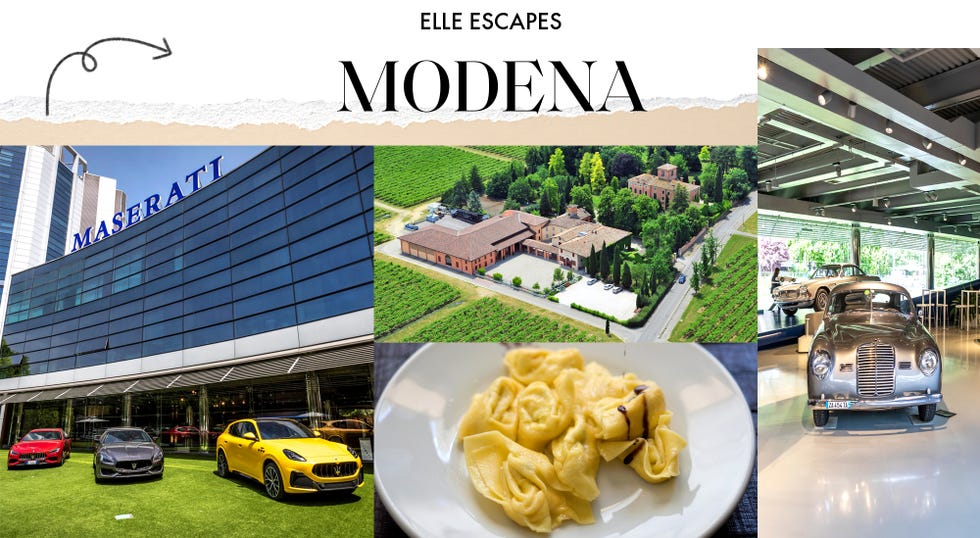 There is perhaps no more fitting way to arrive in Modena—located in the heart of Italy's Motor Valley—than in a Maserati. I was invited to join the luxury Italian automaker on a road trip from Rome, through Tuscany, to Maserati's hometown on the south side of the Po Valley, in order to test-drive both the 2024 gas-powered GranTurismo Trofeo and GranTurismo Folgore, the brand's first-ever electric sports car.
For the uninitiated, the Folgore, which translates to "lightning" in Italian, is capable of reaching 60 mph in 2.7 seconds, and after driving the car and feeling its torque pulse through my entire body, I can confirm it was just as quick to accelerate, if not faster, as its gas-powered counterpart. In the course of two days, I went from nervously saying, "We drive the cars ourselves?" to asking (er, demanding) my driving partner to forego his last driving shift so I could cruise through the city behind the wheel myself.
It's been said that a passion for racing and cars runs through the veins of Emilia-Romagna, and with the region (located just north of Tuscany) serving as home to not only Maserati, but Ferrari, Lamborghini, Bugatti, Ducati, and several other car companies, it's easy to see why. But Emilia-Romagna is also famous for its cuisine, and for good reason, as many of the most famed Italian foods—prosciutto di parma, mortadella, parmesan cheese, balsamic vinegar—originate here.
Located in the middle of Emilia-Romagna, Modena is the perfect place to try them all. It's also a great jumping off point to explore the region, as Parma and Bologna are each within a 30-minute drive. Here's a rundown of what to see, eat, and drink, and where to stay, while you're in Modena, no matter how you arrive.
What to See

---
Acetaia Pedroni and Osteria di Rubbiara
Given that balsamic vinegar originated in Modena, I knew I had to visit an acetaia, or vinegar cellar, while I was in town. A short cab ride through lush grapevine fields brought me to Acetaia Pedroni, which was built on the site of a former monastery that dates back to 1100. I took a tour of the grounds where the Pedroni family has been producing traditional balsamic vinegar since 1862 and learned about the various steps in the production process, including that, in order to be an officially certified Traditional Balsamic Vinegar of Modena under the European Protected Designation of Origin system, the vinegar must be aged for at least 12 years. (I also had the pleasure of meeting the 87-year-old patriarch Italo, who still lives on site, though his son, Giuseppe III, is running the place now.) After the tour, I was given a tasting, where I was able to try a vinegar that had been aged for 25 years in a barrel that was 150 years old. It may have ruined all other balsamic for me; this is what it's supposed to taste like? I had to buy a bottle to take home. Next up was a delicious four-course lunch featuring local specialities with balsamic dotted on top, paired with a glass of Casa Pedroni Lambrusco. My favorite course was dessert: a rich vanilla custard drizzled with vinegar, a salty-sweet lover's dream.
Maserati Factory and Showroom
No visit to Motor Valley is complete without taking in a bit of auto history. But rather than visiting one of the more traditional car museums in town, I recommend taking a tour of the Viale Ciro Menotti factory Maserati has called home since the 1930s. I've never considered myself much of a car geek, but even I could get into how cool it was to see Maserati's MC20 supercar being handcrafted by workers standing a mere 10-feet from me. In addition to the assembly line—where you see each custom-made MC20 constructed from frame to the final product being wrapped to ship out to its lucky new owner—the tour also includes a visit to the engine lab, the areas where the cars are meticulously tested and, my favorite part, where they are painted by huge robot arms. Before or after the hour-long tour, you can visit Maserati's showroom and admire (and hop in!) some of its latest models and pick up some merch to take home.
Mercato Albinelli
There are few activities I love more when traveling than wandering a food market. Not only is it a great, cost-effective introduction to local cuisines, but grocery shopping among the locals always helps me feel a little less like a tourist and a little more at home. The stalls inside Mercato Albinelli, a large covered market in the heart of Modena, overflow with all of the regional food specialties: hunks of prosciutto, parmesan wheels, and freshly made tortellini. One shop not to be missed is Je Suis Marisa, which sells fresh pasta that is almost too pretty to eat (almost). Stop by for a view of the colorful fresh pasta case decorated with flowers and pick up some pasta to take home, or enjoy a bowl of tortellini on-site. Don't skip the sandwiches from Bar Schiavoni, just outside of Albinelli; you might recognize the sausage option from the second season of Master of None.
Where to Eat
---
Franceschetta 58
I wish I was the kind of person who planned far enough ahead to have secured a reservation at chef Massimo Bottura's Osteria Francescana, which holds three Michelin stars and has been named the best restaurant in the world…twice. But if you're like me—a last-minute Larry—don't despair, grab a table at Francescana's casual and more accessible family bistro, Franceschetta 58. Choose from two tasting menus, one featuring seasonal fare and the second with the classics, or order à la carte. But whatever you choose, make sure to try the Emilia Burger; the patty is made from beef (chianina) and pork sausage (cotechino), layered with parmesan, and topped with a green sauce made with parsley, anchovies, and capers, and mayonnaise infused with balsamic vinegar. I'm still drooling.
Prospero
Old meets new at Prospero, which takes local classics like tortellini served in chicken broth and modernizes the dish by making the broth lemongrass-flavored and adding dots of pistachio cream to the pasta. I also especially enjoyed the asparagus carbonara. Another nice touch: the restaurant puts as much care into the music it plays as the food it serves; you can listen to its playlists on Spotify.
Bloom
This is a bold statement, but Modena just might have the best gelato in all of Italy—and that's mostly thanks to Bloom, which serves up all-natural gelato and sorbet that features inventive ingredients, like grapefruit marmalade, peach jam infused with juniper, and candied Sicilian tangerines.
Where to Drink
---
Archer
Archer is a cozy, romantic natural wine bar that has a great selection of wines from Italy and nearby countries like France and Slovenia, along with a selection of small plates. Enjoy a glass of chianti with a plate of anchovies, butter, and toast, and enjoy the view of the Ghirlandina bell tower.
Cleto Chiarli
Cleto Chiarli is the oldest winery in Emilia Romagna and the first to bottle and commercialize the region's now-famous Lambrusco. Choose from two varieties of the effervescent wine: the drier pink-hued Lambrusco di Sorbana, or the sweeter purple Lambrusco Grasparossa. You can visit Cleto Chiarli in the heart of Modena, or at its winery in the countryside 20 minutes outside the city.
Cesare
Travel back in time at Cesare, a quaint tavern that dates back to 1934. The space, with wooden tables and chairs, retro paneling, and old photos, is a dive (in the best way) but the cocktails are high-brow. The "Lola Love," made with vodka, passionfruit, vanilla, lychee foam, and lemongrass, is especially tasty.
Where to Stay
---
Hotel Rua Frati 48 in San Francesco
I fell for Hotel Rua Frati 48 as soon as I learned it is set in a Renaissance-era palace. And indeed, everything about staying there was royal: There are multiple gorgeous commonspaces, palatial guest rooms, enormous jacuzzi tubs, and an expansive breakfast spread. Rua Frati 48 was also the only time I have encountered a "pillow menu" in my hotel room, something I didn't know I needed and now must have at any future hotel (a girl likes to have options!).
Casa Maria Luigia
Osteria Francescana's Massimo Bottura turned his attention to luxury lodging, opening a country house hotel in 2019 in the outskirts of Modena along with his wife, Lara Gilmore. Casa Maria Luigia is a beautifully restored 18th-century farmhouse, surrounded by private gardens, that includes just 12 rooms, no two alike. The hotel is exquisitely designed with a mix of vintage and contemporary furnishings and pieces from the couple's art collection—Ai Weiwei and Damien Hirst, among others—hang on the walls. But perhaps the best part about staying at Casa Maria Luigia is being able to raid the kitchen, where chef Jessica Rosval (who worked at Francescana for seven years) and her team leave salads, snacks, and fresh baked bread for guests to nibble on from 6 A.M. to midnight.
Hotel Cervetta 5
Nestled on a charming street full of sidewalk cafés, just steps from Piazza Grande, lies Hotel Cervetta 5, a recently renovated boutique hotel, smack in the middle of historic Modena. The 22 rooms feature chic décor, luxury furnishings, and all the comforts of home, including fresh baked pastries in the morning.
Beauty Picks
---

Deputy Editor
Kayla Webley Adler is the Deputy Editor of ELLE magazine. She edits cover stories, profiles, and narrative features on politics, culture, crime, and social trends. Previously, she worked as the Features Director at Marie Claire magazine and as a Staff Writer at TIME magazine.