"He can and will" beat Trump: Jack Dorsey backs anti-vaxx RFK Jr. for president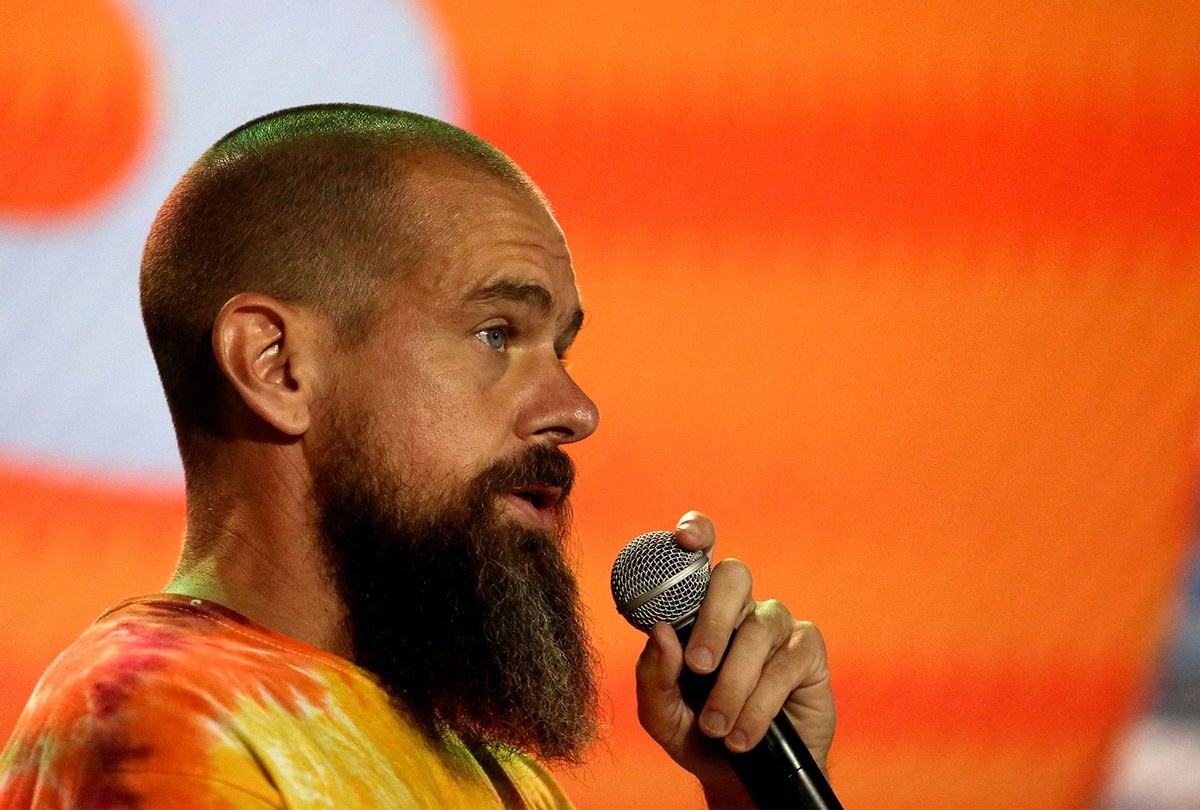 Twitter had one hell of a Monday. The struggling social media platform was hit from every direction by a confluence of news stories bringing internal problems under harsh light. Former CEO Jack Dorsey and then-CEO Elon Musk enflamed political tempers by spotlighting anti-vaccine misinformation spreader and Democratic presidential candidate Robert F. Kennedy, Jr., with Dorsey endorsing him on Sunday and Musk hosting a live Twitter Spaces event Monday afternoon. Finally, the site-wide uproar culminated with the early appointment of Linda Yaccarino to the role of Twitter's chief executive — and with Elon Musk becoming, like Dorsey, another ex-Twitter CEO.
What happened? Twitter's advertising revenue was found to have plummeted by more than half under the reign of Elon Musk, according to the company's own reports, with similarly dismal projections ahead; a group of Stanford researchers found unchecked child sexual abuse material on the site; and four U.S. senators announced that Twitter is now the subject of significant legal scrutiny over potential privacy violations.
Here's how it all went down.
It started out with a tweet
In a June 4 tweet, ex-Twitter CEO Jack Dorsey backed Kennedy's 2024 run. Dorsey tweeted out a Fox News video in which Kennedy argues he can beat former President Donald Trump and Florida Gov. Ron DeSantis in the 2024 general race, commenting: "He can and will."
The endorsement was just the latest in a series of Dorsey's tweets criticizing the Democratic Party and stirring a hive of fierce pushback from party members on the platform. Among the more ire-stoking moments: Dorsey's assertion that Democratic National Committee leaders "seem to be more irrelevant by the day."
Days earlier, Dorsey drew rebuke from some Twitter users when he described Democratic events as "Democrat primaries" — a swap largely considered an epithet by Democrats. His remarks came in response to a video of President Joe Biden who, in a recent speaking engagement, stumbled over a sandbag left on stage.
"Open the Democrat primaries and debates. This isn't fair to anyone," Dorsey said.
The furor seemed to peak when Dorsey complimented Twitter CEO Elon Musk's decision to invite Kennedy to a Twitter Spaces event, held Monday afternoon.
Dorsey's latest venture, Twitter alternative Bluesky, gained steam in its race against Twitter last week when the new platform surpassed 100,000 new users, with app downloads surging 600%. The success of the microblogging upstart, along with the continued downward spiral of Twitter amid rising technological problems, even has Facebook parent company Meta mulling a microblogging launch of its own.
Despite his Bluesky wins, as of April, Dorsey still held a $1 billion stake in Twitter — a stake large enough that he could financially pummel Twitter and Musk if he cashed it out. That stake is becoming riskier by the day, though.
Musk out, Yaccarino in: Twitter takes a beating
With threats mounting against the company from both government officials and advertising companies, Musk vacated his CEO role suddenly on Monday. A new report from Twitter said that the company's critically needed advertising revenue had plummeted 59% through April under Musk, compared to the prior year. And Twitter expects to see year-over ad sales down by about 56% in each week moving ahead. Musk's replacement, ​​new Twitter CEO Linda Yaccarino, is known for her connections to the advertising industry. She stepped into the role Monday, earlier than expected.
At the root of Twitter's advertising woes, the company report cited the platform's growing inability to regulate the worst parts of the site — hate speech, drug and gambling spam, and unchecked pornography. The content has increased significantly under Musk's reign, largely attributed to Musk's sweeping layoffs of Twitter Safety Teams.
On Monday, though, the worst of those safety concerns emerged when the Stanford Internet Observatory released a damning report, finding Twitter allowed dozens of images of child sexual abuse to circulate on Twitter in recent months. Researchers pointed to a lack of basic safety enforcement, as reported by the Wall Street Journal on Monday, and said the problem appeared to have been resolved in May.
In his Twitter Spaces talk with Kennedy on Monday, Musk insisted the problem was a Free Speech issue.
"Half of our advertising disappeared overnight because we're insisting on free speech," he said, as reported by NBC News' Ben Collins. "They're literally trying to drive Twitter bankrupt."
The Journal said Twitter suspended about 404,000 accounts that created or engaged with child sexual exploitation material just in the month of January — a 112% increase since November. From March to May, Stanford researchers still detected more than 40 previously-flagged images of child sexual abuse on Twitter.
About those Safety Teams
The sudden layoffs and departures at Twitter also drew the eyes of four U.S. senators who, in a Sunday letter to both Musk and Yaccarino, are now questioning Twitter's privacy practices under Musk's former tenure. The lawmakers wrote that the hasty launch of new Twitter products amid rapid staff loss has raised doubts over whether Twitter has met its legal obligations under two consent orders signed with the Federal Trade Commission in 2022 and 2011.
"Mr. Musk's behavior reveals an apparent indifference towards Twitter's longstanding legal obligations, which did not disappear when Mr. Musk took over the company," the lawmakers wrote in a letter obtained by CNN. "Regardless of his personal wealth, Mr. Musk is not exempt from the law, and neither is the company he purchased."
The letter's four signatories are Democratic Sens. Elizabeth Warren and Ed Markey, both of Massachusetts and Ron Wyden and Mazie Hirono, of Oregon and Hawaii respectively. In a Monday tweet, Warren said wants answers.
The senators are calling on Musk and Yaccarino to answer a series of questions about how the staff shake-ups will impact Twitter's FTC compliance.
It wouldn't be the first time Twitter's caught heat for potentially violating FTC consent orders. In late April, experts warned Twitter that the site's new policy of adding blue Verified check-marks to high-profile users without their consent could amount to fraud.
"False endorsements violate FTC rules, legally exposing Musk," said Timothy Karr, senior director of strategy and communications for the media advocacy group Free Press.
Read more
about Big Tech's role in politics