Death in Sardinia: Murder, an unpublished masterpiece and Italy's misunderstood island
As Sardinia, the second largest island in the Mediterranean, readied for the 100th anniversary of D.H. Lawrence's landmark travel book, "Sea and Sardinia," I pulled over my car at the Monumental Cemetery in the northern city of Sassari. The cemetery abounded with notable Sardinians, including two presidents of Italy, artists, writers and revolutionaries, but I had come to pay homage to the American writer Ellen Rose Giles.
"Lawrence of Sardinia," had haunted my sojourn. The chronicle of his six-day journey in the southern part of the island had dominated the bookstores as the only well-known work on Sardinia in the English language for a century.
Lawrence took no notes, he famously declared. From his arrival in Cagliari, a "naked town rising steep," he and his wife Frieda took buses and trains, first to Mandas, "where there is nothing to do," and then to Sorgono, full of "degenerate aborigines, the dirty-breasted host" and "sordid villagers," crossed the mountains until they arrived at Nuoro, the home of future Nobel laureate Grazia Deledda, where "there is nothing to see," to Orosei on the eastern coast, "a dilapidated, sun-smitten, god-forsaken little town," until they reached Siniscola, where a "young hussy" full of the "barbaric mefiance" served them roughly at a café.
After returning to his home in Sicily, Lawrence wrote "Sea and Sardinia" in a few weeks. Lawrence injected his brilliant novelist skills into the journey, conjuring some beautiful scenes of nature, especially in the train ride through the Gennargentu mountains, and praised the Sardinians for being "downright" and "manly."
But the Englishman reported "nothing," travel writer and art historian Georgiana King had snapped, in a footnote in her own book on ancient Sardinian painting in 1923. "His senses are attuned to the inner, not the visible."
King's abrupt comment came during a pilgrimage in the wake of the tragedy of a fellow Bryn Mawr college alumna, Ellen Rose Giles, who had seen "just about everything there was" in Sardinia, until "death stepped in and took her" and her "great work" that she was "never to write."
Ellen Rose Giles already had a title for her book back in 1907: "Sard Folklore, Birth, Marriage and Death."
She told a Sardinian journalist that publishers in New York were awaiting the manuscript; proposals had been lined up for translation. La Nuova Sardegna's newspaper reporter called it a precious collection of folas e contados, stories and songs; a future art researcher would refer to her work as the most "extensive collection of original data in Sardinia."
One reporter called Giles' unpublished work a precious collection of folas e contados, stories and songs; another researcher referred to her work as the most "extensive collection of original data in Sardinia."
A philosophy major at Bryn Mawr, Giles had come from an affluent family from Philadelphia, her father in finance. She earned scholarships to study at the Sorbonne in Paris, and at the University of Berlin. She traveled the Middle East, becoming an expert on ancient languages, fluent in Greek, Latin, Italian, German, French and Arabic.
On her return voyage back to the States from Italy, Giles wrote that she had experienced a near-mystical experience when the ship pulled into the gulf of Cagliari, the capital of Sardinia. She made up her mind to return. Within a year, she stepped onto the island with a new mission.
Featured in La Donna magazine in 1908, Giles cultivated the image of an adventurous explorer departing into a wintry night in the Barbagia mountains of Sardinia. She packed a camera, a palette and a Browning revolver. She befriended bandits and met with rival clans. She became known as the American writer who had "visited every corner" of Sardinia, conversant in Sardinian languages and fluent in Italian.
In an earlier interview, Giles had declared her book would be a tribute to Sardinian hospitality, and a land "so beautiful and so great, as it is ignored and poorly discussed," and a land to which she "now feels so fatally linked."
---
Want a daily wrap-up of all the news and commentary Salon has to offer? Subscribe to our morning newsletter, Crash Course.
---
Those last words proved fateful.
When her housekeeper found her body in the drawing room in the northern city of Sassari in the winter of 1914, Giles was clinging to the last minutes of her mysterious life. The acrid smell of gunsmoke still lingered in the air. The Browning pistol was on the floor, amid a scattered array of Italian money. A bottle of chloral hydrate and bromides was nearby. That was a fairly heavy but common cocktail in the "alkaloids era" for anxiety or sleep problems.
Finding Giles still alive, with a bullet wound to her chest, the housekeeper ran for a nearby doctor, but his frantic last efforts to revive her did not succeed. He ruled her death a suicide, and then a murder — and then a suicide again. One strange detail confounded him; the bullet wound had not left a mark on her blouse, as if she had been covered up after the fact, and that detail quickly led to rumors of a mysterious lover who had escaped the scene of the crime.
In the winter of 1914, the American writer's death headlined all the major newspapers in the U.S., Italy, and Europe. The wire services called it the "tremendous sensation" of the day.
The New York Tribune ran with the lead: "Artist Killed in Sardinia." That story evolved into various versions: "Bryn Mawr Girl is Murdered in Her Sardinian Home," the Courier in rural Pennsylvania screamed, running with the story of a nobleman suspected of foul play with the "noted artist and author," while a newspaper in rural Wisconsin went with "Girl Writer Found Dead in Mystery Case." The Muskogee Daily Phoenix added its own moral twist: "Girl Artist Who 'Was Different' Is Murdered Abroad."
The Italian newspapers dropped the murder intrigue but kept up the sensational headline: Impressionante Suicidio.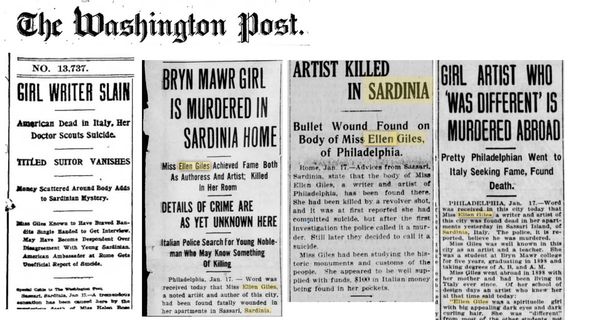 Giles headlines Newspaper collage (Courtesy of Jeff Biggers)
A New York Times story added more intrigue, noting that Giles had just changed her will, leaving behind $40,000 to her mother, even though they had fallen out over a disagreement. "An unhappy heart affair in Sardinia had resulted in a quarrel with the mother," the New York Tribune added, as if its readers were part of the family drama now. Strangely enough, Giles' mother Anne had recently moved to the rustic confines of a rural monastery in another part of Sardinia.
Ellen Giles had been working on her book for years. In 1907, she had mentioned spending 15 months in the most remote areas, listening to "the voices that arise from the Nuraghi and from the forgotten Phoenician and Roman necropolis and from the ruins of medieval castles." She had crossed the countryside and mountains on horseback, living among the "shepherds' huts."
The reports on her funeral noted a huge crowd of onlookers and mourners. La Nuova Sardegna described her as "blond" and in her 40s. A Philadelphia newspaper told its readers she was a "spiritual girl, with dark eyes and dark curling hair."
A former classmate remarked that Ellen had been "different" from the other students. "Not eccentric," she added, but Ellen's life seemed "apart" from the others. She brought to mind Elizabeth Barrett Browning, and a "cultivated circle" of Americans and Brits who had lived in Florence in the Victorian Era.
Her death, ultimately, could have taken place in another era; the Sassari police abandoned any investigation. The body of Giles was buried in a "foreign grave."
The incredible treasury of Giles' notes ended up with King, though they were eventually lost over the years.
There, in the Sassari cemetery, I looked at the grave with only her name — no date or place of birth or year of death, as if only a place marker of her journey in Sardinia. As if only her name, and not the great book on Sardinia, would ever make it into print.
Read more
tales of true crime