Prince Harry Says Meghan Markle Accusing Kate Middleton of Having 'Baby Brain' Caused Major Drama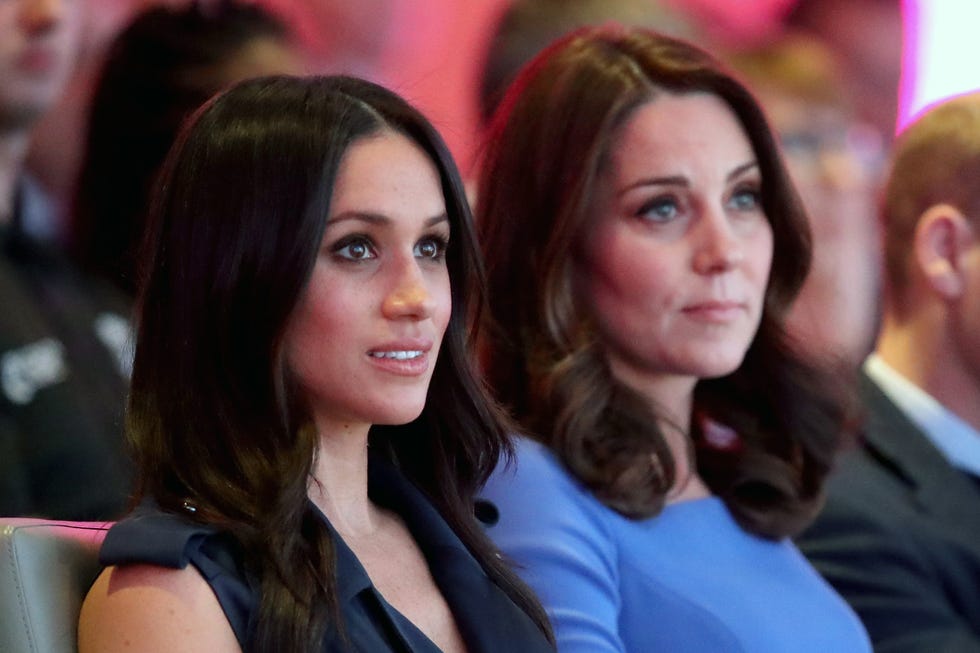 Prince Harry, in his upcoming memoir Spare, is reportedly giving more details about what transpired between Meghan Markle and Kate Middleton over the flower girl disagreement they had ahead of Harry and Meghan's 2018 wedding.
The Daily Mail reports that Meghan got into hot water after accusing her future sister-in-law of having "baby brain." Kate had given birth to Prince Louis about a month before Meghan and Harry's nuptials.
A "well-placed" source told The Daily Mail, "In the book, Harry says that there was a discussion about the timing of the wedding rehearsal and the flower girl dresses and Kate was very upset. Meghan said that Kate must have 'baby brain' because of her hormones."
"It caused a huge row because Meghan was told that she wasn't close enough to her sister-in-law to discuss her hormones and it wasn't the way people spoke to each other within the Royal Family," the source continued. "The book makes clear that Meghan felt the fall-out wasn't her fault, but it doesn't exactly make her look very good either."
Meghan addressed the flower girl story during her March 2021 Oprah interview and how the tabloids presented it as her making Kate cry. The royal family did not let her comment on the story, she said, in line with their "never complain, never explain" policy.
Meghan said, "The narrative with Kate, which didn't happen, was really, really difficult and something that I think, that's when everything changed, really."
"No. [I didn't make Kate cry]," she added. "No, no, the reverse happened. And I don't say that to be disparaging to anyone, because it was a really hard week of the wedding, and she was upset about something, but she owned it, and she apologized, and she brought me flowers and a note apologizing and she did what I would do if I knew that I hurt someone. To just take accountability for it.
"What was shocking was, what was that, six, seven months after our wedding, the reverse of that would be out in the world [the story suggesting Meghan made Kate cry]. I would've never wanted that to come out about her ever even though it had happened. I protected that from ever being out in the world. A few days before the wedding, she was upset about something pertaining—yes, the issue was correct about flower girl dresses, and it made me cry and it really hurt my feelings, and I thought in the context of everything else that was going on in those days leading to the wedding that it didn't make sense to not be just doing what everyone else was doing, which was try to be supportive, knowing what was going on with my dad and whatnot.
"There wasn't a confrontation, and I actually think it's…I don't think it's fair to her to get into the details of that because she apologized and I've forgiven her," Meghan said. "What was hard to get over was being blamed for something that not only I didn't do but that happened to me and the people that were a part of my wedding going to my comms team, saying, I know this didn't happen. I don't have to tell them what actually happened, but I can at least go on the record saying, 'She didn't make her cry.' Everyone in the institution knew it wasn't true. I'm not sharing that piece about Kate in any way to be disparaging to her. I think it's really important for people to understand the truth, but also I think a lot of it that was fed into by the media. Look, I would hope that she would've wanted that corrected. And maybe in the same way that the Palace wouldn't let anybody else negate it, they wouldn't let her, because she's a good person, and I think so much of what I have seen play out was this idea of polarity where if you love me you don't have to hate her, and if you love her, you don't need to hate me."
Harry would go on to allege in his and Meghan's Netflix docuseries Harry & Meghan that his brother, Prince William, and Kate Middleton's press office would later start planting negative stories about him and Meghan to tabloids.
"You know, there's leaking, but there's also planting of stories," Harry explained. "So if the comms teams want to be able to remove a negative story about their principle, they will trade and give you something about someone else's principle. So the offices end up working against each other. It's a kind of this weird understanding or acceptance that happens."
"And you can always say, 'I didn't know about this,' or 'Don't be ridiculous, this would never happen. Are you suggesting that I condone this?' It's like, 'No. But what I am asking is have you done anything to stop it?' And the answer is no," he continued. "William and I both saw what happened in our dad's office, and we made an agreement that we would never let that happen to our office."
"I would far rather get destroyed in the press than play along with this game or this business of trading," Harry said. "And to see my brother's office copy the very same thing that we promised the two of us would never ever do, that was heartbreaking."
Senior News and Strategy Editor
Alyssa Bailey is the senior news and strategy editor at ELLE.com, where she oversees coverage of celebrities and royals (particularly Meghan Markle and Kate Middleton). She previously held positions at InStyle and Cosmopolitan. When she's not working, she loves running around Central Park, making people take #ootd pics of her, and exploring New York City.