"Pure weakness": MAGA rages at "total fraud" Ron DeSantis for throwing Trump under the bus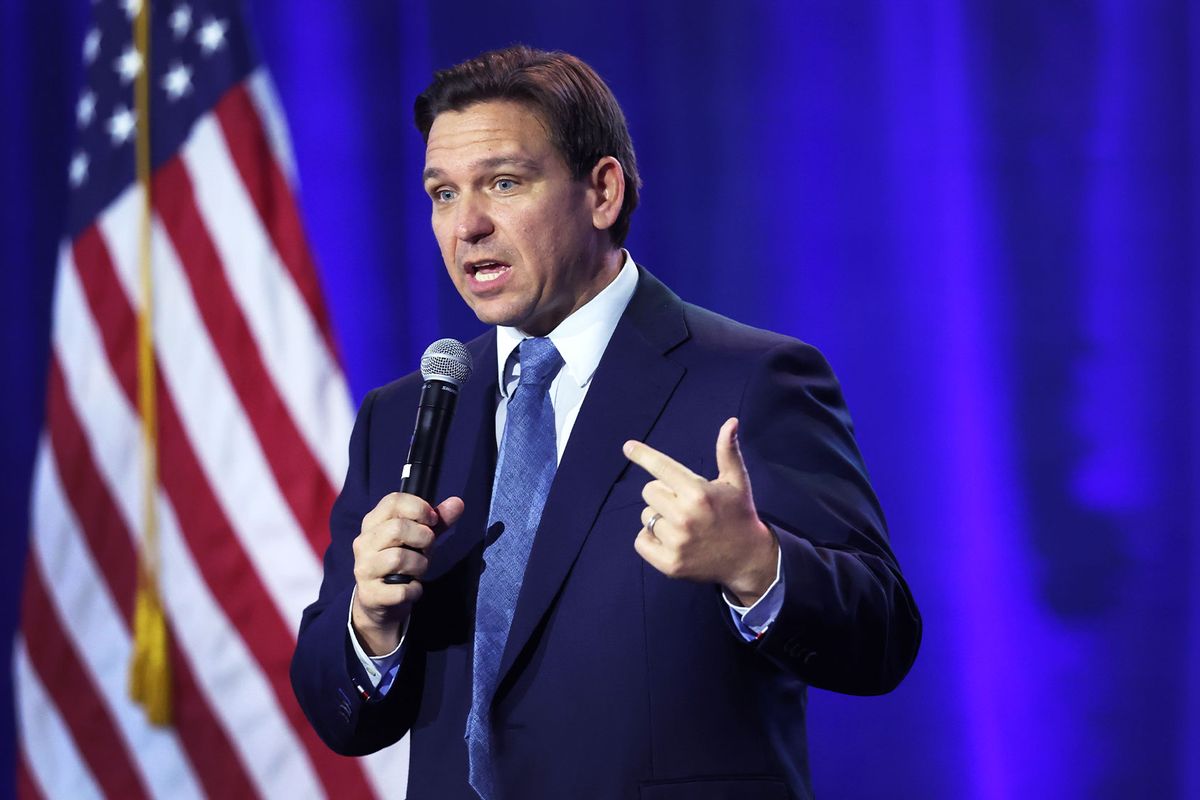 Florida Gov. Ron DeSantis made it clear that he won't get involved in former President Donald Trump's legal mess as he faces potential charges over alleged hush-money payments made to adult film actress Stormy Daniels in the final stretch of the 2016 presidential campaign.
DeSantis told reporters in Tallahassee on Monday that he had "no interest in getting involved in some type of manufactured circus by some Soros DA," referring to Manhattan District Attorney Alvin Bragg.
"He's trying to do a political spectacle … I've got real issues I've got to deal with here in the state of Florida," DeSantis said.
Florida law stipulates that governors have the authority to intervene in extraditions but Trump's lawyers have said he plans to surrender if he is indicted.
In addition to undermining the legitimacy of Bragg's investigation, DeSantis called the probe an example of a "political agenda" that Bragg was using to "weaponize" the DA's office.
"I don't know what goes into paying hush money to a porn star to secure silence over some type of alleged affair," DeSantis said.
Trump's family and allies lashed out over DeSantis' response. Donald Trump Jr. called the move "pure weakness" in a Monday tweet.
"So DeSantis thinks that Dems weaponizing the law to indict President Trump is a 'manufactured circus' & isn't a 'real issue,'" he wrote. "Pure weakness. Now we know why he was silent all weekend. He's totally owned by Karl Rove, Paul Ryan & his billionaire donors. 100% Controlled Opposition."
Trump spokesperson Liz Harrington called DeSantis a "total fraud" for failing to come to Trump's aid.
"Are you kidding me? SAY HIS NAME!" Harrington wrote on Twitter. "What a total fraud he is. He takes a dig at President Trump who is being falsely accused and can't even say his name. It proves DeSantis is totally fine with a third world nation arresting their number one political opposition. Not MAGA!"
She continued in a follow-up tweet, "Actually people do care about this because it is crossing a point of no return, turning the greatest nation on earth into a third world nation," referring to Trump's all-caps Truth Social screed over the weekend. "Oh, you've got better things to do?" Harrington added. "Like getting back on your Murdoch-funded book tour? You're not fooling anyone."
Former White House Chief Strategist Steve Bannon called DeSantis' response a "weasel approach."
"And don't throw in anything about the porn star — don't need to hear it from you," Bannon complained.
---
Want a daily wrap-up of all the news and commentary Salon has to offer? Subscribe to our morning newsletter, Crash Course.
---
Bannon also hosted Mike Lindell, founder and CEO of My Pillow and an ardent Trump supporter. Lindell asserted that "DeSantis is the Trojan Horse we thought he was."
"I just wanna put that out there — how disgusting he is," he said, accusing DeSantis of working to undermine his conspiracy theories about Trump's election loss.
"Basically Ron DeSantis is trying to call President Trump a liar over the news that President Trump may be indicted and arrested," Trump backer Laura Loomer wrote on Twitter. "He also kept repeating the word 'porn star' in an effort to mock President Trump."
"The Biden regime is trying to lock up their number one political opponent, that's an issue that matters to all sane Americans!" claimed Trump supporter Alex Bruesewitz. "Sadly, Ron wants Trump locked up just as much as the Dems do."
Read more
about the Trump investigation