McConnell among GOP senators calling "bulls**t" on Tucker Carlson Jan. 6 "whitewash"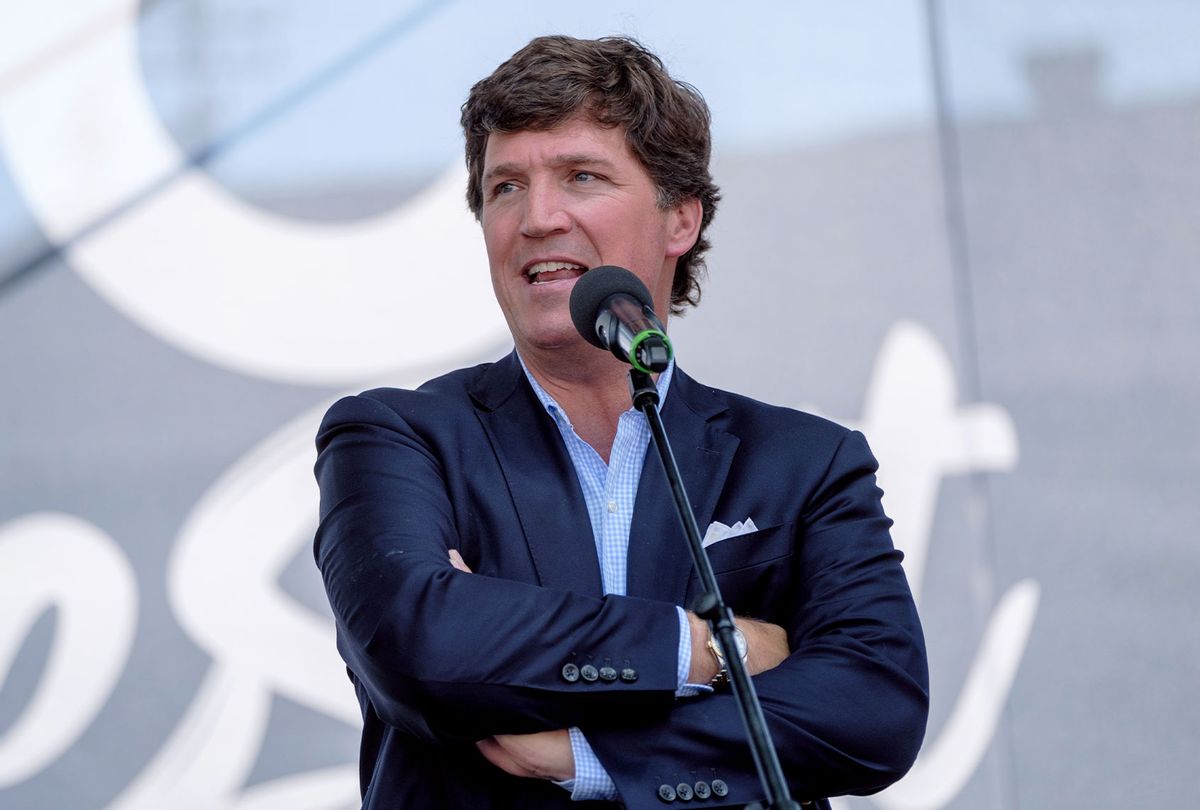 After Fox News' Tucker Carlson falsely dismissed the January 6, 2021 attack on the U.S. Capitol by supporters of former President Donald Trump as mostly nonviolent, numerous Republican senators including Minority Leader Mitch McConnell on Tuesday blasted the right-wing opinion host's "whitewashing" of the deadly insurrection.
Carlson—who publicly promoted former President Donald Trump's 2020 election lies while privately calling the GOP loser's claims "absurd"—said Monday on his program that "very little about January 6 was organized or violent" and that "surveillance video from inside the Capitol shows mostly peaceful chaos."
Recently deposed as part of Dominion Voting Systems' $1.6 billion defamation lawsuit against Fox News, Carlson echoed colleagues who said under oath that they didn't actually believe Trump's "Big Lie" that the 2020 presidential contest was stolen by Democrats.
While some of the eight Republican senators (and 135 House members) who voted against certifying President Joe Biden's Electoral College victory have stuck by the Big Lie, numerous others pushed back hard against Carlson's reimagination of the worst attack on the Capitol since Puerto Rican nationalists launched an armed assault on the building in 1954.
"I think it's bullshit," Sen. Thom Tillis, R-N.C., told reporters Tuesday when asked what he thought of Carlson's narrative. "When you see police officers assaulted, all of that… if you were just a tourist, you should've probably lined up at the visitors' center and came in on an orderly basis."
Also speaking Tuesday, McConnell, R-Ky., said that Fox News "made a mistake" by airing Carlson's spurious revision of the deadly insurrection.
"With regard to the presentation on Fox News last night, I want to associate myself entirely with the opinion of the chief of the Capitol Police about what happened on January 6," McConnell declared.
As he spoke, McConnell held up a printout of remarks from U.S. Capitol Police Chief Tom Manger, who called Carlson's account "filled with offensive and misleading conclusions" and "conveniently cherry-picked from the calmer moments of our 41,000 hours of video."
Asked whether he thought U.S. House Speaker Kevin McCarthy, R-Calif., erred in giving Carlson exclusive access to the footage—a move that prompted watchdogs on Tuesday to call for an Office of Congressional Ethics probe—McConnell said that "my concern is how it was depicted."
"Clearly," he added, "the chief of the Capitol Police correctly described what most of us witnessed on January 6."
Sen. Lindsey Graham, R-S.C., the ranking Republican on the Senate Judiciary Committee, joined in the criticism of Carlson, saying, "We don't want to whitewash January the 6th."
"I think the January 6 committee had a partisan view of things, and I'd like to know more about what happened that day and the day before," Graham added. "But I'm not interested in whitewashing the Covid lab theory, and I'm not interested in whitewashing January 6."
Sen. Mitt Romney, R-Utah, accused Carlson of "feeding falsehoods" to his viewers.
"It's really sad to see Tucker Carlson go off the rails like that," the 2012 Republican presidential nominee told reporters. "The American people saw what happened on January 6. They've seen the people that got injured, they saw the damage to the building."
"You can't hide the truth by selectively picking a few minutes out of tapes and saying this is what went on," he added. "It's so absurd. It's nonsense. And people saw that it was violent and destructive and should never happen again. But trying to normalize that behavior is dangerous and disgusting."
Sen. Kevin Cramer, R-N.D., condemned Carlson's framing of the attack as "some rowdy peaceful protest of Boy Scouts."
"I think that breaking through glass windows and doors to get into the United States Capitol… is a crime," Cramer argued. "I think… when you start opening the members' desks, when you stand up in their balcony—to somehow put that in the same category as, you know, permitted peaceful protest is just a lie."
Sen. Mike Rounds, R-S.D., got straight to his point: "I thought it was an insurrection at that time. I still think it was an insurrection today."
Senate Majority Leader Chuck Schumer, D-N.Y., meanwhile, called on Fox to keep Carlson off the air this evening.
"To say January 6 was not violent is a lie. A lie, pure and simple," Schumer said on the Senate floor.
"I don't think I have ever seen a prime-time cable news anchor manipulate his viewers the way Mr. Carlson did last night," he added. "I don't think I've ever seen an anchor treat the American people and American democracy with such disdain. And he is going to come back tonight with another segment. Fox News should tell him not to."