A genius trick for quicker, creamier oatmeal — with no sticky pot to clean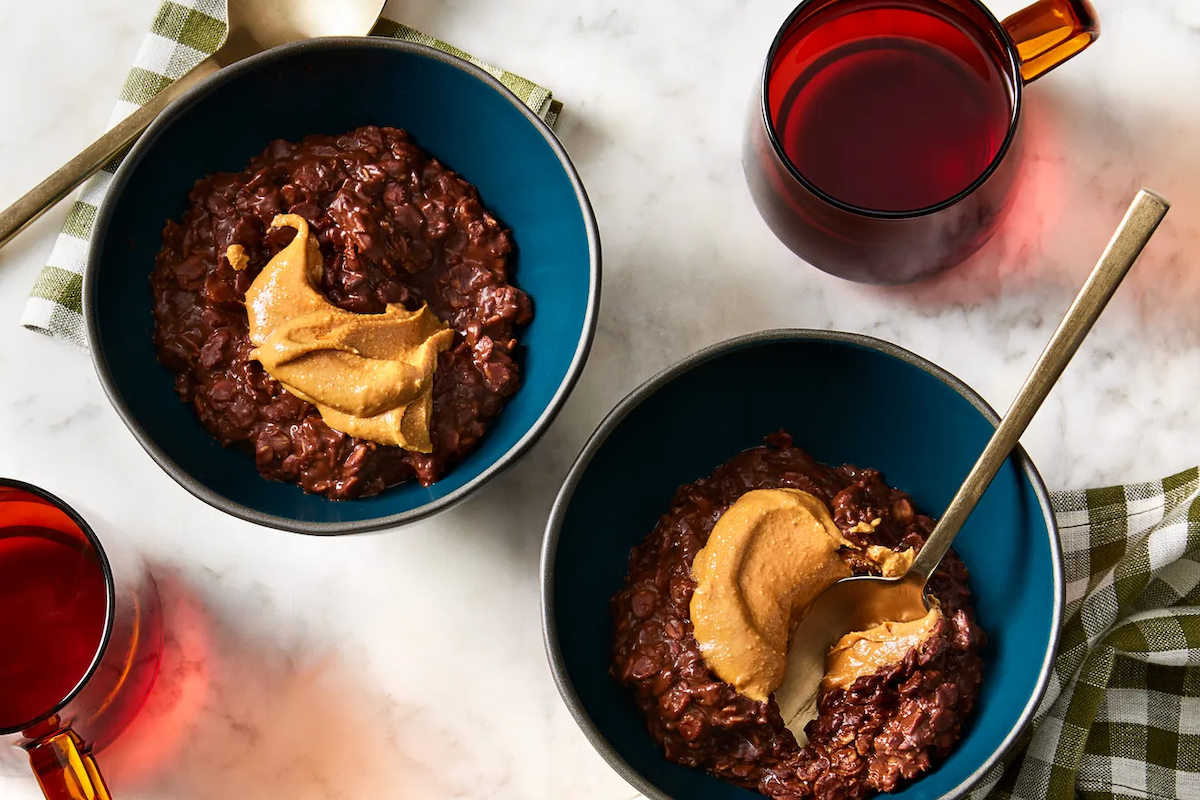 The elevator pitch for the recipe is a really good one: With one little equipment swap, you can make a quicker, creamier bowl of oatmeal, and leave no stubborn pot soaking in the sink.
This was how talented food stylist, author, and TV star Samantha Seneviratne hooked me at a Genius video shoot years ago. She'd picked up the trick in a test kitchen and really put it to use feeding her toddler son Artie. Ready for it? Grab a nonstick skillet for cozy oats that cook down quicker and creamier than in a deep pot (and clean up way easier).
But, at least in my family, there's even more to Sam's genius than that. This is the breakfast my three-year-old asks for as she's going to sleep. The one that taught her how to measure as we made it together morning after morning; the one with few ingredients to spill and slosh.
It's the recipe we always double or triple now, because we all want more and the fridge and freezer welcome it. It's the one that convinced me that Cocoa Puffs always had it right: Chocolate brings joy and ballast to bleary mornings. Only now, it's powered by almond butter and sweetened with only as much maple as you like.
This is the recipe I squirreled away first for the "Simply Genius" cookbook, and the one I (and other parents) make the most. For the book, Sam also shared three more riffs: raspberry-cardamom, banana-cacao nib, and nutty multigrain — with leftover grains like quinoa or farro swirled in.
But the truth is, you can take Sam's ratio and technique to any oatmeal you can dream up — again and again, no pots in the sink to hold you back.
Recipe: Cocoa Almond Oatmeal from Samantha Seneviratne
The "Simply Genius" cookbook is out now — you can snag a copy in Food52's Shop, or so many other places! Like Amazon, Barnes & Noble, Books-A-Million, Bookshop.org, Hudson Booksellers, IndieBound, Powell's, Target, Kitchen Arts & Letters, Now Serving, Omnivore Books on Food, Book Larder, or your favorite local bookstore.
This post contains products independently chosen (and loved) by Food52 editors and writers. As an Amazon Associate, Food52 earns an affiliate commission on qualifying purchases of the products we link to.