Is Meryl Streep an "Only Murders in the Building" love interest? It's Oliver's time
The photo sent a tremor through the secret passageways of the internet. A black and white image of "Only Murders in the Building" stars Selena Gomez, Steve Martin and Martin Short pal-ing around with Paul Rudd, an actor we already know will be joining Season 3 of the Hulu show, thanks to his turn (and tumble) in last season's finale. But the person closest to the camera in the image, laughing open-mouthed with her hair in "Mama Mia" pigtails? None other than Meryl Streep.
The legendary Streep is joining the cast of the hit whodunit. Both Martin and Gomez posted the photo, and Gomez made a sweet Instagram video where she announced the cast is back on set filming — and where Streep pops up from behind a couch. Who knew Gomez would provide such a major clue? (Actually anyone who's seen Gomez as Mabel knew.)
He has dips, and he has plays. He lives a lot of the time in his head.
So far, no official word has come regarding the character Streep will play on the show, which does not have a specific date yet for its third season premiere. We know Rudd will be the murder victim in the upcoming season — the finale of the last one showed us his dramatic, onstage demise — and it's highly possible Streep might play his murderer. The show does love its femme fatales.
But a more twisty, more interesting, more satisfying turn would be Streep as a love interest. And to send the investigation into a whole new direction: a love interest for Oliver (Short). Another new guest star on the upcoming season: Jesse Williams as a documentarian. What about Williams as a love for Oliver? Why not both, you cowards?
A story about a trio of amateur sleuths and podcast lovers in one New York City apartment building who come together across generational divides to solve the murders that keep happening around them, "Only Murders" does a great job with a lot. It's one of the few shows on television that has a disabled character, played by and collaboratively created by a disabled actor, who is a fully realized, dimensional person and not mere inspiration porn. It also treats the sexuality of characters as a simple fact of life. Mabel was romantically tied to Oscar (Aaron Dominguez) in Season 1, and in Season 2, she starts dating Alice (Cara Delevingne). Mabel comes out to her friends Charles (Martin) and Oliver casually, and they accept her instantly.
"Don't you know it's very hip to be bisexual these days, Charles?" Oliver says, then tells Mabel, "You're lucky. You know, back in the '70s, I had to hide the fact that I had a lesbian lover."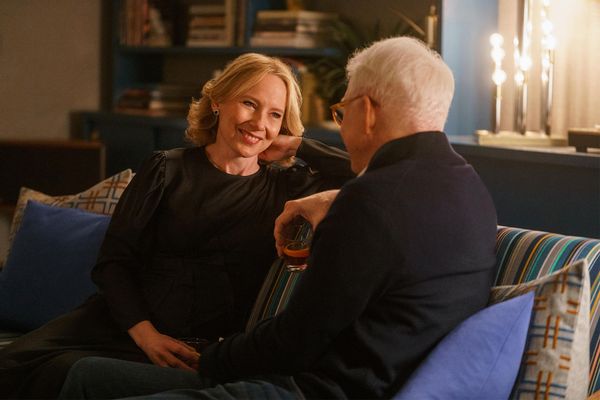 Charles (Steve Martin) and Jan (Amy Ryan) in "Only Murders In The Building" (Barbara Nitke/Hulu)"Only Murders" also does well with mental health. It's a true pandemic baby that way. Charles deals with social anxiety so severe that at times it causes him nosebleeds. He feels awkward around people and in group settings, often says or does the wrong thing due to his nervousness, and falls back upon obsessive patterns as a source of comfort, such as making the same omelette every morning for a beloved child who is no longer there to eat it.
An older bisexual character is something missing from television, where elder queers are few and far between.
But "Only Murders" allows Charles to live and live fully. His love life is a source of much discussion and drama. He had a girlfriend who cheated on him with his stunt double Sazz (Jane Lynch), and had a live-in partner, Emma, a relationship which lasted years and brought his almost stepdaughter, Lucy (Zoe Margaret Colletti), Emma's daughter, into his world. A good portion of the show also detailed his relationship with Jan (Amy Ryan), a bassoonist and, as it turns out, a killer psychopath. So love hasn't been great for Charles, even though there's been a lot of it. Last season showed the promising start of a new love for him, with makeup artist Joy (Andrea Martin), who seems stable and not murder-y (we'll see).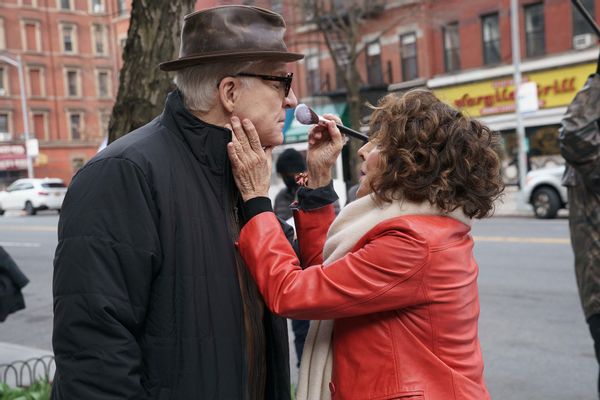 Charles (Steve Martin) and Joy (Andrea Martin) in "Only Murders In The Building" (Patrick Harbron/Hulu)We don't know as much about Oliver's love life. Or anything. On the "Only Murders" Fandom Wiki page for Oliver, the space under "relationships" is completely blank. He was married, to a woman who at first turned him down repeatedly (and as it turned out, cheated on him for a long time), then divorced. He's a father and grandfather, devotedly so despite his difficulties with money and his habit of letting people down.
Charles has anxiety but Oliver has sadness, deep and resonant as a tone from Jan's bassoon. It aches through him.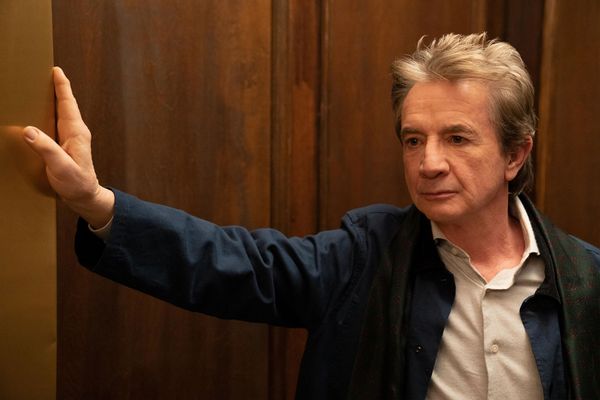 Oliver (Martin Short) in "Only Murders In The Building" (Craig Blankenhorn/Hulu)Oliver is lonely. This much is obvious. He has pets – a bulldog and an inherited, mouthy bird. He has dips, and he has plays. He lives a lot of the time in his head. Both Charles and Oliver have been cheated on, but Charles seems to be on the path to a healthy, stable relationship. Oliver is not yet. Certainly, characters don't have to have romantic love to be fulfilled, yet in a show where the two other leads do constantly, it feels like a lack. We want Oliver to be happy. We want someone to see the good in him and to be good for him.
---
Want a daily wrap-up of all the news and commentary Salon has to offer? Subscribe to our morning newsletter, Crash Course.
---
Why not Streep and Williams for Oliver? An older bisexual character is something missing from television, where elder queers are few and far between. From "Only Murders" Mabel to Ava on "Hacks," Millennial and Gen Z bisexuals abound, thank goodness (mostly women, because that's apparently more acceptable to a prejudiced audience). But, as much as I love everything "The L Word"— and I love it a ridiculous lot — is Alice of "The L Word: Gen Z" our only bisexual over 40?
Why can't Oliver love who he wants, whoever that is? It has to be more than dips. Sure, that lesbian lover line was a joke, one of Oliver's many, many quippy asides. But what if it wasn't? Where is the evidence of that happening, free-wheeling '70s life that Oliver used to live, the parties that he used to throw, and the circle of dear ones around him? Where is the love for this flawed but lovable man? May Season 3 show us — and show us it is possible to have an older, bisexual male character on television.
Read more
about "Only Murders in the Building"