"Very first bill": McCarthy pledges repeal of IRS funding meant to target wealthy tax cheats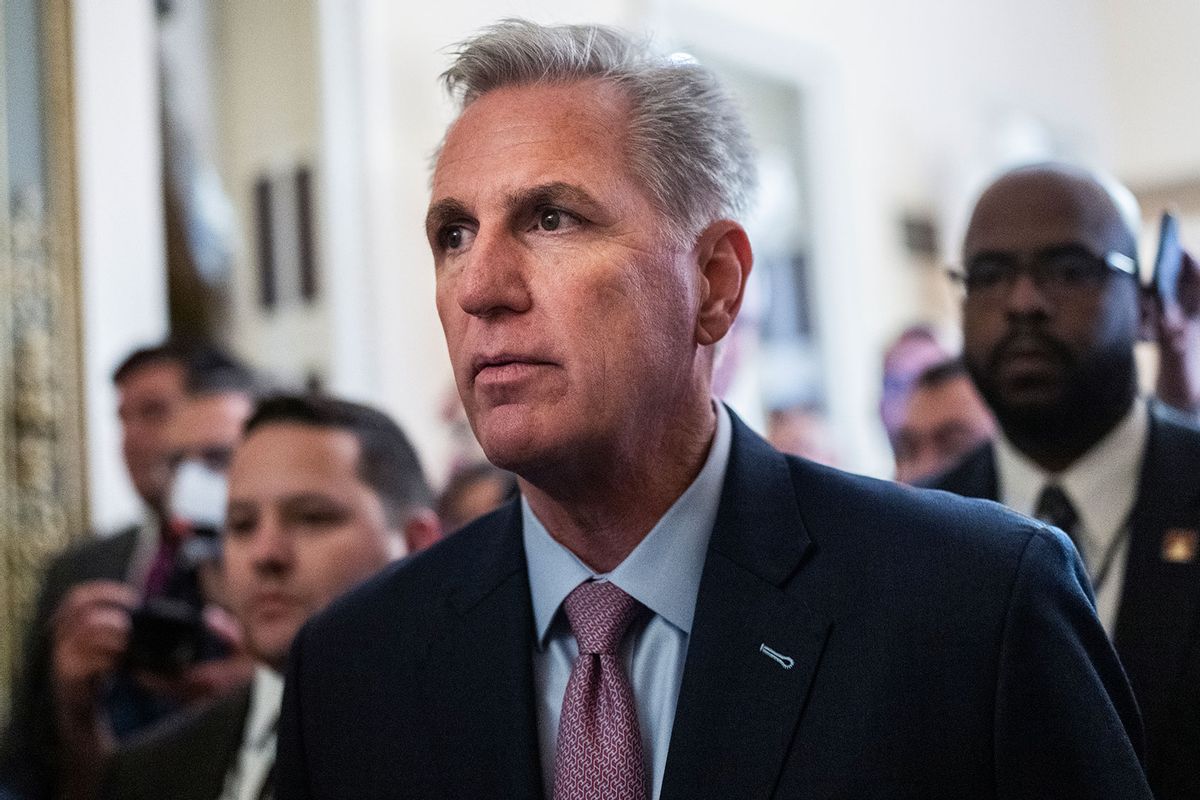 Soon after the U.S. House reconvenes Monday to vote on the rules package containing many of the concessions House Speaker Kevin McCarthy made to secure to votes of far-right Republicans, the party is also expected to introduce what the new leader said early Saturday would be its "very first bill": a proposal repealing new Internal Revenue Service funding meant to help audit the wealthiest Americans.
About $80 billion was included in the Inflation Reduction Act last year, with IRS Commissioner Charles Rettig saying the funding would only be used to increase audits of households making $400,000 per year or more.
"The resources in the reconciliation package will get us back to historical norms in areas of challenge for the agency—large corporate and global high-net-worth taxpayers," Rettig wrote in a letter to the Senate in August.
The funding is supported by two-thirds of Americans, according to a 2021 University of Maryland poll, but McCarthy and his fellow Republicans have lambasted the Democrats' effort to better equip the IRS to confront tax evasion by those with the highest incomes, falsely claiming President Joe Biden has provided the agency with an "army of 87,000 new IRS agents" who "will be coming for you—with 710,000 new audits for Americans who earn less than $75,000."
McCarthy's plan to repeal the funding, said ACLU communications strategist Gillian Branstetter on Saturday, would actually "incentivize the agency to target poor people," for whom audits are less expensive for the federal government because they lack the resources to engage in a legal battle with the IRS.
Poor taxpayers are cheaper to target than rich taxpayers (who tend to throw a lot of lawyers and schemes at an audit) so when you cut the IRS budget you make it harder to target rich people and incentivize the agency to target poor people https://t.co/PMOAWDDV9D

— Gillian Branstetter (@GBBranstetter) January 7, 2023
The new House rules package McCarthy agreed to guarantees that the Republicans will introduce legislation "making it easier for rich people to cheat on their taxes," said political commentator Brian Tyler Cohen.
MSNBC host Touré noted the proposed repeal has little chance of passing the Democratic-controlled Senate, calling the McCarthy's plan "pure posturing" for the farthest-right Republicans, but the proposal is one of several that could be used as leverage by the GOP later this year when Congress is expected to debate raising the nation's debt limit.
Social Security and Medicare have also been named as programs that the Republicans could push to significantly cut as the government seeks to raise the debt ceiling and pay for its existing obligations.
Addressing the House early Saturday after winning the speakership on the 15th vote, McCarthy also indicated his party will prioritize fighting so-called "woke indoctrination" in U.S. schools, fully embracing attacks on LGBTQ+ students, families, and teachers that have ramped up in state legislatures in recent years and efforts to stop educators from discussing institutional racism in the United States.
I know it is bluster but I'm curious what authority Speaker McCarthy thinks Congress has to tackle "woke indoctrination" in schools. And if he actually wants to do something, the country would be best served by Congress investing in civics education. https://t.co/T2A2Wgo8G2

— Derek W. Black (@DerekWBlack) January 7, 2023
Soon after McCarthy was sworn in as House Speaker, the House Accountability War Room said that in the coming days, numerous "secret, backroom deals he made to secure the gavel" will become clear.
"Regardless of what else emerges from the smoke-filled rooms, one thing is clear," said senior adviser Zac Petkanas. "The MAGA extremists who want to cut Social Security, raise prescription drug costs, pass a national abortion ban, tank the economy over the debt ceiling, and retaliate against the Biden administration with political stunt investigations are running the show."