3 Skincare Ingredients You Need in Your Hair Routine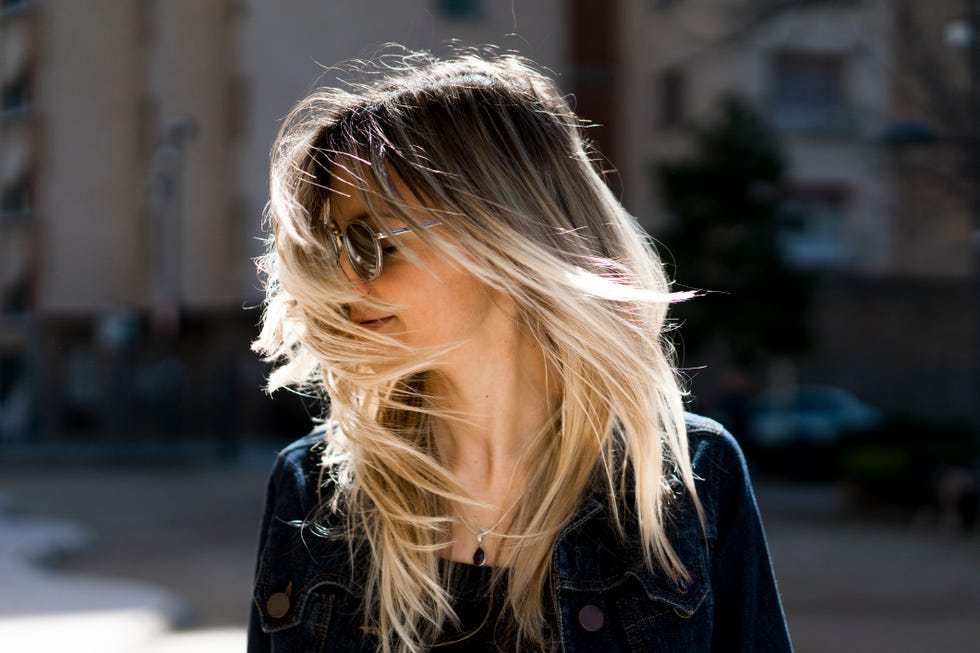 Active ingredients are the all-stars of the skincare realm, proven to target specific concerns and change your skin for the better. Now, these wonder-workers are being used to supercharge hair care formulas as well. When incorporated into shampoos, conditioners, leave-in treatments, and more, certain active ingredients—like hyaluronic acid—can do everything from hydrate the scalp to strengthen weak, damaged strands. They're as versatile (and powerful) for hair as they are for skin.
We asked Dr. Hadley King, a board-certified dermatologist in New York City, to share her insight on three actives that can benefit hair. Here's what these ingredients do, and where to find them.
Hyaluronic Acid
"Hyaluronic acid is a humectant, which means it attracts water and helps hydrate," says Dr. King. Known for its ability to retain up to 1,000 times its weight in water, hyaluronic acid is found in countless skin products, replenishing hydration and helping to instantly plump fine lines.
When applied to hair care, its benefits are similar. The not-so-secret weapon helps replenish moisture in the cuticle of the hair, promoting smooth, soft, healthy strands. Since moisture from humectants can evaporate—"particularly if the environment is dry," warns Dr. King— she recommends looking for hyaluronic acid-infused formulas that also contain emollient and occlusive ingredients such as lipids, oils, and butters. These will form a protective barrier and seal in that hydration.
L'Oréal Paris has been at the forefront of hyaluronic acid innovation in the skincare serum space. (L'Oréal Paris Revitalift Derm Intensives 1.5% Pure Hyaluronic Acid Serum, which intensely hydrates and plumps skin, is a best seller.) It's no surprise that the brand is translating this success to hair care.
The new L'Oréal Paris Elvive Hyaluron + Plump Hydrating Shampoo and Elvive Hyaluron + Plump Hydrating Conditioner contain a Hyaluronic Care Complex with emollient lipids and surface protecting occlusives to combat dryness and dullness without weighing hair down. You'll find the same nourishing complex in L'Oréal Paris Elvive Hyaluron + Plump Moisture Plump Serum, a leave-in spray that boosts moisture, hydrates for up to 72 hours, and helps achieve fuller-feeling hair when used with the shampoo and conditioner. To get the benefits, spritz it over wet or dry hair, gently comb through, and style as usual. The result of using the three-step system is hydrated, shiny, bouncy, and free-flowing hair.
Collagen Peptides
"Hydrolyzed collagen peptides function as humectants, helping to hydrate the skin," says Dr. King—which is why you can often find them in face creams and serums. In hair care, the multi-taskers perform a couple of key functions.
Not only can they hydrate both the hair and scalp, but, says Dr. King, "when peptides are applied topically on the hair, they can help fill in damaged areas of the hair shaft, providing a temporary increase in strength." To get the maximum benefits, she recommends looking for collagen peptides in a leave-in hair treatment or serum. Try OGX Thick & Full Biotin & Collagen Weightless Healing Oil Treatment, which pairs them with biotin and wheat protein to soften and repair hair.
Micellar Water
In skincare, micellar water is known for its ability to remove stubborn eye makeup. It can offer thorough (but gentle) cleansing benefits to hair as well. "Micellar water is made up of micelles suspended in water," Dr. King says. "These tiny cleansing molecules attract dirt and oil, and whisk them away without drying out the skin or hair."
For that reason, Dr. King suggests seeking out micellar water shampoo to remove build-up from the hair and scalp. The L'Oréal Paris Elvive Dream Lengths Curls No Build-Up Curls Micellar Shampoo does just that. As added bonuses, it also contains hyaluronic acid and castor seed oil to promote hydrated, bouncy curls. Another great option, the Kristin Ess Scalp Purifying Micellar Shampoo, is formulated for all hair types. It features a pointed nozzle to make application to your scalp a breeze.
Deanna Pai is a freelance beauty writer and editor currently based in New York. She has more than 10 years of experience writing about beauty and wellness.