How to find food banks and community shops this summer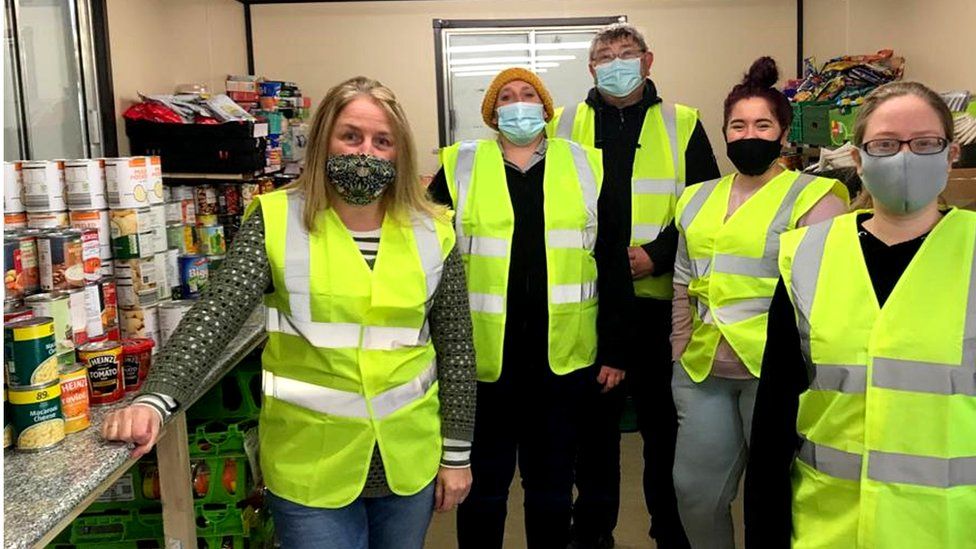 Every morning, Tina Harrison logs on to the Facebook page for Trinity Foodbank in Radcliffe, Greater Manchester, to check for new messages. As the cost of living crisis deepens, more and more people, she says, have been getting in touch to say they've run out of food and need help.
Mrs Harrison, a former nurse – or one of her fellow volunteers – will reply. They try to offer some form of assistance to everybody.
Many people ask permission: is it OK to come and receive a food parcel? "It's always, 'Yes, it's OK,'" says Mrs Harrison. Before the pandemic, the food bank handed out around 20 parcels per week. That figure has nearly quadrupled in more recent times.
"It's just going to get worse, I think," says Mrs Harrison, describing how some parents have told her that they sit in bed with their children to watch TV on some evenings, just to keep warm.
The rising cost of food and energy is affecting people from all walks of life, she adds, from single people to families. But households with children could find the summer months particularly difficult.
While many local authorities are launching holiday meal voucher or cash payment schemes, some children won't have as easy access to food during the day as they would when in school. During the pandemic, the government U-turned on its previous policy of not providing free school meals to children in England over the holidays.
But teaching unions have argued recently that the offer of these meals ought to be extended due to the cost of living crisis.
The financial hardship facing many families is prompting more of them to approach their local food bank or community support network, perhaps for the first time. Many are making that initial contact via Facebook or other social media sites.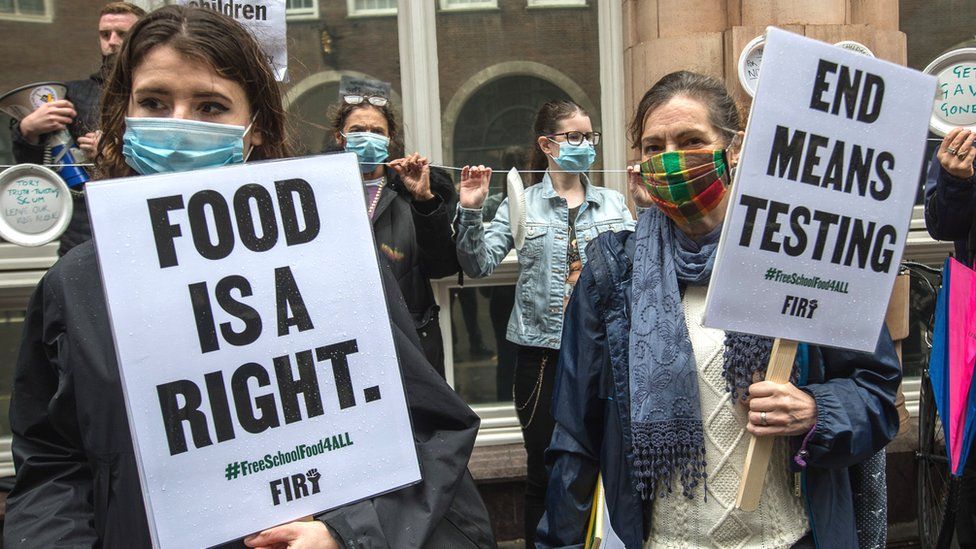 Trinity Foodbank doesn't just offer food, Mrs Harrison stresses. There's friendly help and advice about how to budget and how to claim grants or benefits.
"When you've got a problem as widespread as this, you just come up with as many ways as possible of reaching people," says Sabine Goodwin, Ifan co-ordinator.
Food banks are also using social media to advertise for donations because they have noticed a drop in such support lately. "They're running out of food a lot of the time," says Ms Goodwin. This is because people who would usually support their local food bank have also been hit by spiralling costs.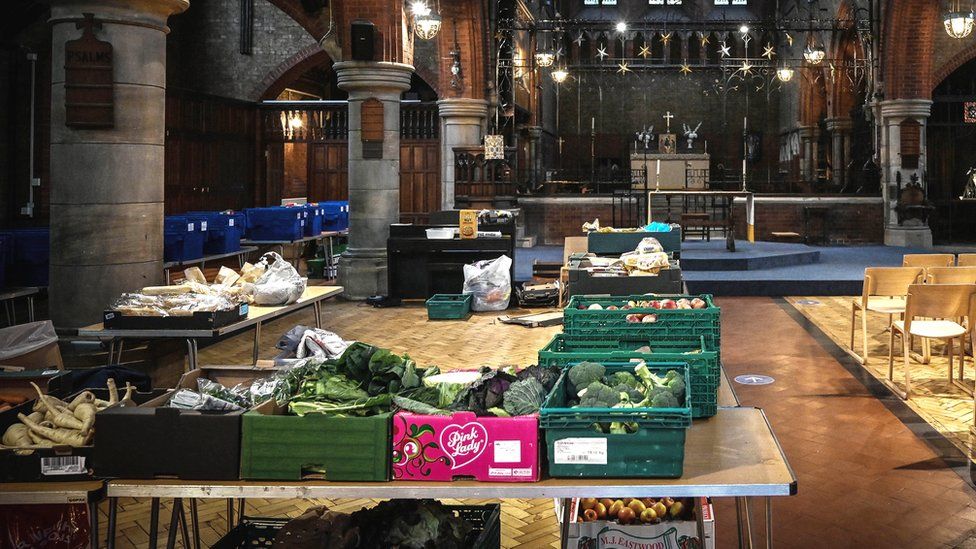 "Nearly everyone is on social media now," says Mark Wells, founder of the Food Facts Friends food bank in Midlothian. He describes how he has used Facebook lately to post pictures of relatively bare shelves in the food bank store, in an effort to inspire donations.
"I've just set up an account with TikTok," he says, referring to the video-sharing site. Mr Wells hopes that young people will find videos of the food bank's fare and show their parents so that people know what's available, should they need it.
This sort of content can help connect people to food aid providers in their area, says Brooke Bennett at the University of Connecticut's Rudd Center for Food Policy & Health.
In a recent study, she and colleagues asked summer meal providers how they signposted their services to families in Connecticut. They reported higher online engagement, and more in-person visitors, when they posted photos of whatever food would be available on a particular day.
Some providers pay a small fee to promote these posts as well. "You can really target an audience that you know is in your zip code, your area," says Dr Bennett.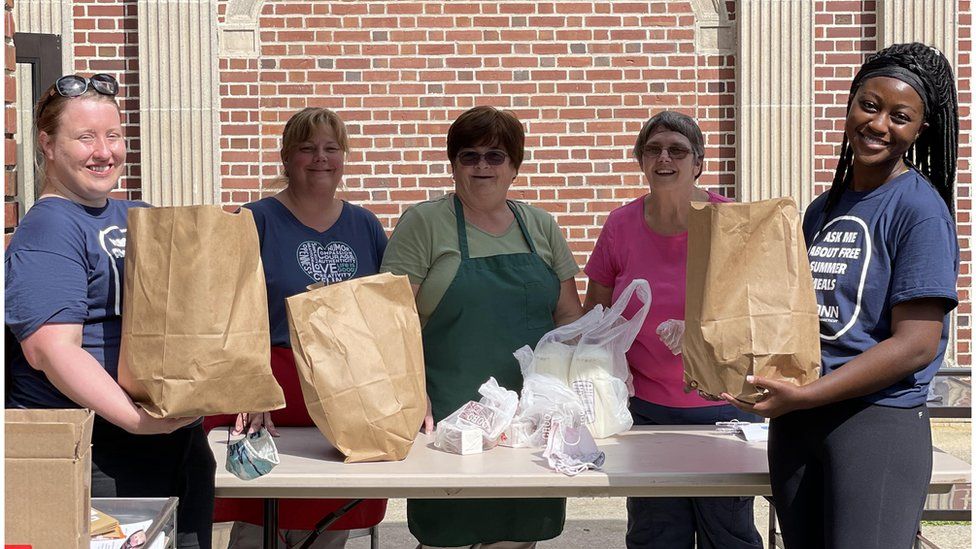 In 2020, the Food Foundation, a UK charity, and marketing agency PLMR launched a map to signpost the locations of businesses offering free meals to children during the October half-term holiday, when free school meals weren't available.
Around 50,000 users visited the map during that time. Given the government U-turn on holiday meals, there are no plans to relaunch this map, the Foundation says.
However, there are other, localised tools that make it easy for people to find out what help is available near to them, such as the interactive Google Map maintained by Feeding Liverpool. It shows the locations of food clubs and community shops around the city.
"It's one of the best things we've done," says Naomi Maynard, good food programme director. "It's so simple but just giving people the knowledge of what's in their local area is so empowering."
Users are able to search for providers that cater for dietary requirements, such as vegetarian, gluten-free, kosher or halal, she notes.
Digital platforms are not panaceas for food insecurity, notes Georgiana Nica-Avram at Nottingham University Business School. However, such services can help people to access support in a dignified way.
"Not many people may want to publicly acknowledge that they are going through this themselves or they may not have an extensive network of support," she explains.
In partnership with the food-sharing app Olio, Dr Nica-Avram and colleagues have studied how some people use Olio to support themselves during times of severe hardship.
Sadly, there is no doubt that the coming months will prove very difficult for lots of families. Many parents who stop by Trinity Foodbank in Radcliffe also mention their concerns about the coming winter, and the high heating costs they expect then, notes Mrs Harrison.


A Department for Education spokeswoman says the government recognises that millions of households are struggling with rising prices.
"The Holiday Activities and Food programme runs during major school holidays," she adds.
"Wider welfare support is available for families through the Household Support Fund, which helps vulnerable families in need with essentials, such as food and utility bills." A total of £37bn of public money is currently available to support households during the cost of living crisis.
Mrs Harrison and her fellow volunteers are determined to keep providing whatever help they can, despite the pressure also facing those who normally donate to the food bank.
"I think at the moment we're just riding with the times, a bit like we did with Covid, really," she says.