Jury finds Trump sexually abused and defamed E. Jean Carroll — orders him to pay $5 million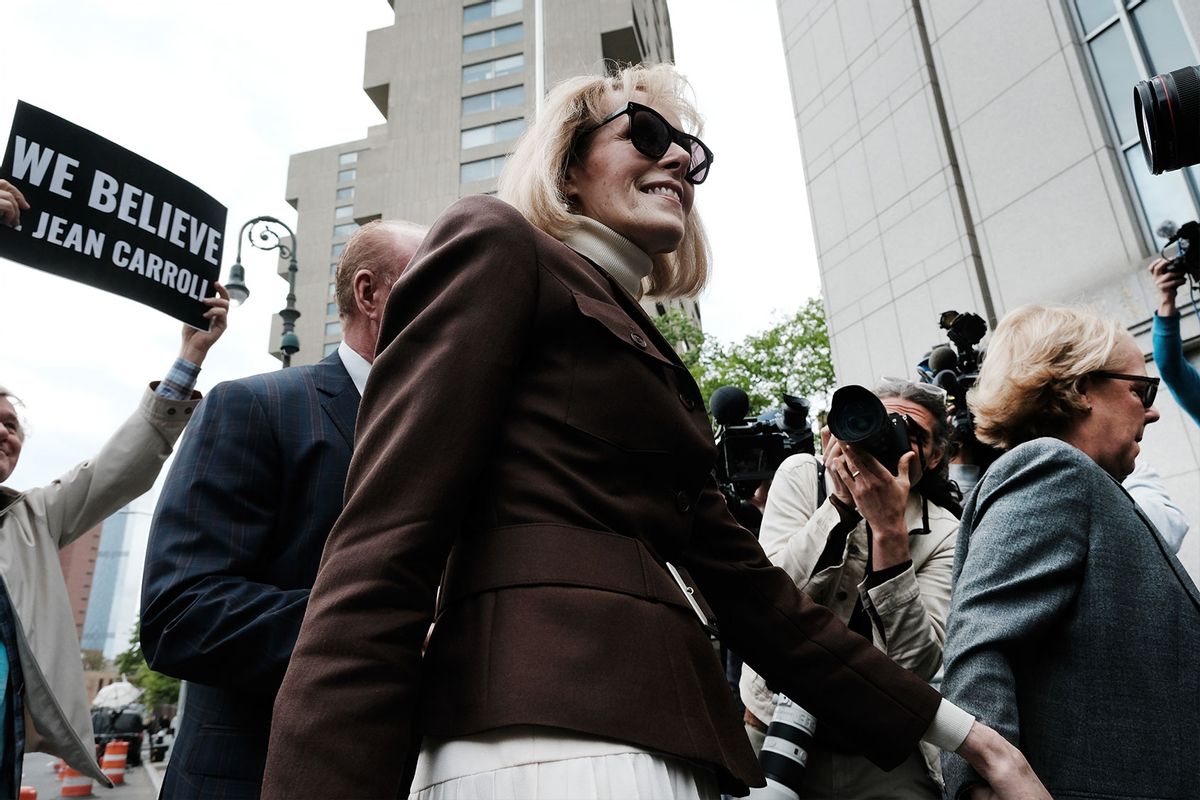 A Manhattan jury on Tuesday rejected E. Jean Carroll's rape allegation against former President Donald Trump but found him liable for sexual abuse in the 1996 attack.
The jury reached its verdict after less than three hours of deliberations, finding that Trump sexually abused but did not rape Carroll, according to the Associated Press. The jury awarded Carroll $2 million in damages.
The jury also found that Trump defamed the longtime columnist by calling her allegations a "con job," awarding Carroll another $3 million in damages, bringing the total damages to around $5 million.
Carroll walked out of the courthouse smiling.
"We're very happy," she told reporters.
Trump raged over the verdict in an all-caps post on Truth Social.
"I HAVE ABSOLUTELY NO IDEA WHO THIS WOMAN IS THIS VERDICT IS A DISGRACE – A CONTINUATION OF THE GREATEST WITCH HUNT OF ALL TIME!" he wrote.
Carroll, who accused Trump of raping her in the dressing room of a Bergdorf Goodman department store in the late 1990s, sued Trump for defamation for dismissing her allegation and later also sued the former president for sexual assault under a new New York law that allows survivors to file civil claims in cases where the statute of limitations has long expired.
During Monday's closing arguments, Carroll's attorney, Roberta Kaplan, argued that the ex-president is effectively "a witness against himself," given that Trump has chosen not to attend the trial.
"He didn't even bother to show up in person," Kaplan said. "He knows he sexually assaulted E Jean Carroll."
Michael Ferrera, another of Carroll's attorneys, echoed Kaplan while rebutting the Trump team's arguments.
"He just decided not to be here. He never looked you in the eye and denied raping Ms. Carroll," Ferrara told the jury.
"You should draw the conclusion that that's because he did it," the lawyer added.
Kaplan also reminded jurors that during a video deposition last October, Trump mixed up Carroll with his ex-wife Marla Maples, who he was married to from 1993 to 1999.
"Mr. Trump pointed to Ms. Carroll, the woman he supposedly said was not his type," Kaplan observed. "He only corrected himself when his own lawyer" pointed out his mistake," she added. Trump "did [what] he always does," Kaplan said — "He made up an excuse," claiming that it was "blurry."
---
Want a daily wrap-up of all the news and commentary Salon has to offer? Subscribe to our morning newsletter, Crash Course.
---
The New York Times reported that Trump's lead lawyer, Joe Tacopina, refuted the claims, arguing that there was no need for the former president to show because the allegations were fabricated.
"Amazing. Odd. Inconceivable. Unbelievable," Tacopina said. "Everything in this case is one of those things."
Tacopina also framed Carroll's motivations in taking the case to trial to be politically motivated, per The Wall Street Journal.
"If the defendant's name were anything but Donald J. Trump, you know we wouldn't be here today," he said.
Last week, two key testimonies pushed to prove Trump's guilt. Lisa Birnbach, Carroll's friend whom she reportedly called directly after the sexual assault, recounted the phone call between her and the columnist.
"I said: 'Jean, he raped you. You should go to the police,'" Birnbach testified. "She said: 'No, no. I don't want to go to the police.'"
Jessica Leeds, a former stockbroker, also testified at the trial that Trump had groped her on an airplane in 1979.
"There was no conversation. It was like out of the blue. It was like a tussle," Leeds testified, according to The Associated Press. "He was trying to kiss me, trying to pull me towards him. He was grabbing my breasts. It was like he had 40 zillion hands. It was like a tussling match between the two of us."
Carroll's legal team, which will not be requesting a specific damage award, is more focused on getting the writer's "name back," Kaplan said Monday.
Read more
about the trial