The Reign of Rina Sawayama Begins Now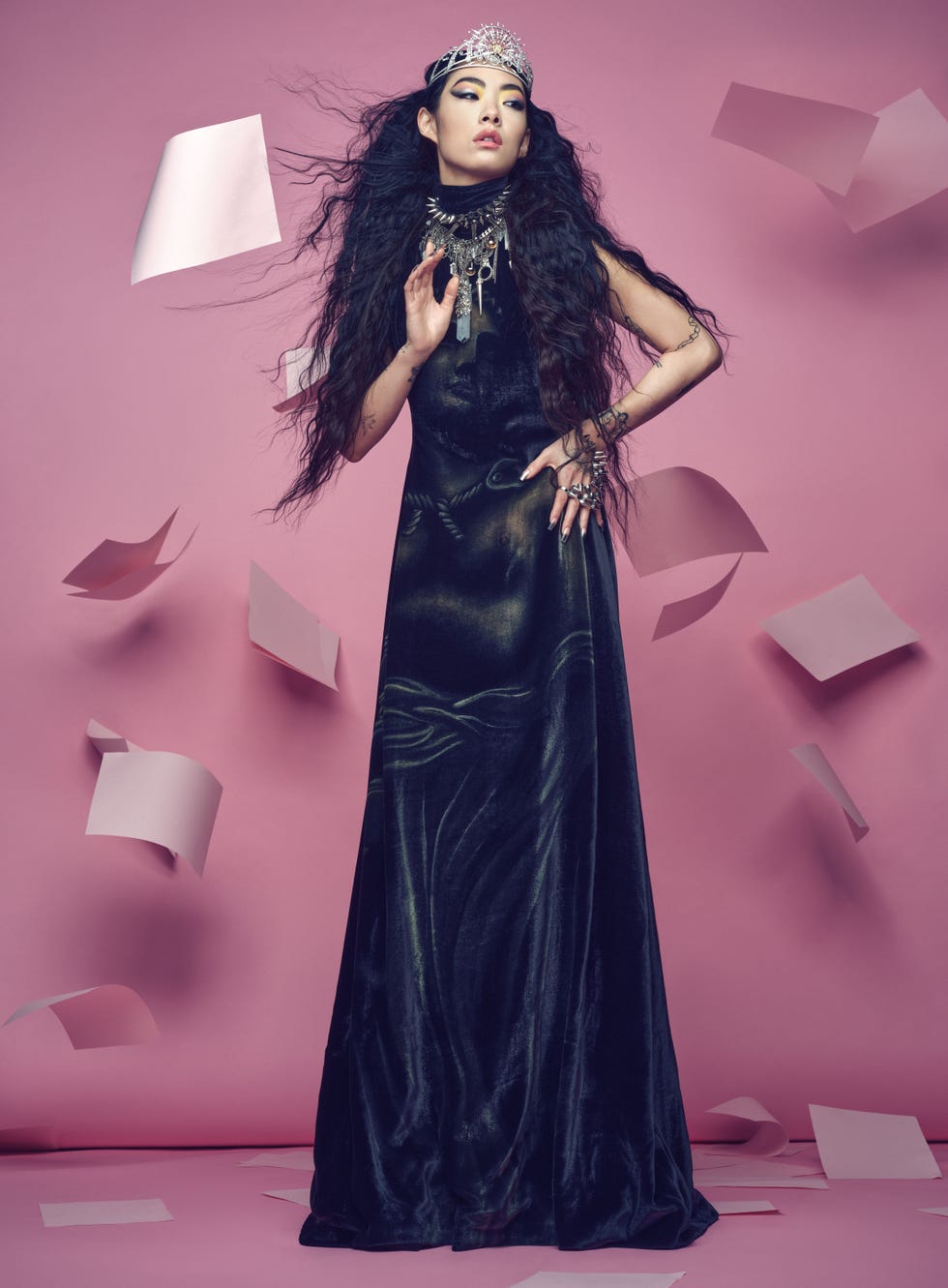 Before Rina Sawayama was a pop star, she was a gamer. With her hands on a controller, clambering around a virtual world, she could get out of her head and "be that character for the 50 hours or whatever the game's going to take." Video games were also a huge influence on her songwriting (and not just because she samples the Final Fantasy theme song on "Snakeskin," the final track on her debut studio album, 2020's Sawayama). "For me, everything's about stories. A good video game is a great story," she says, adding that whenever she puts pen to paper, she asks herself: "Who's the main character, who's the side character, what's going on around them? Who's going to listen to this, and what are they going to feel?"
There were reasons Sawayama might have wanted to retreat into that 8-bit world. After her parents' painful and protracted divorce, she was living in London with her mother. Her father wasn't in her life much. Music provided another way out. Her mom listened exclusively to classical and Japanese music at home, but at school, Sawayama broadened her range. She attended a Church of England high school where she joined a gospel choir, a drumming group, and a Motown-style band. "I think music was a way to escape the culture that I didn't want to be part of, which was the Japanese culture at the time, and to explore," she says.
Thanks to the rise of LimeWire and streaming services, her musical tastes reflected the potent Long Island Iced Tea of genres—Britney, No Doubt, N.E.R.D, and Evanescence—that shows up in her work now. The digital revolution "actually leveled the playing field," she says. "I understand why, when you have limited resources, you would want to be ascribed to a certain camp within music. If you didn't have the money to be a Britney fan and an alternative fan, then you'd have to pick one side," she says. But her generation shattered any such divides, like so many obsolete CDs, in favor of a gleeful mingling of references. "I used to go to the Virgin Megastore in Piccadilly Circus and listen to albums, or sit outside Brixton Academy at 9 A.M. and wait to get into the Bravery gig. Music was the excuse for escapism and running around London," she recalls.
It might have begun as an excuse, but soon enough, music became her raison d'être. Sawayama has been releasing songs since 2013, but her debut full-length album found an instant foothold with a glitz-deprived public in lockdown. Elton John reached out to do a collaboration, as did Charli XCX (whom Sawayama says she's been following since her Myspace days), and Lady Gaga tapped her for a song on her Dawn of Chromatica remix album. "To be surrounded by people who are pushing the envelope, pushing the boundaries of music in the past and present in so many ways, is such an honor," Sawayama says. "I mean, the fact that Gaga even knows I exist is just insane." (She'd also die to work with Kacey Musgraves someday: "I think I might faint.") But finding fame in a pandemic was a mixed bag. Instead of playing to adoring crowds, she was at home, fermenting tempeh. "It was amazing, but I was literally [sitting] in my room," she remembers. "There was absolutely no work-life balance, because there was no life to be lived."
Then came another bump in the road. When Sawayama first walked into the offices of what would become her label, she said that her ultimate goal for the album was to win the prestigious Mercury Prize, awarded to the best UK album released by a British or Irish artist. The only problem: Applicants are required to have a UK or Irish passport, and the Japan-born singer, who moved to Britain at age five, does not. "My team reached out and was like, 'Hey, can you just change this, because Rina's lived here for 25 years?'" she recalls. The request was denied. Sawayama was disappointed, but didn't want to make a big deal out of it. "I'm not really a callout culture kind of person," she says. But then the nominations came out, "and there were articles about the fact that I wasn't nominated, and people didn't know why. I was like, 'Okay, maybe I'll do something.'" Addressing the situation on Twitter and in interviews "kind of made me cringe a little bit," she says, "because I was like, 'Is anyone going to care?'"
Among those who cared: the BBC, The Independent, and Elton John, who posted on Instagram about how she was overlooked for the prize. In an era that has seen an unfortunate rise in anti- Asian and anti-immigrant violence, her exclusion became a news story, and an object lesson in who is considered British. (After she spoke out, the hashtag #SawayamaIsBritish trended in the UK on Twitter.) As a result of her statement and her fans agitating for her to be included, the rules were changed last year, and a fellow immigrant artist, the Trinidad-born rapper Berwyn, has since been nominated. "If I could just help in this tiny way to break down some barrier, then it was definitely worth fighting for," she says now.
Sawayama graduated from Cambridge with a degree in political science and says she's always seen the world through a political lens. She considers it her mission "to make a pop song that sounds good, but also has meaning. It's really important to me that it has substance, it has soul." For example, the music video for "STFU!" addresses anti-Asian racism and the microaggressions she's faced; the lyrics for "XS" are about how capitalist overreach has helped spur climate change; and "Chosen Family" celebrates the bonds forged between queer people, a topic that is somewhat rare in pop. "I grew up with songs about heterosexual love, and I don't negate them," she says. "I think there's a place for them. Most of the world is heterosexual; it's not a big deal. But my best friends and my chosen family and I are queer, and they are not hearing the songs that represent them."
Even when her subject matter is hyper-specific, Sawayama strives for some level of universality. "Being kicked out [of your home] for being gay is not something that most of the world experiences, but that feeling of parental rejection is," she says. "I always try to keep the chorus more universal, generic, so it's easy to understand, and then try to tell a story in the verses." As she prepares a new album, she says, "That's something that I've really amped up for this [next] record, and I will continue to do. If I can heal someone around me or someone that I don't know with the songs I write, and I've been given an opportunity to do so, why wouldn't I take it? There are so many songs out there in the world, it kind of turns into noise, and I just want to do meaningful work," she says. After all, "as we saw from the last two years, we might die at any moment."
Sawayama laments the fact that in the UK, "there's been a big shift toward transphobia. And it's just like, I cannot believe that trans people are the scapegoat now. It feels like at one point, it was immigrants, and now it's trans people…. It has real-life consequences," she adds, pointing to the higher suicide rates among the trans population. "I don't have confidence that I can change legislation," she says, "but if I can provide music that makes people feel happier, then that's what I want to do."
That impulse to run toward joy also comes through in her style, which is heightened even by pop star standards: a lavender Balmain gown with more layers than a mille-feuille, or a floral Richard Quinn look that requires several feet of hallway clearance. An avid student of Lady Gaga's fashion in her The Fame Monster and Born This Way eras, Sawayama says that she "loves being a chameleon in clothes." For this shoot, she wore mainly haute couture, which, she says, "obviously is the pinnacle of fashion and artistry and tailoring and creativity. I was so, so excited." Her favorite: the Schiaparelli ensemble, complete with a ring-of-Saturn-size hat; she's also "a huge fan" of South Korean–born newcomer Miss Sohee. "I kept touching the clothes because they were so well-constructed," she says. "I actually started off as a model, so I have a big appreciation for everyone on set, and I'm quite used to being a canvas."
Donning high-end designers wasn't always easy for her, though. Early on, "it was more ad hoc, there wasn't really a plan…. Obviously, when you enter this industry, it's hard to pull looks. You've got to work your way up there to be trusted by PRs and fashion houses to wear these pieces," she says. "I feel so lucky that I've slowly built my relationships with designers in a way that they'll loan me these incredible pieces." She now works with stylist Jordan Kelsey, a Katie Grand alum whom she met on a shoot several years back. "She's so intelligent, and she really thinks ahead about what a certain brand is going to add to my project or how people perceive what I'm doing," she says. "It's just so fun to talk with someone who speaks my language in that sense. And so, for this upcoming record, it's been a way more consistent vision."
Sawayama has also become a Fashion Week fixture. She was a face of Coach's Pride campaign last year, for which she requested a team made up of queer or POC individuals. During the fall 2022 season, she sat front row at the brand's New York Fashion Week show, where she was next to Euphoria heartthrob Angus Cloud. ("Megan Thee Stallion, Tommy Dorfman, and I were sharing his Cheetos. We were so hungry!") Being in that position now is "surreal," she says. "I mean, I spent the longest time trying to get into shows at London Fashion Week, and it's just so crazy to be in the front row." As a longtime follower of fashion shows, she says, "It's such an honor to be able to see these clothes and have the pure, direct expression of what the designer or creative director is thinking for that collection, and it's fed to your eyeballs straight away." She's also made inroads into Hollywood with her first major film role, starring opposite Keanu Reeves in John Wick: Chapter 4, coming out next year.
When lockdown first began, Sawayama battled writer's block ("I was so creatively stuck," she remembers) while trying to complete her upcoming record, which promises to be another banger-stuffed genre-bender. But when we speak, she's readying herself to finally perform her 2020 album on a tour of 13 North American cities. After all those one-sided virtual performances, she's looking forward to finally having choruses shouted back at her by an arena of fans. "As an artist, you need to road-test your songs," she says. "You need to see how people move at shows—and if you don't know that information, then how are you going to write the next thing?" At long last, Rina Sawayama's hermetic world will be joyfully broken open.
Hair by Odile Gilbert at Exposure NY; Makeup by Tom Pecheux for Yves Saint Laurent Beauty; Manicure by Marie Rosa; Set Design by Nicolas Lallemand; Produced by Louis2 Paris.
This article appears in the June/July 2022 issue of ELLE.
This content is created and maintained by a third party, and imported onto this page to help users provide their email addresses. You may be able to find more information about this and similar content at piano.io