Cubicles Are Having a Major Fashion Moment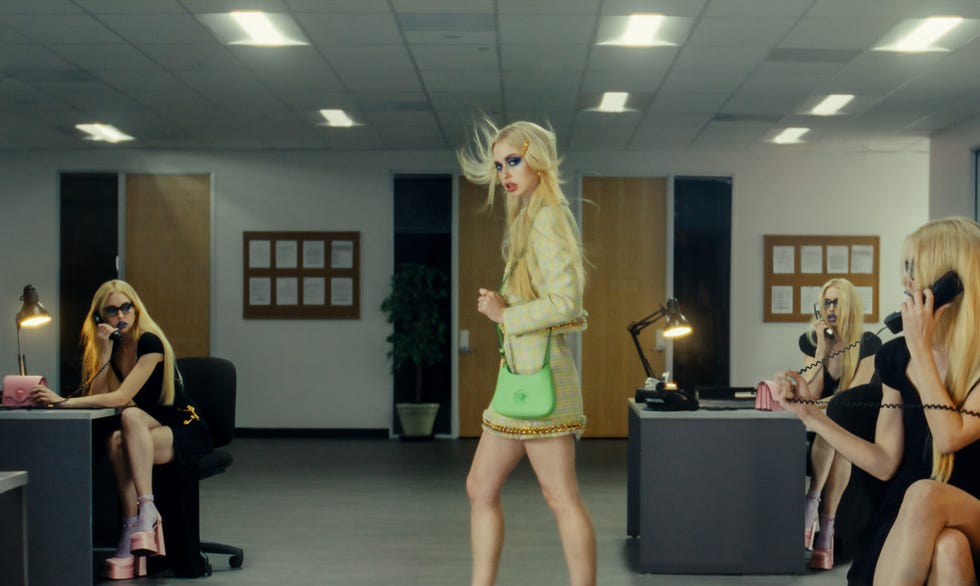 Nobody doubts the financial acuity of Chloe Cherry. Nobody expects to see her in the office, either. Enter Donatella Versace, who recruited the porn-starlet-turned-Euphoria breakout actress for her newest fashion spread: a SSENSE exclusive starring Cherry in double-breasted power suits, seal-the-deal stilettos, and crisp white oxfords with bustiers busting out at the seams. (Think: Superman's quick change from Clark Kent, but with a black lace bra instead of a DC Comics unitard.) Cherry perches on a desk, finding her light in an old-school computer monitor. Her wrist is restrained by a telephone cord. Her expression is on high alert—wide eyes, parted lips, hair higher than a Morgan Stanley profit margin. And though perhaps she is werk-ing rather than working, the message is clear: Boss bitches are this season's sex goddesses, and the IRL office is their pantheon.
"We always want what we can't have, huh?" asks costume designer Sarah Edwards when I tell her the news that office cubicles are the latest status accessories. While selecting costumes for Apple TV+'s Severance, Edwards spent months holed up in an office with Ben Stiller, Adam Scott, and the rest of the cast, creating a dystopian corporate wonderland that's captured the imagination of viewers, including more than a few fashion pros. "I started dressing that cast during peak work-from-home hours. I couldn't find a woman's power suit anywhere. Ben [Stiller] talks about Severance as maybe happening in an alternate reality. But we became our own alternate reality during the pandemic, at least in terms of workwear."
That alternate reality took vintage TV and movies and turned them into pop culture wish lists. As social distancing mandates began in 2020, The Office became the year's most-streamed TV show and turned from a corporate satire "into an aspirational fantasy." Nap dresses and cashmere sweats became the height of luxury. And faced with suddenly available office spaces, photographers and creative directors began to plot what was next for fashion campaigns and social media mood boards—which is nearly always a maximum projection of "what we can't have." For summer 2022, that's not necessarily an influencer-blasted Positano cruise, or a campaign drenched with tropical shorelines and sun-licked skin. It is, somewhat maddeningly, a retro cubicle with a landline, industrial carpet, and the stark LED lighting of a beauty vlogger's nightmares.
Besides Cherry's SSENSE spread, there have been some other notable entries into fashion's recent officecore obsession: Agent Provocateur's current campaign has model Alana Felisberto donning a sheer lingerie set, accessorized by a Rolodex and Palm Pilot. Chanel captures some glamour on a midday rooftop coffee break. Tod's new video campaign features a character called "The Workaholic" posing in a keynote-ready blazer and glasses at her handsome wooden desk. The luxury beauty behemoth Violet Grey photographed its face cream with an old-school office phone, complete with tangled wires and a handwritten extension guide. Versace's video announcement of its Cher collab took place in a bedazzled conference room. Sir The Label photographed Insta-candy like Stella Maxwell and Jordan Barrett lugging computer monitors and copy machine paper through an empty corporate HQ. Despite the fact that summer is looming, the office campaign shoots seem to keep coming, along with a Balenciaga runway show that took place at the very epicenter of American corporate business: the New York Stock Exchange on Wall Street.
This content is imported from Instagram. You may be able to find the same content in another format, or you may be able to find more information, at their web site.
In her recent profile of Kind Regards designer Shopé Delano, ELLE's own Véronique Hyland asks, "Can officewear ever be cool?" She answers her own question pretty early in the piece (Delano is indeed cool, and so are her clothes) but the recent office-themed campaigns don't center workwear specifically—just the workplace. Why? Severance's Sarah Edwards thinks she knows. "We've wondered several times if the world of our show is an alternate reality," she says. "But in a lot of ways, a corporate office is its own kind of alternate reality, and most people haven't returned to a typical one in about two years. Maybe they never will again."
And if fashion's function is, in part, to create a dream reality we can't access in real life, maybe it's not so weird that everyone from Euphoria cast members to Italian heritage labels is suddenly clocking in.
This content is created and maintained by a third party, and imported onto this page to help users provide their email addresses. You may be able to find more information about this and similar content at piano.io