Sophie Nélisse is the Next Leading Light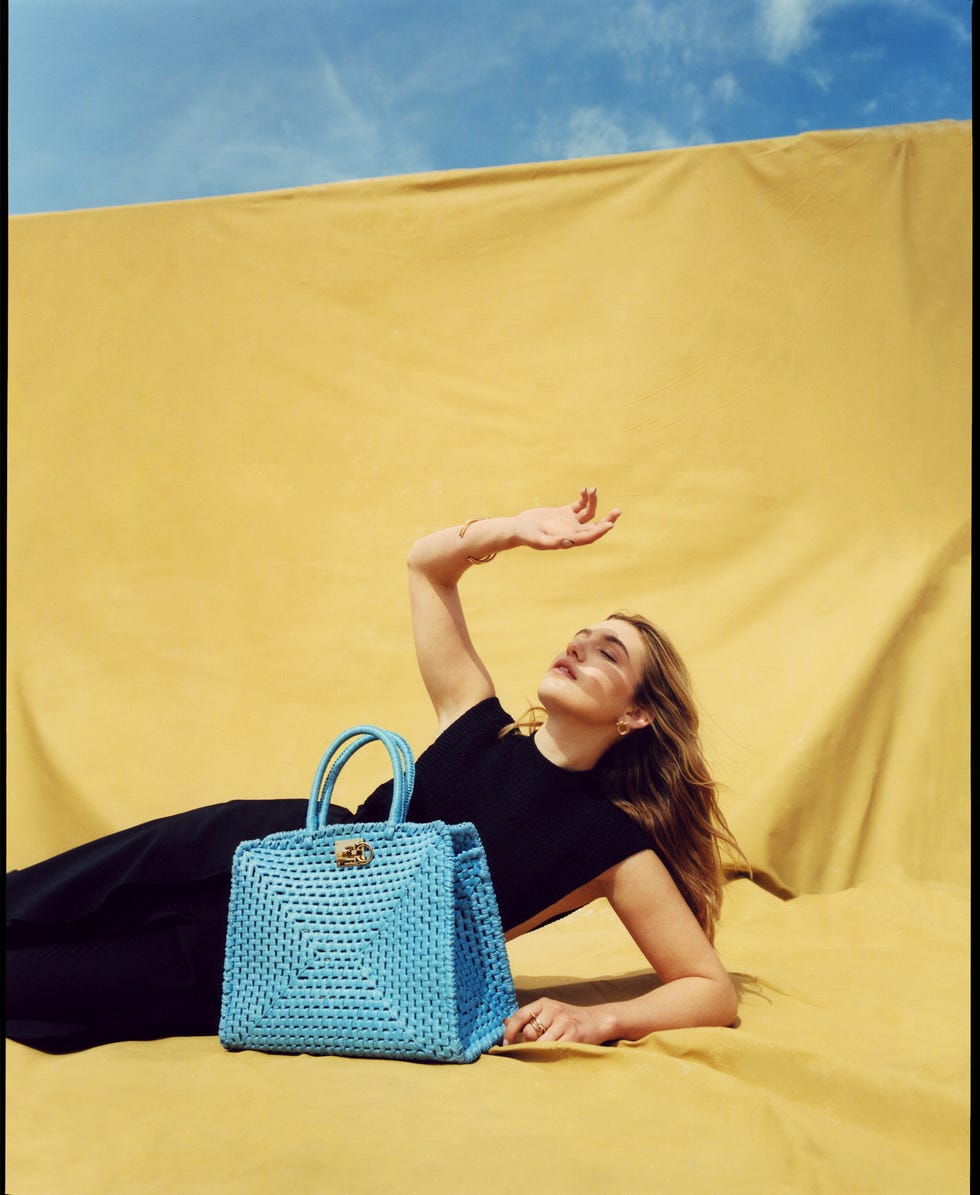 At long last, young women on prestige television are having a kind of breakthrough, in which the characters they're getting to play are more layered and interesting than ever. There's space for glittery e-girls and despondent skaters, for scheming high schoolers and college roommates forming wacky plots, for awkward brainiacs and slick social media stars. Even amidst this welcome (and belated) glut of roles for the upcoming class of Gen Z luminaries, it has been rare to see a performance as nuanced and emotionally astute as that of Sophie Nélisse, the kind-eyed 22-year-old breakout star of Showtime's Yellowjackets. In the series, Nélisse plays brooding and booksmart '90s teenager, Shauna, whose high school soccer team survives a plane crash somewhere in the Canadian wilderness. The character must navigate typical high-school clique dynamics while also hoping their peers don't descend into starvation or delirium.
The show uses flashbacks to portray Shauna in her younger years, which meant Nélisse not only had to display complex emotions—fear, sorrow, dismay, secrecy—but she also had to set the tone for Yellowjackets's adult Shauna. "We looked up how being food deprived or sleep deprived changes your mindset and mood and behavior," explains Nélisse over video chat from a Salvatore Ferragamo photoshoot in Brooklyn. "It's interesting to see some characters drift off into the supernatural, because when your brain is disconnected from reality, you have to hang on to something and to believe in something in order to give you strength to survive."
Nélisse's character research and in-depth analysis are hardly surprising: She's been acting for more than a decade—in consistently weighty roles. And she brings an intellect to her acting that's amplified by a serene vulnerability. Raised in Montreal with early ambitions to become a gymnast, she set aside sports at 13 when she was cast as the lead in the heart-wrenching WWII drama The Book Thief. Her talent was apparent at that age, and she has been working ever since, choosing "characters that you need to care for, even if they're bad," she says. "I think that's so interesting to be able to offer nuances because we're all so nuanced as human beings, so I love embracing that," she explains. "I also try to go for characters that are out of my comfort zone. I come from quite a sporting background, so the competitiveness inside of me wants to take on characters that offer a challenge."
In conversation, Nélisse is sweet and animated, articulate and attentive; the energy and intellect she brings to her roles are apparent. While she is among a truly promising crop of young actors emerging in Hollywood, in her off-time she still lives in her beloved cosmopolitan hometown, which she credits with keeping her grounded. "I'm so grateful for coming from Montreal because I've kind of grown up out of the spotlight. I've just been crazy lucky to have been able to work with amazing directors—so many talented women. It still feels very surreal when I go to events and get to walk alongside actors that I admire so much. But I'm also happy when I have my little bubble back."
Congruent with the dazzle of red carpet legends, though, is another amenity Nélisse has grown to love: dressing up in the gowns, the beautiful gowns. Wearing gorgeous garments didn't come naturally to her at first—she wore her first red-carpet looks at age 12, and her "sporty background" meant she spent most of her tween years in athletic wear. But now, she appreciates fashion for the craft behind it. "You're literally wearing a piece of art that people have handcrafted. It's been interesting to discover that [my style] is not about looking the prettiest, but wearing something that is more of a statement in my personal life," she says. "I try to juggle between long-lasting pieces and more statement pieces, more colorful pieces, more risky pieces. At the end of the day, I realized that it's a lot about confidence. If you feel good in it and you feel comfortable, it'll look amazing."
That confidence is, truly, the only steadfast rule of fashion, and her embrace of it makes her the perfect ambassador for Salvatore Ferragamo, whose classic elegance embodies the power of a self-assured woman striding into a room. The open and accepting culture of Montreal impacts Nélisse's approach to dressing, too, she says. "It's a very diverse community, and there are a lot of people from across the world. I think we're a very open-minded community and very welcoming. So we definitely have a cool style, a laidback and [thought-through] sense of style."
And her approach to style mirrors Nélisse's career choices: a melange of global independent films and French-language Canadian television that give her room to stretch out as an actor, to project a kind of burning strength that seems to come naturally to her. Certainly, it's a great time for a young woman of her talent, not just because of the number of intelligent projects being made, but also because of the tangibly broader range in the roles available to her. "There is more diversity in the roles [women] are being offered; it's not just the typical beautiful high school teenager anymore, it's not just the stay-at-home mom that's helping out or the pretty wife of the main white man character, you know? And I think that is what I love so much about [Yellowjackets]. It's just a whole bunch of really badass women and that we also learn to embrace the not-so-pretty sides… and just on a human level, it's really reaffirmed that women are just so cool," she says with a smile.
---
All clothing and accessories by Salvatore Ferragamo. Art Direction by Mandi Hayes; Styling by Bárbara Vélez; Styling Assistance by Cameron Broomfield; Hair by Blake Erik; Makeup by Tracy Alfajora; Set Design by Alice Martinelli; Production by Hannah Miller.