Angus Cloud Buys Sunglasses Everywhere, Even the Gas Station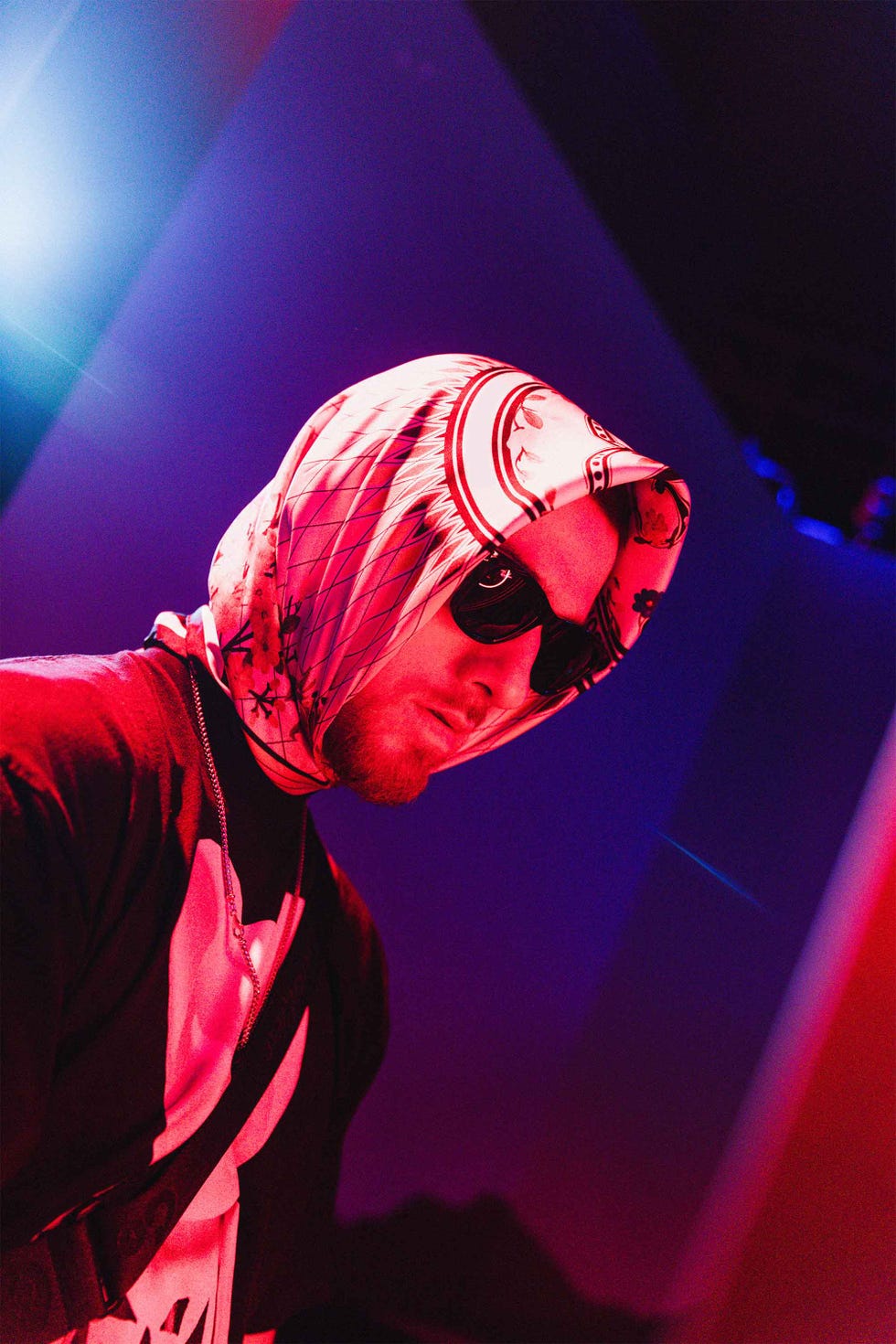 Angus Cloud is adamant about not being referred to as Hollywood's "newest/breakout/hottest" anything. "I wouldn't say that," he tells ELLE.com in his characteristic sleepy, deadpan tone. You may already be familiar with his backstory: Cloud was discovered on the street one day by a casting director, who plucked him from obscurity and cast him as the charismatic yet sluggish drug dealer in HBO's runaway hit Euphoria. Although he doesn't consider himself a rising star, his recent track record suggests otherwise. Cloud was spotted quite literally everywhere as season 2 of the series came to a close. A quick perusal through his Instagram feed shows his extremely star-like adventures earlier this year: sitting front row at NYFW next to Megan Thee Stallion and appearing at Thom Browne alongside actor Yahya Abdul-Mateen II and designer Miyako Bellizzi, peppered in between glossy magazine photoshoots and outings with friends (including Euphoria's other famous face, Dominic Fike). Then, there were the several fashion brand collaborations, including the one that led him all the way to Coachella and is the reason we're having this conversation: Ray-Ban.
Ahead of this year's festival, Ray-Ban unveiled its first-ever smart eyewear collection, aptly dubbed Ray-Ban Stories, in partnership with Meta, and celebrated with an interactive activation. Designed to resemble a mirrored funhouse, each attendee received smart sunglasses to record and document their experience. Ray-Ban Stories marks the historic brand's first foray into technology; each design includes a dual 5MP camera that allows you to shoot instant images and 60-second videos by simply clicking a button on the side of the frames.
Other notable features? Built-in audio speakers, a microphone for listening to music or answering phone calls, a charging case, and Bluetooth connectivity. Ray-Ban Stories are available in three different designs for $299 each, including the iconic Wayfarer, Meteor, and Round. Cloud chose the Wayfarer with orange-tinted lenses as part of his "comfy uniform," which included a paisley printed scarf covering his head, an oversized graphic tee, and shorts. Ahead, Cloud talks about sunglasses, style, and singing (possibly?).
Why did you decide to partner with Ray-Ban?
You just look at all the brand deals and whatnot, and then you just see which one you like the most. Ray-Ban is cool. Ray-Ban is classic. Ray-Ban is iconic.
What's your first memory of Ray-Ban sunglasses?
One time when I was younger, I was walking down Telegraph Avenue [in Oakland] and I was fucking around. It was nighttime, and I saw a Ray-Ban store that looked closed, but I still went to open the door. It was open, so I walked into the Ray-Ban store and I was the only one in there, and I was looking around like, "Oh, wow."
Do you have a favorite style?
Wayfarer, for sure. Or these with the cameras.
What criteria do you look for in a pair of sunglasses?
It's got to have style. You feel me? It's got to be unique. I like a lot of different types of sunglasses, but I'll fuck around and wear some women's shit. I like big ones with bedazzles on them. I like clear glasses. Some shit, like, bug-eye shit. Some tiny-eyed shit. I'll get sunglasses from the gas station whenever I need them. It's really how you wear the glasses.
Your style and Fez's style are similar, but different. For example, Fez probably wouldn't rock this scarf with this outfit. Is this your typical style?
Nah, but this outfit is comfortable. This outfit is black and white. You can't go wrong. I got the scarf to cover up my fucked up hairline, to try to hide from the people, and, you know, COVID.
So it's all about comfort for you?
Who doesn't like to be comfy? I prefer to be comfy than uncomfy. You can still look beautiful and be comfy.
This content is imported from Instagram. You may be able to find the same content in another format, or you may be able to find more information, at their web site.
If you had to describe your wardrobe staples, what would be some of your must-haves?
A fresh pair of socks, fresh pair of draws, a white T-shirt, sweatpants, and track pants.
You're listed in the credits of the new Euphoria soundtrack that's coming out for a song called "Fez's Interlude." What was it like working on the soundtrack?
Honestly, I just hopped into the studio for two minutes and was talking into the mic. I was just messing around.
Like poetry?
Nah, I was just saying some stuff. I had no idea he [British musician Labrinth] was going to put it on a soundtrack or anything like that. If I would've known that, I would've tried to sing better or something. I probably sound like shit.
So you have a singing voice?
I don't know, maybe. I could do a little something. Maybe so.
This content is created and maintained by a third party, and imported onto this page to help users provide their email addresses. You may be able to find more information about this and similar content at piano.io