3 Style Staples You Need This Spring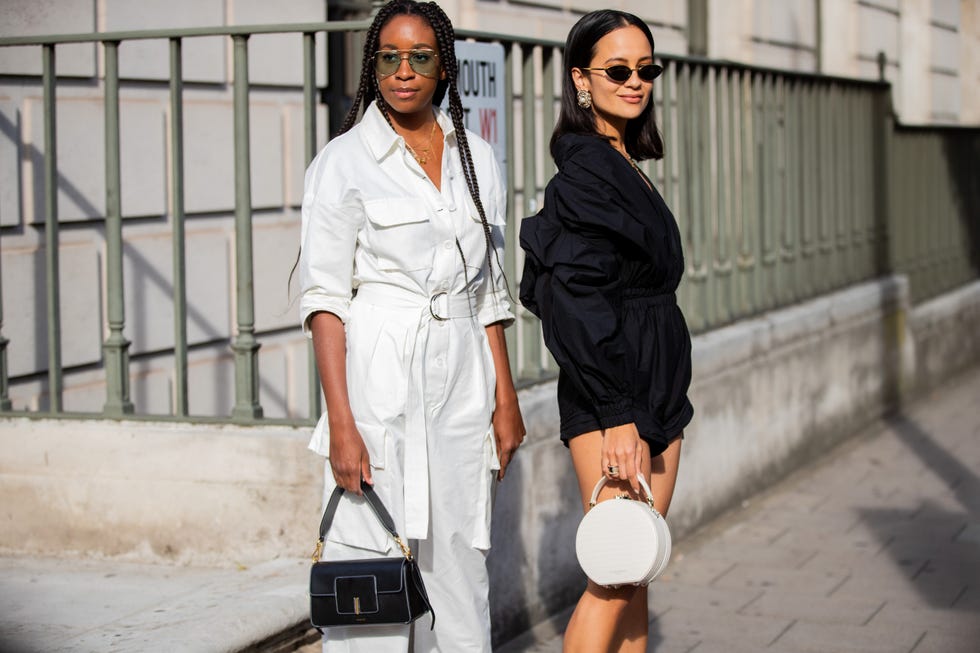 So, who else is ready to rip off their puffers? If you're as eager as me (aka, Would Wear Shorts in 50 Degrees), you're already mentally shedding your winter layers to prep for a sunnier season. But before you go rogue during your next work "break" or retail therapy shopping spree and splurge on something you'll only wear once, take a beat to consider the pieces that will really pay off when it comes to your style. Yep, we're talking about those versatile items you end up wearing on repeat. For your next spring style spend, go with a style hero you can dress up, dress down, and wear any which way. Start with these cute staples from Old Navy—three versatile items that will take you from the office Monday, to brunch Saturday, and bopping around in between. Slide through the looks below to see two ways to wear each piece.
Slide the looks to discover two ways to wear it.


Breezy Dresses
A breezy, comfy dress with a colorful 'n cute color blocking? It's a whole spring vibe and serious style hero material. Whether you're back working in the office, heading to a quiet space away from home or sitting at your kitchen countertop, the dress has "About to Absolutely Kill This Presentation" energy. Pair with chunky loafers and add a sweater to elevate the 'fit.
Throw it on for a flirty-but-def-not-trying-too-hard look for a day date with a light jean jacket mto layer in case you get chilly. Don't forget your fave sandals that are comfy enough to walk around in.
Chic Overalls
Life's short. Wear the denim overalls. It's the perfect combo of fun and functional that you can wear everywhere. Enter: Saturday brunch. You're done with your fave workout class, just showered, and planning to meet the gals in an hour. Slide into some chic lil clogs, and grab your chicest sunnies—you'll be mimosa-ready in less than 30.
Vibing at a concert is another occasion perfect for this dress. Wear it with a cool-girl tee, bucket hat, and comfy sneakers (for dancing, fan-girling, etc.).
Puffy Sleeves
She's classic! She's cool! She's a staple for all the seasons, tbh. The puffy sleeve blouse—pretty, flattering, and something to style with so many things that are already chilling in your closet.
Let's start at the farmer's market. Pair the top with your go-to pair of shorts and break out a market bag and cute slides for a laid-back look. Meeting your crew for happy hour later? Layer it up with a cute baguette bag and dress it up with some tres chic heels. Voila! You have an instantly chic outfit for a post-work meet-up.
---
Office Look: Dress and Cardigan by Old Navy, Bag by Dange Dover, Shoes by Ganni. Date Look: Dress and Jacket by Old Navy, Bag by Aaks, Shoes by Tkees. Brunch Look: Overalls and Blouse by Old Navy, Sunglasses by Apercu, Shoes by Urban Outfitters. Concert Look: Overalls and Top by Old Navy, Hat by Urban Outfitters, Shoes by Sandy Liang x Vans. Farmer's Market Look: Blouse and Shorts by Old Navy, Bag by Storets, Shoes by R0am. Happy Hour Look: Blouse and Jeans by Old Navy, Bag by Staud, Shoes by Sam Edelman.
This content is created and maintained by a third party, and imported onto this page to help users provide their email addresses. You may be able to find more information about this and similar content at piano.io