Rosie Huntington-Whiteley on How She Perfected Her Chic Earth-Friendly Beauty Brand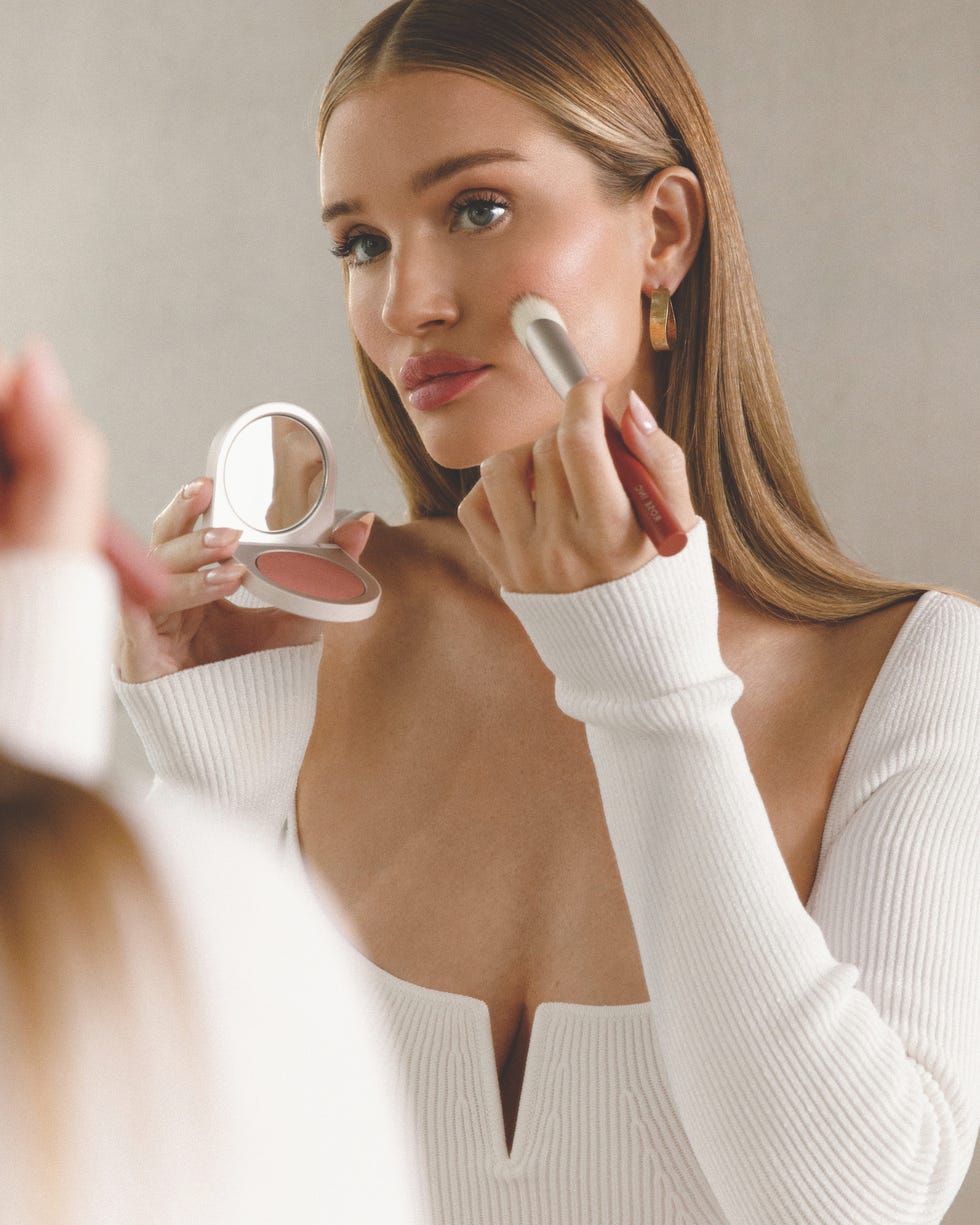 Rose Inc launched as a beauty editorial site in 2018. After going live, founder Rosie Huntington-Whiteley began brainstorming a brand that merged her love for modern design, breakthrough sustainability, and years of experience in the makeup chair. Here, we get the inside scoop on her blooming beauty business with a full range of high-quality skincare and makeup products, Rose Inc.
How Things Got Started…
With more than 20 years of experience as one of the most sought-after faces in the world, Huntington-Whiteley has sat in many a makeup chair. "I've always loved beauty, not just the products, but the entrepreneurialism and creativity," she says. "And I often have top experts at my fingertips, through my work in front of the camera and as the founder and editorial director of my beauty website Rose Inc." To create the skincare brand, Huntington-Whiteley partnered with biotechnology company Amyris. Also a mom, she became a fan of Amyris' clean baby and mom-care brand, Pipette, where she began studying ingredients in-depth while working on Rose Inc.
This content is imported from Instagram. You may be able to find the same content in another format, or you may be able to find more information, at their web site.
Getting Down to Business
"The first time I asked Rosie in for a brainstorm she wheeled in a suitcase," says Caroline Hadfield, CEO and president of Rose Inc and a seasoned beauty industry executive, who has led multiple brands to success. "I thought she must be headed on a trip after the meeting, but when she opened up the suitcase in the conference room, it was full of makeup—her research."
Huntington-Whiteley proceeded to give detailed reviews about every texture and color. To anyone who follows Huntington-Whiteley on Instagram, this discernment makes perfect sense. Along with her high performance standards, she makes sure her products work for all skin types, especially acne-prone skin (Huntington-Whiteley has struggled with breakouts for years). Equally critical: true sustainability.
"Now that I'm in my thirties and a mom, authenticity and integrity are so important to me," she says (Huntington-Whiteley just had her second child earlier this year). "I really wanted the brand to stand for something other than pretty products." Hadfield armed Huntington-Whiteley with clean new ingredients created by biodesigned fermentation from parent company Amyris, including a sustainable silicone alternative called hemisqualane, as well as sustainable bisabolol, CBG, biosilica, and squalane.
This content is imported from Instagram. You may be able to find the same content in another format, or you may be able to find more information, at their web site.
Launching Into Cult Status
The initial offering launched last August with makeup and skincare in natural, flattering tones and glowy finishes, plus brushes. "They are all my babies, but I've always been particularly excited about the concealer," says Huntington-Whiteley. She was onto something—the Softlight Luminous Hydrating Concealer quickly became a top-seller.
"I've been wearing less foundation and using my amazing does-it-all concealer," Huntington-Whiteley says. She also included personal winks throughout the line, like the four shades of the Lip Sculpt Amplifying Lip Color, which were each named after a title of a female sculptor's artwork—another passion of Huntington-Whiteley's. Try the model-turned-founder's own signature makeup move: blending her Blush Divine Radiant Lip & Cheek Color (another top-seller) up over the eyelids. "I find that it gives a really pretty monochromatic look," she says.
This minimalist streak extends to the chic, refillable packaging. In another effort to reduce its carbon footprint, Rose Inc lists detailed recycling instructions for every product and the amount of post-consumer material used in the packaging.
The Next Big Things
This month marks the launch of the brand's first lipstick: Satin Lip Color. There are 10 super-saturated shades infused with line-filling, lip-plumping hyaluronic acid, swertia flower extract, and squalane. Each is housed in a refillable tube.
"Clean makeup with performance and color payoff has always been a bit more difficult," says Hadfield. "But we spend a lot of time testing wearability, pigment, the sensory feel of everything we're creating, so we can really bring something that's top of class."
When she thinks about what's ahead, Huntington-Whiteley has no limits in sight. "I believe in putting out into the world what you're looking for," she says. "The experiences I've had and the resilience I've built in fashion and modeling really led me to this. But I feel my responsibility is also massive: I set out to do this with really good intentions and integrity, and I hope that shows."
This content is created and maintained by a third party, and imported onto this page to help users provide their email addresses. You may be able to find more information about this and similar content at piano.io