How To Manifest What You Want This Month, According to Your Zodiac Sign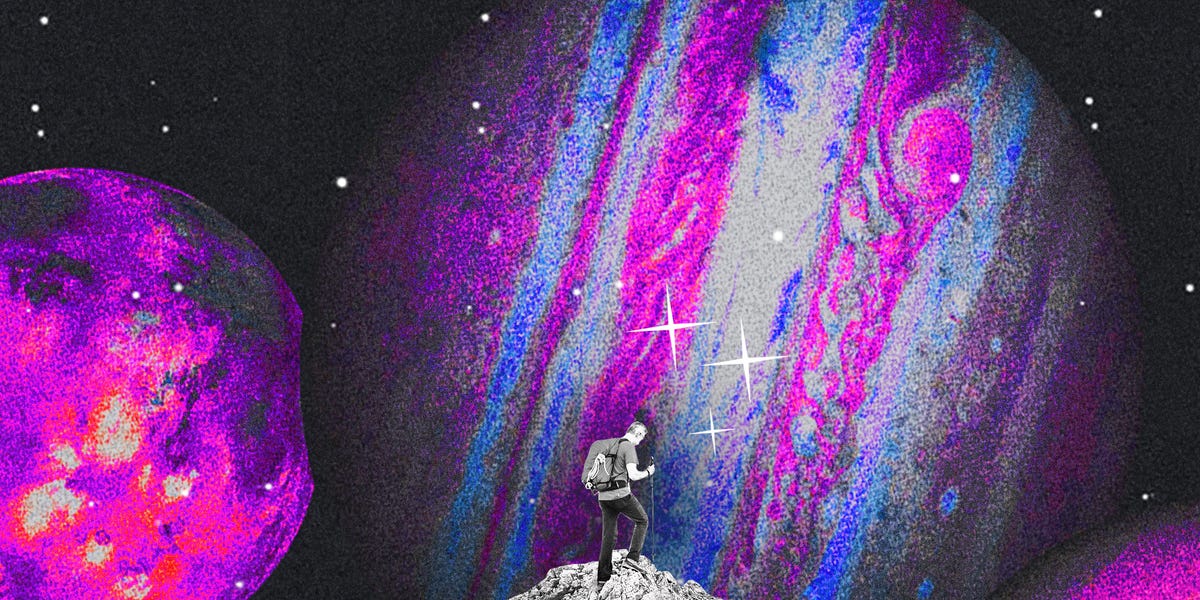 Hang onto your oracle decks! A peak manifestation moment is coming April 12, as fortune-finder Jupiter meets numinous Neptune at the exact degree of esoteric Pisces—their first union here since March 17, 1856!
That was 166 years ago, when the Spiritualist movement was having its heyday and people's idea of a casual Thursday hang was a living room séance. Fast-forward to April 12, 2022, and the Jupiter-Neptune conjunction is a prime moment to stop and drop into your desires.
With "anything's possible" Neptune co-piloting this mission, create space for epic dreaming. What would you like to manifest for your life? Don't limit yourself (Jupiter hates limits). Just get the picture in your mind. This is the key first step in manifesting.
Step two? Repeat and wait, because 99 percent of the time, results don't arrive overnight. The trick to manifestation is to keep sending signals to the universe that say, "I want THIS."
That's exactly what these celebrities have done for years. And since they are manifestation's best "proof of concept," we can tap into their methodologies for making dreams come true. Here's how luminaries of every sign have crushed it with their intention-setting woo.
Aries: Name It, Then Claim It
Before rising to icon status, Aries Lady Gaga grappled with bullying and debilitating insecurity. Changing her name from Stefani Germanotta to Gaga is what she often credits for stepping into a confident, new identity. Try this, Aries: Give your "dream self" a name or a title. If you were fulfilling your fantasy life, what would you be called? Simply adding "The Duchess of" in front of your desired role might change everything.
Taurus: "Speak Your Life"
In a Shondaland interview, Taurus Lizzo shared, "You can manifest your life and speak things into existence, if you have positive goals and affirmations for yourself." The singer has used this mantra for everything from luxe beach vacations to confidence-boosting IG posts. Since your sign rules the throat, "speak your life," as Lizzo directs, by saying what you want out loud, over and over and over again.
Gemini: Start New Conversations
When Gemini Laverne Cox launched her 2021 podcast, she was interested in "a spiritual makeover." As she explained in an interview with People, "It's about having conversations that will inspire new perspectives, that hopefully will encourage us to live differently and make different choices." Use your words, Gemini, and use them interactively! As the sign that rules communication, dropping chosen topics into a dialogue can elevate the magic for you and your crew.
Cancer: Plant the Seed, Then Let It Grow

In his TED talk, Cancer Elon Musk discusses Aristotle's 2000-year-old "first principles" framework, which he used to manifest billion-dollar ideas, like, say, PayPal, Tesla, and Space X. How does it work, exactly? Boil things down to the most fundamental facts by asking, "What are we sure is true?" Then ask it again and again until you're at the root of whatever it is you want to create. This method of removing doubt is ideal for cautious Crabs, since believing is essential to manifesting. So instead of dismissing your dreams, question every assumption until you find a truth that sticks.
Leo: Make It Obvious
Leo Demi Lovato has never hidden her desires behind a soft delivery, which may be part of her manifestation magic. Instead of leaving it up to chance, the singer takes to Twitter to announce her wishes. Way back in 2010, she tweeted, "one day I'm going to be singing at the Super Bowl." Ten years later, she belted out "The Star-Spangled Banner" at the 2020 NFL mega event. Find your "stage," Leo, then start letting the world know that you will be there one day!
Virgo: Take Responsibility for Your Life
In true Virgo fashion, Keanu Reeves keeps it simple, adopting the belief that we all create our worlds with, "actions of the body, speech and mind." According to the Matrix star, who is a Buddhist, when you truly understand karma, then you realize that you're responsible for everything in your life. So, Virgo, after setting intentions, look at where you may feel out of control. How can you bring yourself back into the driver's seat? This mindset shift could be your key to manifestation.
Libra: Create Your Own Metaverse
Rainbows, unicorns, pink clouds, and love! Sadly, Libra, we're a long way off from the idyllic world your peaceful sign wants to live in. But Libra Doja Cat created a workaround, inviting users to an elaborate virtual galaxy, Planet Her, when her eponymous album dropped. Her futuristic utopia has now evolved into a candy-colored makeup line—more proof that your beauty-loving sign can work wonders by painting a picture that transforms into multimedia art.
Scorpio: Visualize It Constantly
A picture says a thousand words for your visual sign. When Scorpio Drake was starting from the bottom, he turned his desktop background into a vision board with a photo of his dream home. He also regularly rented a particular Rolls-Royce as part of his manifestation plan. Since then, he's moved into a stunning L.A. mansion that resembles the photo he stared at every time he turned on his computer—and Rolls-Royce gifted him that coveted dream ride. Quick, Scorpio, update your screensaver and see what comes your way.
Sagittarius: Create Your Own Luck
Sure, Sagittarius may have a rep as the zodiac's luckiest sign, but Archer Jay-Z broke it down in the intro to his Fade to Black documentary: "You create your own luck. My whole career, I been thinking of a night like this. Like what's about to happen. That's what's going on. I was like, 'Oh, shit. This is it right now.' A night with all the stars in line." Set that vision, Sagittarius, and start creating your luck. How? By taking actions corresponding to your intentions—and try not to fall prey to FOMO along the way!
Capricorn: Build It, Then Let It Come
Growing up outside a major city, style savant Hunter Schafer, who is now a global ambassador for Shiseido, didn't have access to high fashion (or even a Zara). But this resourceful Capricorn reverse-engineered the process, as she shared in an interview with i-D, "You make do with what you can score at the local Goodwill, cutting it up and relying on your creativity to get it to meet your requirements." Like Euphoria's breakout star, find (or make!) a model of the actual thing you want, and soon enough, you may have legit access to the original.
Aquarius: Engage Your Community
Like Aquarius Megan Thee Stallion, social media is your toolbox for manifestation. Her dream collab with Beyoncé turned into the viral "Savage Challenge" that got us all through the pandemic and made the rapper a global icon. True to the Aquarian spirit of community, Megan's fans have been part of her success. The challenge was choreographed by then-teen Keara "Keke" Wilson, and recently, follower @motivatefenty tweeted wishes to the universe for an Adele-Megan collab with this viral mashup of the singer and rapper that the world can't stop watching. Start seeding your feeds, Aquarius, and your friends' feeds too. Then, see what magic makers slide into your DMs.
Pisces: Create an Avatar of Your Future Self
When Pisces Grimes was "manifesting a human soul," (translation: pregnant) she turned herself into @WarNymph, a digital representation of herself. Not only did this open up more time for her to spend with son, X Æ A-Xii, and new baby daughter, it allowed her to be in multiple places at once…well, virtually speaking. Since inception, War Nymph has posed in photo shoots, started an Instagram feed, and co-created a successful series of NFTs. Adopt this AI approach to manifestation and you could be time traveling to multiple new futures before you know it.
This content is created and maintained by a third party, and imported onto this page to help users provide their email addresses. You may be able to find more information about this and similar content at piano.io