Sagittarius Monthly Horoscope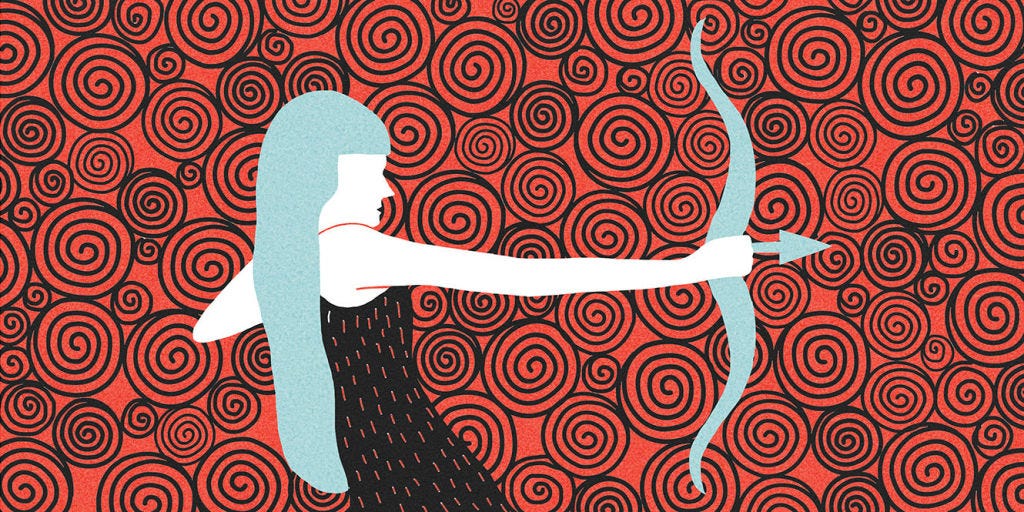 MONTH OF March
Slow down, Sagittarius. The Sun is in Pisces and your domestic fourth house until March 20, calling for nurturing and reflection. Your go-go-go sign tends to fire on all cylinders, but once a year, the stars mandate a rest period. Enjoy downtime at home as you make your nest feel like a sanctuary or binge out on your favorite streaming series. Shut out the world a little (no guilt!) and focus on self-care. Your mom, a child or a maternal figure could play a key role in events for the first three weeks of the month.
Ready for a refresh to your social life? If you're saying "what social life?" it's no surprise. Outgoing Venus has been in Capricorn and your second house of work and money since November 5, mixing business and pleasure a little TOO readily. Activator Mars has also been in Capricorn since January 24, revving up your revenue but also putting lots of irons in your professional fire. If you haven't had a break all year, you can point to this cosmic duo as the culprits.
Watch the tides turn, Sag: On March 6, Venus and Mars jointly shift gears into Aquarius and your third house of community and communication. This turn of the tides will bring stimulating conversations, aha ideas and enticing invitations. Rsvp "yes" to all you can (safely) attend. Since Venus and Mars are the romance planets, you could find love locally or experience surprising sparks flying with a friend. A mutual contact could introduce you to someone, or you could just feel your flirty, frisky side return. With zero retrograde planets this month, there won't be much (if anything) holding you back!
On March 20, spring gets off to a passionate start as the Sun moves into Aries and your fifth house of romance and creativity. With the love planets paired up in this social zone, you could attract some flirty new friendships (with possible benefits). But no matter what's going on there, life will start to feel dynamic and fun again. Hibernation is officially over!
Attend to home base during Pisces season
Tired of that cluttered corner or the "color of the year" wall that now offends your eyes? The first three weeks of March are official "home improvement" time for you, Archer. While the Sun's in Pisces and your domestic fourth house until March 20, get busy getting your den back in order. The March 2 Pisces new moon is an ideal date to start any family planning, interior design project or even searching for a new address.
Struggling to justify the expense of a new dining table or sofa? You'll likely be making good use of Chateau Sagittarius for the next couple months anyway as lucky Jupiter—your ruler—is spinning through Pisces until May 10, turning your household into a hub of ideas and inspiration.
And on March 5, the Sun and abundant Jupiter will make their once-a-year meetup, a golden moment to fortify your foundation. From your living situation to your nest egg to your emotional resilience, this annual Sun-Jupiter conjunction brings a megadose of magic to your personal life. A woman (or group of women) could be particularly instrumental in your success.
Nicknamed the "Day of Miracles," the Sun-Jupiter conjunction is believed by some astrologers to be one of the most fortunate dates of the year. Here's the trick though, Sagittarius: You won't manifest those by going into warp speed overdrive. A relaxed, nurturing and receptive state will draw opportunity your way (believe it or not). That may go against your usual can-do nature, but trust that the universe is handling the details and watch what flows. Declutter and beautify your home and workspace. (Check out our Home Reset coclass="body-el-link standard-body-el-link" urse if you're ready to go all the way: https://astrostyle.com/homereset.) A comfortable, beautiful space is an energy field for you, one that will attract the high-vibe bounty you seek.
So…do more by doing less, Sag! For the last official month of winter, you can get cozy at home, reading books, catching up on TV series and trying out air fryer recipes. Add some self-care to your routine or just slow down and keep your schedule loose. Your creativity kicks into overdrive, so channel it into a DIY or decorating project. Women play a prominent role during Pisces season. Step away from your duties to enjoy some downtime with family and nurturing friends. Time with your mom or a mother figure will be especially restorative.
Mars-Venus-Pluto conjunction revs up your revenue on March 3
What you focus on expands, Sagittarius. So, what do you want more of in your life? Today, action planet Mars is mashing up with transformative Pluto in your second house of career and finances, boosting your money-magnetizing mojo. By getting clear and visualizing what you want to manifest, you can tap into the law of attraction to raise your own bottom line. Stop undercutting yourself by not pricing your services high enough!
It's a good day to take a peek at your bank statements to make sure everything is on track and flowing. With magnetic, social Venus also conjunct Mars and Pluto, attending an event or reaching out to a promising contact could yield an opportunity. Pay it forward, too! Use your sparkling personality and play super-connector. You'll gain karmic points and social cred by introducing two fabulous friends who are a potential business match.
The March 18 Virgo full moon is a career high point
Pisces season may still have you in homebody mode, but you'll want to kick off the shearling slippers on March 18, when the year's only Virgo new moon beams into your tenth house of career and success. Plot your power moves accordingly. You could be offered a leadership role or recognized for your hard work of the past six months. Bring on the accolades and raise your asking price. If you're not ready for a pay or status bump, what will it take to get there? Carve out time to recalibrate your goals and make sure your everyday actions are getting you closer to that brass ring. Sagittarians have an appetite for more-more-more, but the Virgo full moon reminds you to narrow your focus to what you REALLY want next.
Aries season begins March 20 at the spring equinox
Your joie de vivre returns with a vengeance on March 20, when the Sun blazes into Aries, heating up your playful and passionate fifth house for a month. Bring on the spring fever! Shake off those reclusive Pisces-season vibes, put on something sexy and enjoy a few glamorous nights out. Dive into a creative project and let yourself have fun, even if things get a little messy in the process.
Watch your temper at the March 22 Mars-Uranus square
Bite your tongue—hard,class="body-el-link standard-body-el-link" Sagittarius. On March 22, brash Mars and hotheaded Uranus lock into a challenging square, driving up combustible energy. Under these volatile skies, Mars in your communication house and Uranus in your critical sixth house will not be a hospitable backdrop for your sharp opinions—especially unsolicited ones. Before you shoot down anyone's ideas, hear them out before blasting holes in their plan. Stress is probably amplifying your nitpicky streak or shortening your fuse, and an impatient Mars-Uranus conjunction only worsens it. You won't be very receptive to feedback or criticism yourself today. Hold off on any evaluations if you can help it. Get some exercise or head out into nature (taking all the mandated safety precautions) to move the pent-up energy out of your body.
At long last, lightness! Venus wraps up an extended visit to Capricorn (since November 5) and your practical second house on March 6, relocating to Aquarius and your social, friendly third house until April 5. Even better? Sexy Mars makes the same pivot on March 6, and the two love planets will join their superpowers. Friends could become lovers and lovers could have sweet, playful talks again.
With Venus officially sprung from your hardworking second house, romance doesn't have to be pragmatic (that's not your usual vibe anyway, but it's how things have gotten during this long Capricorn spell). You'll be much more in your lane with this curious, expressive Aquarian energy—stimulating conversation, after all, is the way to a Sagittarian's heart.
This is a great time for couples to discuss important issues and plan more shared activities. You'll both be better equipped to engage in dialogue without getting defensive or feeling like you have to assert your "side" at every turn. The Venus-Saturn conjunction on March 28 could be a productive time for a sensible discussion when you don't lose your cool.
Single? You'll be motivated to start a new chapter to your love quest by getting experimental—and this month, you're free to try before you buy. Variety is your favorite spice this March. Whatever your status, how about, you know, just having a little fun? Mingle with mutual friends; go out for some dates (mask and hand sanitizer in tow).
With randy Mars in the mix, couples may clear the air with some difficult but necessary dialogue. Try not to be brusque or impatient as edgy Mars can make you come on strong. And if Mars does rev up the passion? Take this discussion to the bedroom, stat!
Less doing, more talking! Networking is your jam this month as energizer Mars in Aquarius revs up your third house of communication from March 6 to April 14. You're percolating with ideas, so start writing, talking, teaching and finding any platform possible to spread the word. This is a perfect month to focus on marketing yourself or looking at your messaging.
Get your home office and workspace looking chic on March 2, when the annual Pisces new moon gilds your fourth house of foundations and interior design. Two weeks later, the March 18 Virgo new moon beams boldly into your tenth house of ambition and success, marking a career triumph of a push to explore a new path.
Get soul-centered business mentorship from us! Join Astropreneurs.
Calling all mystics on a mission! Got a brand, business or passion project you're developing? We want to be your mentors. Our new Astropreneurs mastermind group supports soclass="body-el-link standard-body-el-link" ul-centered entrepreneurs with the tools of modern business and astrology—with a supportive community and a private platform. https://galaxy.astrostyle.com/astropreneurs
Love Days: 4, 10
Money Days: 17, 25
Luck Days: 14, 23
Off Days: 7, 12, 21
This content is created and maintained by a third party, and imported onto this page to help users provide their email addresses. You may be able to find more information about this and similar content at piano.io