Mobile loophole for gaming drivers is closed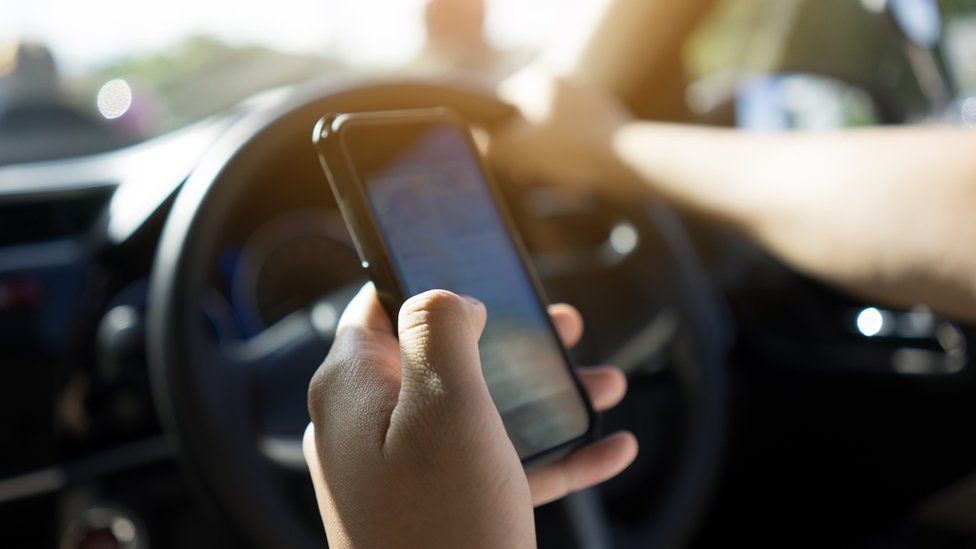 A loophole allowing drivers to escape punishment for handheld phone use if they are taking a photo or playing a game has closed in Great Britain.
People can now be fined up to £1,000 and receive six points on their licence for scrolling through playlists or taking pictures on a handheld device.
Transport Secretary Grant Shapps said the government was taking a "zero-tolerance approach".
Devices can still be used hands-free while driving if secured in a cradle.
The law change, which does not apply in Northern Ireland, is an extension of an existing offence which includes making phone calls or sending text messages.
Following that ruling two High Court judges criticised the law on using phones while driving, saying it had failed to evolve with the rise of technology.
The Department for Transport (DfT) figures show 17 people were killed and a further 114 were seriously injured in crashes on roads in which a driver using a mobile was a contributory factor.
The DfT said drivers can use their phone to make contactless payments at a drive-through restaurant if the vehicle is stationary.
Mr Shapps said: "I will do everything in my power to keep road users safe, which is why I am taking a zero-tolerance approach to those who decide to risk lives by using their phone behind the wheel.
"I'm ensuring anyone who chooses to break this vital law can face punishment for doing so, and we'll continue our efforts to ensure our roads remain among the safest in the world."

Phones behind the wheel: the law
Using a hand-held mobile phone or sat-nav while driving is illegal
Any hands-free devices should be fully set up before you drive
Police still have the power to stop you if they think you have been distracted
The law still applies if you're stopped in traffic or queuing at lights
You could get penalty points, a fine and/or a driving ban if you break the law

AA president Edmund King said the organisation warmly welcomed the new law and said it wanted using a handheld phone while driving to be "as socially unacceptable as drink driving".
"This is a much needed toughening of the rules to help make our roads safer," he said.
He added that "playing" with a phone in cradle would still leave drivers open to prosecutions for careless or dangerous driving.
The government said the change in the law had been introduced after a public consultation found 81% of respondents supported such a move.