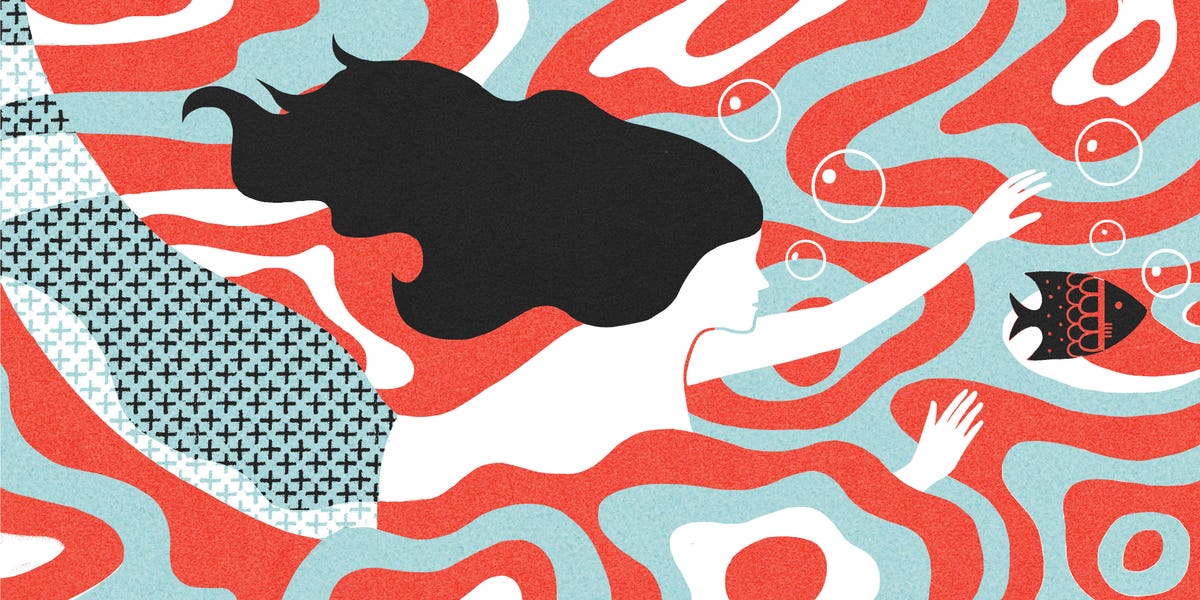 MONTH OF March
What do YOU want, Pisces? That's the top question to ask yourself while the Sun visits your sign until March 20. The first week of March is particularly potent, thanks to a Pisces new moon and expansive, adventurous Jupiter in YOUR sign this year (making an exact meetup with the Sun on March 5). Consider March your true new year, a time to activate the momentum that's been building since lucky Jupiter glided into your sign on December 28, 2021. Ready for a fresh perspective on, well, everything? If you're feeling called to emerge from the depths and surface your mermaid magic, know that the world eagerly awaits!
Not that you won't spend time off the grid or exploring the outer reaches of your vibrant imagination. On March 6, Venus and Mars (the love planets) slip into Aquarius, uniting in your twelfth house of fantasy and healing as they do. Venus is here until April 5 and Mars through April 14, a chance for you to rejuvenate after their long treks through Capricorn and your social eleventh house. Whether you've been around people IRL or virtually, life has been active for the past couple months. Now you can slip away from group demands and dive into a creative or spiritual project that feeds your soul.
Who knows—you might just monetize one of those ideas as soon as March 20, when the Sun moves into Aries and your stabilizing second house. Get ready for a productive and profitable start to spring, and a possible partnership opportunity at the Virgo full moon on March 18. With zero retrograde planets all month, there's nothing in the sky holding you back from your dreams. Use this short window to sprint ahead and take a bold risk. Don't second-guess yourself, Pisces—do it now!
Pisces season brings a burst of optimism and opportunity
Happy birthday to you! The Sun is enjoying its annual visit to Pisces through March 20, waking you up from hibernation a month before spring officially begins. Prepare to get pumped about a personal mission or passion project. It's "me time"—and your birthday season—so feel no guilt about putting YOUR agenda first. When the Sun makes its annual "solar return" on your birthday, you get a special chart for the year ahead, which is always worth checking out, especially if you're still trying to figure out where you'll spend the big day.
No matter what your actual birth date is, you get a burst of renewal on March 2, when the year's only Pisces new moon marks your "personal new year" and kicks off a six-month cycle of personal growth and self-discovery. Between now and the September 10 Pisces full moon, work steadily toward a goal or passion project that puts your name (and talents) on the map.
Is it time to take a leap of faith? There could be no better day than March 5, when the Sun and abundant Jupiter make class="body-el-link standard-body-el-link" their once-a-year meetup. Nicknamed the "Day of Miracles," the annual Sun-Jupiter conjunction is believed by some astrologers to be one of the most fortunate dates of the year. To host it in YOUR sign (which happens once every 12 years) is a gift from the heavens—one not to be squandered!
Protect your peace at the March 3 March Mars-Pluto conjunction
Shield your field! On March 3, you may be overly affected by the comments and behavior of colleagues and people in your social sphere. Aggressive Mars syncs up with shadowy Pluto in your teamwork sector—something that only happens once every other year—and you could be feeling a little thin-skinned. Remind yourself that most of what people say is a reflection or projection of THEIR feelings—generally about themselves. Bolster your confidence by surrounding yourself with folks who love you and have your back, and stop yourself from fixating on the "he-said-she-said." Luckily, this year's Mars-Pluto meetup will feature a guest appearance from romantic and diplomatic Venus. You should be able to smooth any rough edges—or quickly pivot conversation out of controversial territory before things get ugly.
Forge dynamic duos at the March 18 Virgo full moon
Partnerships are in the spotlight on March 18 as the Virgo full moon illuminates your seventh house of relationships. You could make a prosperous partnership official. Or a post-Valentine's engagement could be on the radar for some Fish, or a budding business connection might advance to the contract-signing phase.
In other cases, you might call OFF a commitment that's no longer yielding returns. Before you tender your resignation or cut someone out, see if you can talk things through. With analytical Virgo (the zodiac's fix-it sign) at the helm, you might be able to repair a rift or come to a new agreement that works better for both of you. You never know unless you try.
Aries season begins March 20 at the spring equinox
Grounding energy arrives on March 20—much to your relief. The Sun begins its monthlong visit to Aries and your practical, security-seeking second house. Simplify and prioritize, Pisces, especially since your energy could be scattered. The second house rules work and money, so refine your budget, finish your taxes or hunt for new gigs. This centering and sensual cycle helps you savor the "little things." By taking things one step at a time, you'll enjoy a sense of inner peace no matter how chaotic the outside world may be!
Avoid emotionally charged conversationsclass="body-el-link standard-body-el-link" at the March 22 Mars-Uranus square
On March 22, watch out for a tense square between hotheaded Mars in your foggy twelfth house and disruptive Uranus in your communication zone. Arguments could break out, especially since you'll be hypersensitive to any whiff of criticism. Under a Mars-Uranus square, egos and tempers run rampant—and in a thin-skinned second, you may lash out at someone who takes an excessively harsh tone with you. Don't go there, Pisces: Your clapback might do more damage than you realize. If they swing low, stay high-vibe!
From freedom to fantasy? On March 6, romantic Venus wraps up a four-month tour of upbeat Capricorn and your eleventh house of friendship and group endeavors. This lighthearted arrangement could have driven up the craving for liberated loving, especially with sexy Mars also here since January 24. You've needed to feel like you had room to roam, whether that meant a no-strings fling, a break from the pressures of dating or more flexible "monogam-ish" terms. Sparks may have gotten set off with a friend. If so, how did that turn out?
On March 6, Venus and Mars will both shift gears into Aquarius and your twelfth house of fantasy, which could put you in wildly romantic spirits, especially as they dovetail into an exact conjunction upon arrival. Venus is here until April 5 and Mars through April 14. Suddenly you want some windswept romance and are willing to trade a little autonomy for the sweetness of surrender. In some cases, Venus could help you end something that's past its prime, transitioning to a new chapter that will begin when Venus enters Pisces a month from now. Until then, ramp up the self-care.
But you won't be able to escape the churning tides of the emotion ocean with provocateur Mars in the mix. This internal combustion engine can make you feel restless, sentimental, exceptionally poignant or—dare we say it?—even a little needy or vulnerable at moments. Some people might not quite know what to do with all this intensity emanating from you. But if you can let your softer side out without clinginess, this cycle could bring opportunities for sweet soulmate connections.
Watch out who you let that drawbridge down for, though. Passionate Mars in your twelfth house of secrets and hidden agendas could draw you into a clandestine affair or draw someone sketchy into your orbit. Strong attraction is likely, but this person could be keeping key details a secret from you. Verify before you trust! The Venus-Saturn conjunction on March 28 could bring a sobering but important reality check—and, if all the signals are clear, a proposal or a moment ripped straight from the playbook of your favorite romantic film.
Pace yourself this month, Pisces. On the one hand, you're fired up to make a fresh start with your passion projects and personal goals. The life-giving Sun is shining in your sign until March 20, and a March 2 Pisces new moon will put wind in your sails. However, a few days later (on March 6), energy planet Mars will dip into Aquarius and your restful twelfth house until April 14, which could cause you to lose steam faster than usual. Take plenty of breaks between tasks, and use this right-brained, imaginative Mars cycle to do more creative parts of your work. The March 18 Virgo full moon in your partnership zone can help you
Get soul-centered business mentorship from us! Join Astropreneurs.
Calling all mystics on a mission! Got a brand, business or passion project you're developing? We want to be your mentors. Our new Astropreneurs mastermind group supports soclass="body-el-link standard-body-el-link" ul-centered entrepreneurs with the tools of modern business and astrology—with a supportive community and a private platform. https://galaxy.astrostyle.com/astropreneurs
Love Days: 12, 17
Money Days: 23, 4
Luck Days: 21, 2
Off Days: 14, 18
This content is created and maintained by a third party, and imported onto this page to help users provide their email addresses. You may be able to find more information about this and similar content at piano.io