The New iPad Air Might Convince You to Ditch Your Laptop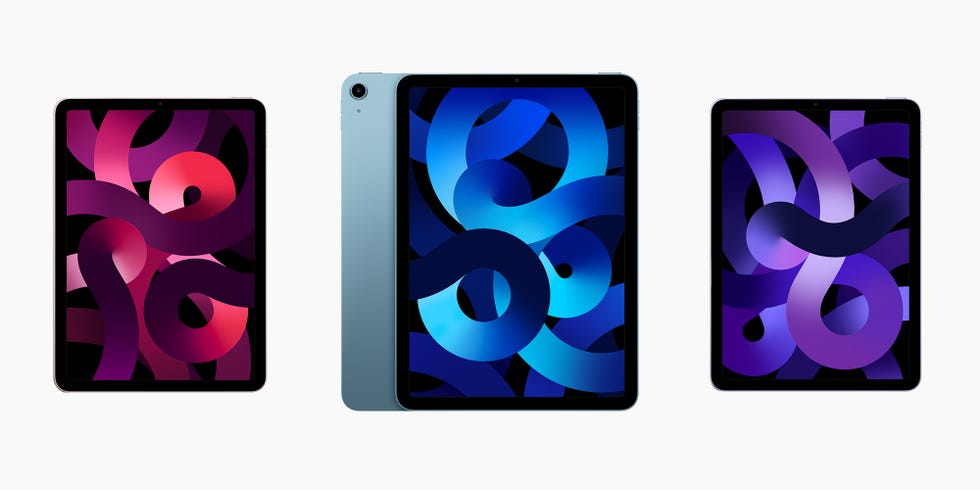 Digital nomads should start celebrating in their far-flung workplaces because Apple's newest launch is made for them. Announced last week and finally released today, March 18, the new iPad Air is an upgrade from its predecessors, with new features that will finally convince you to ditch your traditional laptop setup in favor of its compact, ultra-portable design.
Powered by the Apple-designed M1 chip, this is the most powerful the iPad Air has ever been, boosting both performance and efficiency. With an 8-core CPU, it's 60 percent faster than its predecessor and boasts a battery that Apple claims will last all day, even if you're watching TikTok videos until your eyes blur. If you're aiming to use this device for video conferencing, its front camera is equipped with Center Stage, a tool that keeps you centered in frame (making this an ideal gift for that relative who won't stop jostling around while FaceTiming you).
But really, the iPad Air is destined to land in the hands of a content creator. You can easily shoot videos in 4K and capture high-definition photos with it, then immediately edit them (we highly recommend grabbing the Magic Pen for this—it's a dream to use and will take your videos from looking rudimentary to professional with the flick of a wrist). As we all begin to (finally) travel again, the thing that appeals to us most is the iPad Air's compact size, especially considering its high output. Weighing in at only one pound, we doubt you'll ever want to fly with a laptop again.
In terms of looks, well, this might be the iPad's sweetest iteration yet. Available in five soft metallic colors—space gray, pink, purple, blue, and starlight white—you can find one that fits your personality. If you're sold, cop the iPad Air today, with prices starting at $599. Just promise us one thing: Don't be that person at a concert recording with their iPad held overhead, blocking everyone's view. Thanks in advance.
This content is created and maintained by a third party, and imported onto this page to help users provide their email addresses. You may be able to find more information about this and similar content at piano.io