The Adecco Group navigates the new world of work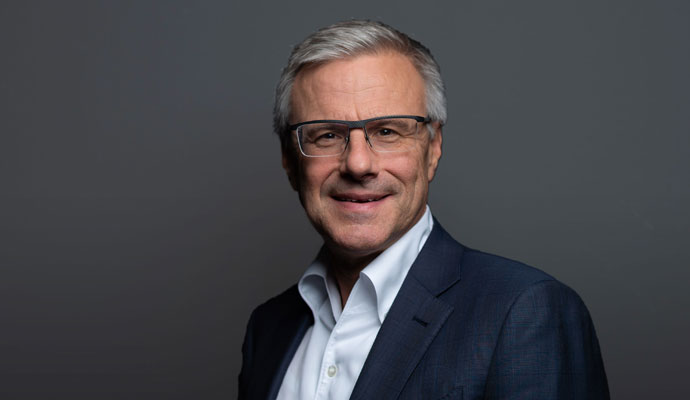 As a teenager, Alain Dehaze worked at his mother's bookstore, waited tables, and cleaned bank branches in his hometown of Tournai, Belgium. Now the CEO of the Adecco Group, the world's second-largest talent solutions and advisory company, Dehaze credits the latter experience with helping him land his first job as a sales support manager at Henkel, the Germany-based chemical and consumer goods company. As part of his interview, the 24-year-old Dehaze, a business engineering graduate from Belgium's ICHEC Brussels Management School, was asked to demonstrate that he could clean a corridor with a complex polishing machine he'd used while working in the industry. Today, after climbing the corporate ladder, Dehaze is uniquely positioned to guide his company and its clients through unprecedented changes to the world of work—changes that have accelerated at breakneck speed during the pandemic.
At Henkel, Dehaze went on to hold leadership positions across Europe. A series of senior roles at other companies followed, including stints as CEO of Solvus, a Belgium-based European-listed staffing company, and of the Netherlands-based staffing services firm Humares. He joined the Adecco Group in 2009 as regional head of Northern Europe and then in 2011 took responsibility for France, the company's largest market; in 2015, he was appointed CEO. Adecco is headquartered in Zurich, employs 32,000 people, and serves roughly 100,000 clients in 60 countries—companies with temporary and permanent office, industrial, and service-sector roles to fill. For example, Adecco places nearly 600,000 people daily into flexible assignments.
Dehaze, now 59, has led the company through the disruptive impacts of the pandemic. Revenue fell 15% in 2020, amid a rolling wave of global workplace shutdowns—but growth has resumed. In 2021, revenues, at €20.95 billion, were up 9% from the year before. Like the global system at large, Adecco has adapted quickly to new norms. A vocal advocate for supporting gig workers, Dehaze previously served as a member of the International Labor Organization's Global Commission on the Future of Work. He is also prioritizing the need to train workers to succeed in the digital economy. As he discussed in a recent interview with strategy+business, the Adecco Group has committed to upskilling or reskilling 5 million people by 2030, and the company itself has been acquiring capabilities in smart technologies.
S+B: How has the pandemic affected your business?
DEHAZE: During the first COVID-19 wave in early 2020, as many countries put the economy on the back burner, we lost 35% of our revenues in six weeks. But by the third quarter of 2020, we were at minus 15%, and by December 2020, we were at minus 2%. At that time, we forecast a V-shaped recovery, assuming many governments around the world would apply the same successful recipe that Germany and Switzerland employed in the financial crisis of 2008–09 [allowing employers to reduce workers' hours, with the state compensating a portion of their lost income]. This forecast turned out to be correct.
Today, some countries are already growing faster than they were in 2019. But further recovery will be linked to how the pandemic develops and countries' rate of vaccination. There are also differences at the sector level. Any business linked to e-commerce, logistics, health, and IT has grown, given changing needs during COVID and increased digitization. But manufacturing has still not recovered, and hospitality, tourism, and aeronautics continue to be negatively impacted by the pandemic.
S+B: The pandemic has also intensified the war for talent. How can companies respond?
DEHAZE: Ultimately, the "great resignation" is being driven by people—especially the younger generation—reevaluating their choices. They are asking themselves: what do I want to do with my life? And having a purpose-driven life is becoming increasingly important to them. Some people have also discovered a new way of life during the pandemic; perhaps they left a big city and don't want to come back.
In some countries, this talent scarcity has been nurtured by people retiring faster than anticipated. The US has lost 2 million workers during the pandemic [due to early retirement], shrinking the labor force and accelerating the war for talent. All told, these trends have led to intense recruitment activity. This was surprising to us given where we are in the recovery cycle. In past recovery cycles, we mainly witnessed a rise in temporary staffing, because companies lacked visibility about the future. Companies now think, if they want to attract people, they need to offer them a permanent job immediately.
Remote work is another crucial factor. If we look at our recruitment activities in the US, for example, we see that 50% of our customers' posted jobs can be performed remotely. If, as a company, you don't offer this flexibility, you are creating a competitive disadvantage. In many industries, but especially in technology, people are leaving their current roles for companies that allow them greater flexibility. Related to this trend, companies need to rethink how they measure and value productivity. In a recent study of 14,800 workers in 25 countries, we found that 73% [of respondents] want performance to be measured by outcome rather than hours worked.
Employee well-being is also an important consideration. This goes beyond benefits to finding new approaches to management. Leaders need to find ways to ensure people are feeling healthy, engaged, and motivated—and to support people when they are feeling isolated or experiencing difficult conditions at home. At our company, for example, we survey the engagement of our people worldwide every six or eight weeks. This allows us to be aware of emerging topics, and to intervene if needed. Yet, the same internal study I mentioned above showed that 67% of non-managers believe that leaders failed to meet their expectations for checking up on their mental well-being.
S+B: How has your organization accommodated employees' changing needs and preferences?
DEHAZE: In April and May 2020, we had 30,000 employees working remotely, and a sizable number of our associates [the workers we place for our clients] were also virtual. One of the conclusions from a global study we published in June 2020 was that the new reality would be a 50-50 hybrid working model. This was confirmed by our most recent survey, referenced earlier. What emerged was that whatever the country, marital status, or age, there was consensus on the 50-50 hybrid model being ideal.
Leaders need to find ways to ensure people are feeling healthy, engaged, and motivated—and to support people when they are feeling isolated or experiencing difficult conditions at home."
We also conducted an internal survey to see what our employees were thinking about remote work. Three reasons to work from the office at least 50% of the time emerged: culture, coaching, and collaboration. First, we found that organizational culture cannot be transmitted through digital channels alone. Second, we found that physical presence is crucial for coaching, especially where newcomers are concerned. Last, while a lot of collaboration can and does happen effectively remotely, there are some cases—for example, a multidisciplinary research project—where in-person meetings are productive and valuable. This is why we ask our people to be at the office at least two days per week, with their whole team. Each team can decide when it wants to be in the office, as long as it has those two days together.
Of course, there are also inclusion implications when it comes to remote work. During the pandemic when many families were in lockdown, it was most often women who were juggling work with household chores and their kids' remote learning. This reinforces the point that, as hybrid work becomes the norm, companies have to create new structures and processes to support all their employees and to normalize the model.
S+B: You've talked about the need for a new social contract. What are the implications for employers and employees?
DEHAZE: A lot of new business models are emerging—the platform economy chief among them. There is a new ecosystem being built, where many people are working for a few hours per day for different platforms. Unfortunately, in the vast majority of countries, this type of labor lacks a regulatory framework. We're talking about hundreds of thousands of people active in this new economy without the proper regulatory environment.
These workers are independent, free agents who are not covered for illness or pension, nor are they protected against unemployment. Government, employers, and employees need to work together to define a new social contract that provides security while allowing for flexibility. At Adecco, we are involved in the European Union's efforts to lay out the appropriate framework for platform work. And countries are starting to regulate this type of work; Spain introduced a law last year. There are also decisions being made by courts all over the world. In the UK, for example, its 70,000 Uber drivers are considered employees and offered social benefits—some of which we are managing for them.
S+B: What is the significance of the Future@Work strategy that Adecco implemented at the end of 2020?
DEHAZE: The purpose of Future@Work was to focus the company on three pillars—enabling us to put all the ingredients in place to be successful. The first pillar, Adecco, is focused on workforce solutions and implementing an omnichannel strategy, which, thanks to digitization, can be available 24/7. This has been further enabled by our 2021 acquisition of QAPA, France's second-largest fully digital workforce solutions provider.
Our second pillar is focused on offering integrated talent solutions through our global brand LHH. As companies and customers change, we wanted to ensure that we could be their partner throughout the hiring and training process. This means being involved in all aspects of this process: skill diagnostics, upskilling, reskilling, permanent recruitment, outplacement, internal mobility, and coaching. Last year [in 2021], we announced purchasing BPI Group in France in order to strengthen LHH's advisory capability.
The third pillar is technology solutions, aimed at developing skills and capabilities in technology and digital engineering to support our clients in their digital transformation process. Led by our global brand Modis, it focuses on three distinct offerings: technology consulting, which delivers end-to-end projects and solutions; technology talent services, which offers critical technological and digital engineering capabilities; and the tech academy, which focuses on upskilling. Last year [in 2021], we announced the acquisition of AKKA Technologies, which we are now combining with Modis. After closing the deal in February 2022, we are now building a global smart industry leader under the new brand Akkodis.
S+B: As part of this future-focused strategy, Adecco has committed to upskilling 5 million people by 2030.
DEHAZE: This goal is an important part of our ESG targets. We have already been delivering on it in the last 12 months by upskilling 750,000 people. Our research has found that 66% of workers believe they need to gain new skills to stay employable in the years ahead, and only 37% of non-managers feel their company is investing in their skills and career development.
We are convinced that whatever an individual's age or professional experience, he or she needs to upskill or reskill. And the world's richest countries need to invest in reskilling and upskilling efforts quickly if they want to avoid a long-term rise in unemployment. We've learned a lot from countries with huge talent scarcity. In Japan, for example, where there are 1.5 job offerings per candidate, our role includes training, rather than just providing candidates. We hire recent graduates, upskill them based on our clients' needs, and then we put them to work.
Our experience with talent scarcity was also one of the reasons we acquired General Assembly [a US-based global education and career transformation company] in 2018, to supplement our own training capabilities. General Assembly is a leader in digital skills and career transformation, and by offering its services alongside Adecco's existing talent development, career transition, and professional staffing solutions, we will be able to better respond to our clients' needs, enhancing both access to and the supply of the most in-demand skills.
In addition to offering these services for clients, we are also providing this training to upskill our own workforce. In France, for example, we're investing €140 million in training our Adecco staff in crucial digital disciplines.
S+B: Where does the responsibility for upskilling ultimately lie?
DEHAZE: It's a tripartite responsibility, beginning with the individual. Individuals should be conscious that they need to embrace lifelong learning and upskill themselves to remain employable. It's also very important for companies to invest in upskilling and reskilling their people, so they can remain competitive in the market and attractive to new talent. This is a company's responsibility.
Finally, governments need to ensure that they remain competitive; otherwise, companies will move their operations to other countries. This is directly tied to supporting companies' upskilling initiatives through subsidies. Governments also need to support education, including apprenticeships, which can be very effective. Singapore is a great example. The local government recognized what the industries of the future are and what skills are needed to support those industries, and it subsidized the upskilling and reskilling of its people—to between 80 and 100% of the cost—to ensure Singapore has the right talent for the future.
We're also seeing the creation of individual training accounts. Singapore was the first place to create this, and France and Brazil have since followed. What this essentially does is to give people a budget to reskill themselves—leaving the choices, and the initiative, to the individual.
S+B: How is Adecco building the capabilities it needs as an organization to respond to the new world of work? What roles does acquisition play?
DEHAZE: Over the last two years, we have gradually moved from being an operator to what we call strategic parents. We've shifted from being a country-centric organization to being a customer- and brand-centric organization focused on the three pillars I spoke of earlier, with a president at the head of each of those pillars. The operations are really in the brands. This is a big change for corporate and for me, because after seven years on the job, my role has also changed as part of this strategy development. In my private life, over this same period, I've learned how to be a grandfather.
M&A is an enabler of our strategy. We have three criteria for an acquisition. First, it should accelerate our strategy. Our acquisition of [Belgium-based global engineering and consulting company] AKKA technologies in 2021 is a good example of this. We've always maintained that we want to be the global leader, or at least one of the global leaders, in the smart technology industry. Acquiring AKKA allowed us to strengthen our engineering capabilities, as well as our position in Europe. In the case of Modis, we gained IT expertise and an international presence in the US and Asian markets, especially in Japan.
Second, an acquisition should demonstrate that we are a better owner. By this, I mean that there are cost as well as revenue synergies. By merging the two companies, we can offer more solution possibilities to AKKA's customers. At the same time, due to the increased engineering capabilities, we will also be a better partner to Modis's customers. Finally, we have some financial criteria. Any acquisition we make should be EVA positive after three years.
S+B: As CEO of a talent solutions company, what do you see as the key to leading through today's rapidly changing world of work?
DEHAZE: I think that as a leader, you need to remain very curious while being resilient and open to change—in a world that is unpredictable, complex, and ambiguous. One of the most valued traits, even more important now than a few years ago, is empathy. Leaders will need to develop their emotional intelligence to connect with, motivate, and retain people who are far away.
We've seen that the most trusted entity during the pandemic, ahead of government and the media, is business. Leaders need to take a stand on many topics; this is what is expected from all stakeholders, including internal staff. At the Adecco Group, I believe we must be vocal on everything related to work and skills, because we think that we can add value, thanks to our experience, data, and presence.
Author Profiles:
Suvarchala Narayanan is a business writer and startup consultant. She lives in Zurich and Bangalore, India.